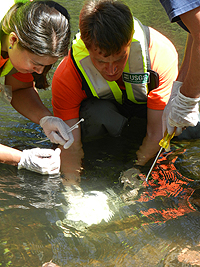 USGS scientists deploy SPMD and POCIS samplers to collect waterborne contaminants in Manoa Stream on Oahu, Hawaii.
Noteworthy
Press Releases
Featured Science:
Water Quality Data
Today's Water Conditions
Get continuous real-time water-quality measurements from Water-Quality Watch maps.

Water Quality Portal (WQP)
Get current and historical USGS and EPA water-quality data at the WQP.
BioData
Get stream ecosystem aquatic bioassessment data from BioData.
For More Data
View a complete list of USGS water-quality data resources.
USGS in Your Area
USGS Water Science Centers are located in each state.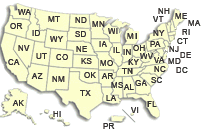 Past "Noteworthy" Listings
Note: Links were active and correct at the time the announcement was originally posted to the Water-Quality Information web site. Outdated or broken links on this page are not updated.
2016
2015
2014
2013
As of September 30, 2013, updates to this page only include items noted under "Featured Science" on the Water-Quality Information Site. Past USGS Press Releases are available from the USGS Newsroom.
2012
2011
2010
2009
2008