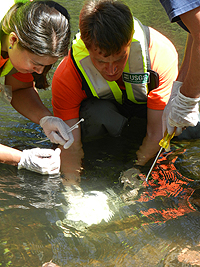 USGS scientists deploy SPMD and POCIS samplers to collect waterborne contaminants in Manoa Stream on Oahu, Hawaii.
Noteworthy
Press Releases
Featured Science:
Water Quality Data
Today's Water Conditions
Get continuous real-time water-quality measurements from Water-Quality Watch maps.

Water Quality Portal (WQP)
Get current and historical USGS and EPA water-quality data at the WQP.
BioData
Get stream ecosystem aquatic bioassessment data from BioData.
For More Data
View a complete list of USGS water-quality data resources.
USGS Water Science Areas
USGS in Your Area
USGS Water Science Centers are located in each state.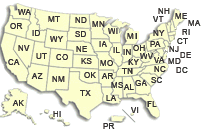 Water-Quality Data
Timely delivery of reliable water-quality data to the public is a mission of the USGS. Data from USGS database systems are available to the public from thousands of sites across the Nation in all 50 states and territories.
On this page you will find links to:
USGS Water-Quality Data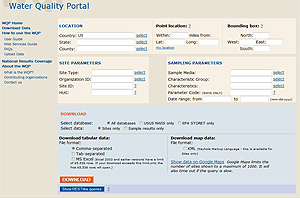 The Water Quality Portal (WQP) is a cooperative service sponsored by USGS, U.S. Environmental Protection Agency (EPA), and National Water Quality Monitoring Council that integrates publicly available water-quality data from the USGS National Water Information System (NWIS) database and the EPA STOrage and RETrieval (STORET) data warehouse.
Water-Quality Watch displays real-time water quality data collected remotely by sensors installed in rivers, lakes, and other water bodies. Readings taken every 5 to 60 minutes are transmitted via satellite to the USGS National Water Information System (NWIS). Current conditions can be displayed on a map, table, or as a time series graph. Data include water temperature, pH, specific conductance, turbidity, dissolved oxygen, and (or) nitrate depending on the site.
NWIS-Web is the general online interface to the USGS National Water Information System (NWIS) database. Discrete water-sample and time-series data from 1.5 million sites in all 50 States. Results from 5 million water samples with 90 million water-quality results are available from a wide variety of retrieval methods including standard and customized map interfaces.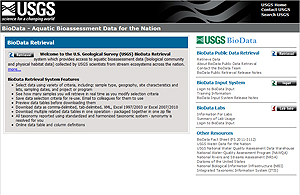 The USGS BioData Retrieval system provides access to results from more than 15,000 macroinvertebrate, algae, and fish community samples from more than 2,000 sites nationwide.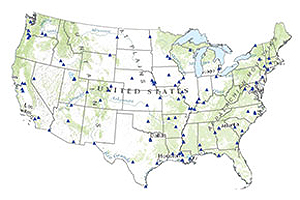 The rivers and streams water quality web site presents interactive annual graphical summaries of streamflow information and nutrient and sediment concentrations and loads from 102 surface-water streams in the National Fixed Site Network (NFSN). Users can compare recent and long-term water quality conditions, download data, evaluate nutrient loading to coastal areas, and more.
USGS Water Data Mobile Notifications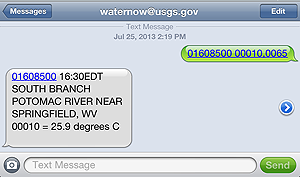 USGS WaterAlert sends email or text messages when certain time-series measurements at USGS sites exceed user-definable thresholds. Links to WaterAlert also are provided from graphs in NWIS-Web.
Water Now enables users to send an email or text message with a USGS site number to WaterNow@usgs.gov and quickly receive a reply with the most recent measurement.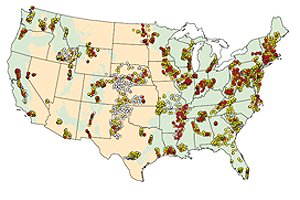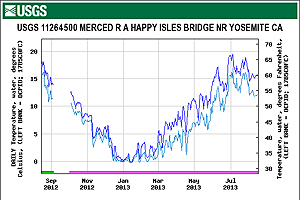 The Hydrologic Benchmark Network (HBN) program collects data from a long-term network of sites located in areas that are minimally affected by human activities. Links are provided to access water-quality data from individual network sites in NWIS.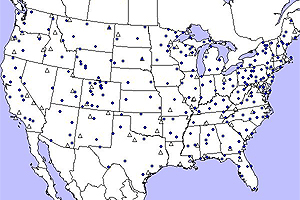 The National Atmospheric Deposition Program (NADP) monitors wet atmospheric deposition at over 250 sites throughout the Nation. The USGS is the lead federal agency for the monitoring of chemical constituents deposited from the atmosphere via rain, sleet, and snow, also known as wet atmospheric deposition.
Additional USGS Water-Resources Data
The Water Data Discovery web site provides an overview of all USGS water-resources data.
Water-Quality Data by State
USGS Water Science Centers located across the United States may have additional information or resources for local water-quality data. Visit your local USGS Water Science Center web site for more information.
The Suspended-Sediment Database provided daily values of suspended sediment and ancillary data through September 30, 1996. (More current data are included in NWIS.)
USGS provides machine-readable water data through automated web services.
The Maps and GIS page provides a list of partial water-resources GIS resources.
Other Sources of Water-Quality and Related Data
Government Data
International Water-Quality Data Resources