USGS Water-Quality Sampling of Flood Waters > December 2015-January 2016
USGS Continuous Water-Quality Monitoring During December 2015-January 2016 Flood Events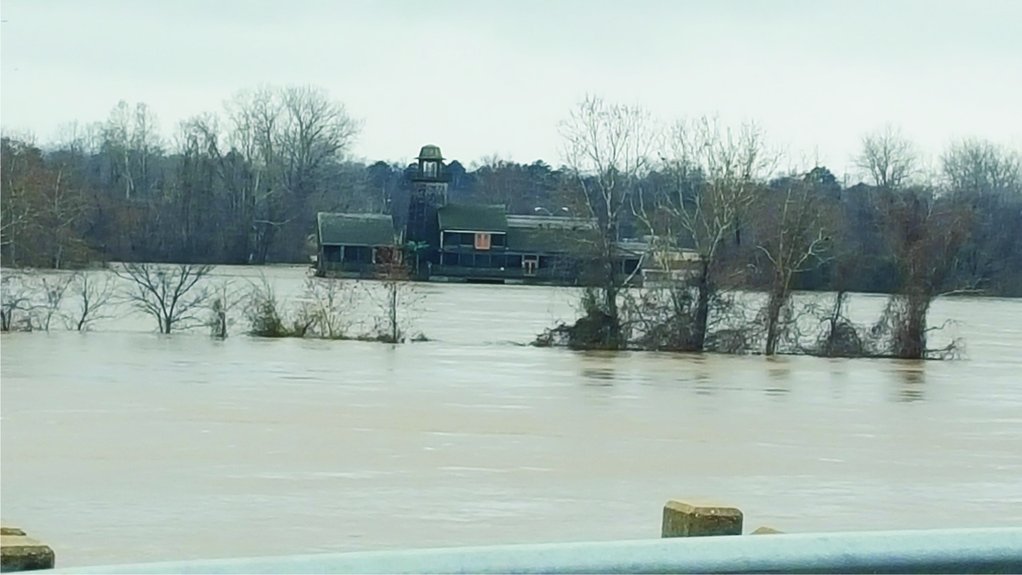 Arkansas River near Van Buren, Arkansas, on December 28, 2015. Photo: USGS/Waylon Marler. Photo is in the public domain. Larger version available.
Originally posted December 30, 2015; Updated January 15, 2016
Note: For the latest disaster and emergency response information for your area, please refer to FEMA or your local office of emergency services.
Please note: this page highlights USGS water-quality monitoring activities. For all USGS flooding response activities, see the national USGS Flood Information web site.
Overview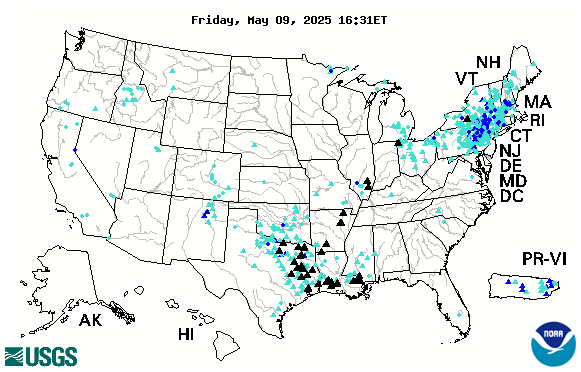 Map indicating flood and high flow conditions (United States) at USGS streamgages. Visit USGS WaterWatch to view real-time streamflow data.
Heavy rainfall since Friday, December 25, 2015, has led to widespread flooding in parts of the central and southeast United States. As of December 29, 2015, 311 USGS streamgages are reporting water levels above National Weather Service flood stage, with much of the flooding in the Midwest (Missouri, Arkansas, Oklahoma, and Illinois) and the Southeast (Georgia, Florida, and Mississippi).
While water levels remain a primary concern, flooding also impacts water quality in ways that have short- and long-term impacts on drinking water and aquatic ecosystems. USGS is collecting water-quality samples from many sites to characterize changes in water quality. Many of the sites currently experiencing flooding have USGS instrumentation for continuous water-quality monitoring that can be useful during flood events. In particular, loads of sediment and nutrients will be particularly high for this period relative to historical loads.
See the USGS Water Quality Watch for a list of sites with continuous water-quality data, many of which are in basins affected by flooding.
Recent USGS Water-Quality Activities
During this particular storm event, two sewage-treatment plants and a drinking-water plant in Missouri were inundated by water and failed, contributing untreated sewage to the floodwaters. The USGS has been collecting samples for water quality analysis at key locations in the Mississippi and Missouri River Basins since the onset of this storm event, and will continue sampling as the flood surge moves downstream in the lower Mississippi River basin states.
Samples are being analyzed for fecal bacteria, and chemicals such as
nutrients,
volatile and semi-volatile organic carbon compounds such as solvents and oil and fuel products, and
organic wastewater chemicals such as pharmaceuticals and other products indicative of human waste.
When possible, scientists are focusing on locations where data have been collected in the past to provide a baseline comparison for the effects of this event on water quality.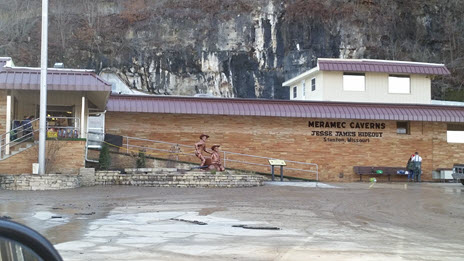 Flooding at Meramec River, Missouri, December 31, 2015.
Left: Flooding at Meramec River near Eureka, Missouri, (USGS monitoring and gaging station 07019000.)
Right: Flood level outside of visitor center building at Meramec Caverns along the Meramec River about 45 miles southwest of St. Louis, Missouri.
Photos: USGS/Miya Barr. Photos are in the public domain.
USGS Continuous and Real-time Water-Quality Data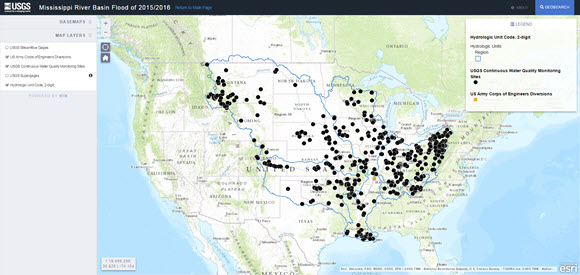 Map showing location of USGS continuous water-quality monitoring stations throughout the Mississippi River basin that provides information on the impact of flooding on water quality. Visit the interactive map to explore the data.
The USGS has a growing continuous water-quality network where data are made available in near real-time from gages in streams, estuaries, and embayments. The network is funded in part by state and local cooperators and now may be sufficiently extensive to document water-quality responses to hydrologic hazards.
What are continuous sensors?
Continuous water-quality monitoring refers to how often measurements are made. In USGS studies, continuous water-quality sensors typically make measurements at intervals ranging from every fifteen minutes to every couple hours. The frequency of the measurements will vary depending on the parameter of interest, the sensor, and the objectives of the study for which the data are being collected.
What are real-time data?
Real-time refers to how quickly the data are transmitted to USGS offices and made available. At the USGS, real-time water-quality data are typically automatically transmitted within a couple hours of when the measurements were made by a sensor. Data from real-time sites are relayed to USGS offices by satellite, telephone, and (or) radio and are usually available for viewing within minutes of arrival on the USGS National Water Information System (NWIS) web site and USGS Water Quality Watch.
Map indicating USGS sites with real-time turbidity data. Visit USGS Water Quality Watch to view real-time water-quality data and for an explanation of the color coding.
Why is real-time water-quality monitoring important?
The recent advent of commercially-available in situ sensors and data platforms — together with new techniques for data analysis — provide the opportunity to monitor water quality on the rapid time scales in which changes occur. This reduces the likelihood that changes in water quality are missed or obscured, as often happens with infrequent discrete sampling alone. In particular, measurements made in place ("in situ" measurements) are effective sentinels of water-quality changes when coupled with real-time discharge and climate data.
Real-time water-quality sensors can reduce the need to collect and ship water-quality samples to laboratories for analysis, thereby reducing the cost, as well as time lag, of responding to hydrologic hazards. Transmission and analysis of continuous USGS water-quality data in real-time provides water-resources managers and emergency responders with data to immediately inform decisions that are vital for protection of life, property and the environment. Real-time sensors also provide tools for early trend detection, help identify monitoring gaps and ensure timely data for science-based decision support across a range of issues related to ecosystems and human health.
The USGS Real-time Water-Quality Network
The USGS streamgaging network includes over 8,100 sites with flow measurements available in real-time. Water-quality data are also collected continuously and in real-time at a number of these sites for a variety of parameters including*:
Water temperature: over 2,260 sites
Specific conductance — an indicator of the amount of dissolves substances: over 1,045 sites
pH — a measure of the levels of acidic or alkaline conditions: over 470 sites
Dissolved oxygen — an indicator of ecosystem health: over 575 sites
Turbidity — an indicator of suspended sediments: over 495 sites
Nitrate — a nutrient; important human sources are fertilizers, sewage, and atmospheric deposition: over 115 sites
*Numbers were current as of January 6, 2016, and are subject to change over time.
The temporally rich datasets from these real-time networks can be used for hydrologic and water-quality modeling and surveillance activities. For example, nitrate delivered in large amounts by floods are known to contribute to nutrient enrichment, stimulate chlorophyll production, and result in dissolved oxygen demand leading to hypoxia in coastal waters and impaired fisheries. Similarly, suspended sediment loads affect the drinking water quality, light penetration, and the transport of other constituents such as phosphorus and metals. Floods can have profound effects on these and other water quality constituents owing to shifts in hydrologic flow paths, water residence time, precipitation patterns, connectivity between rivers and uplands, and many other factors.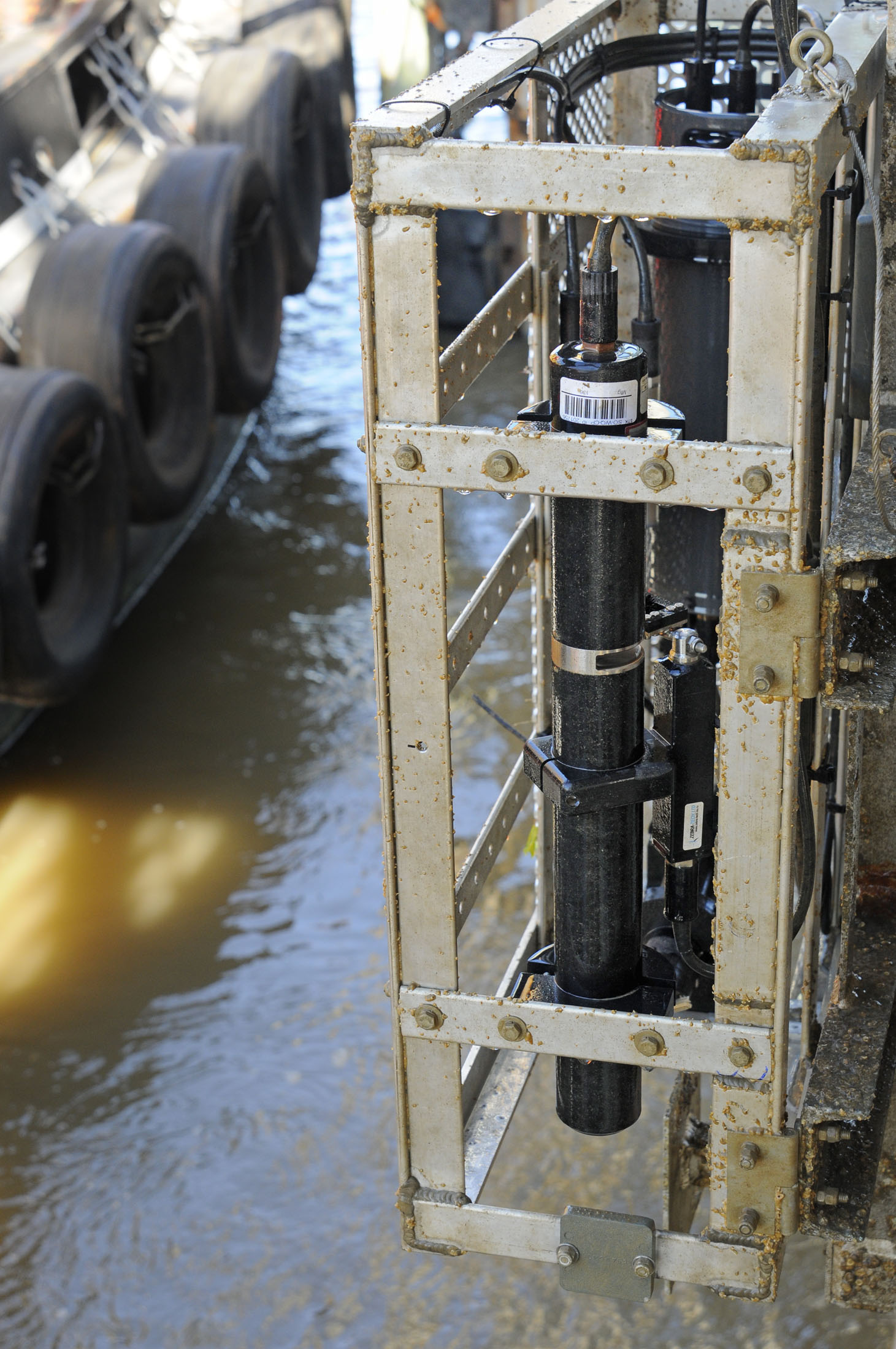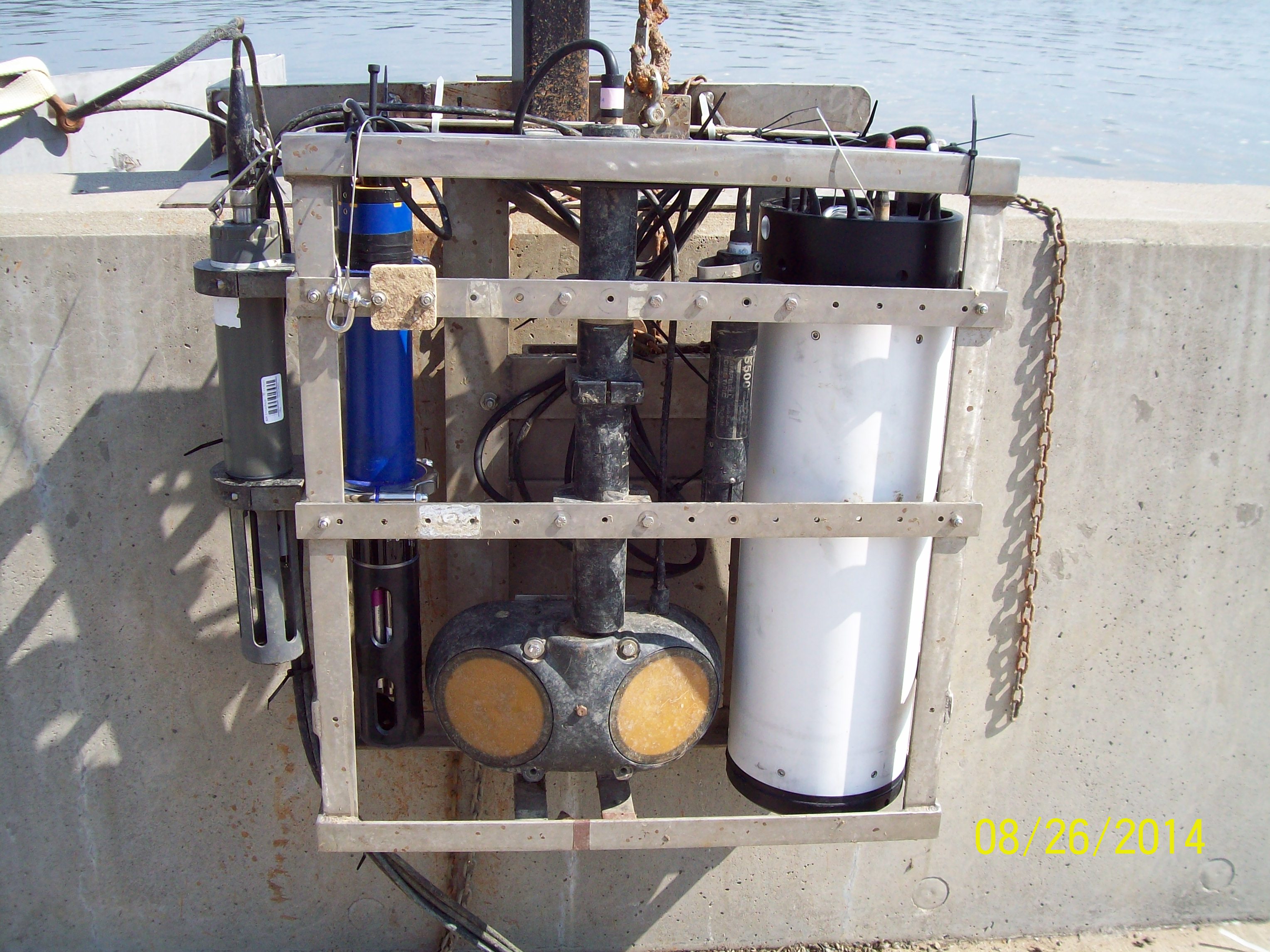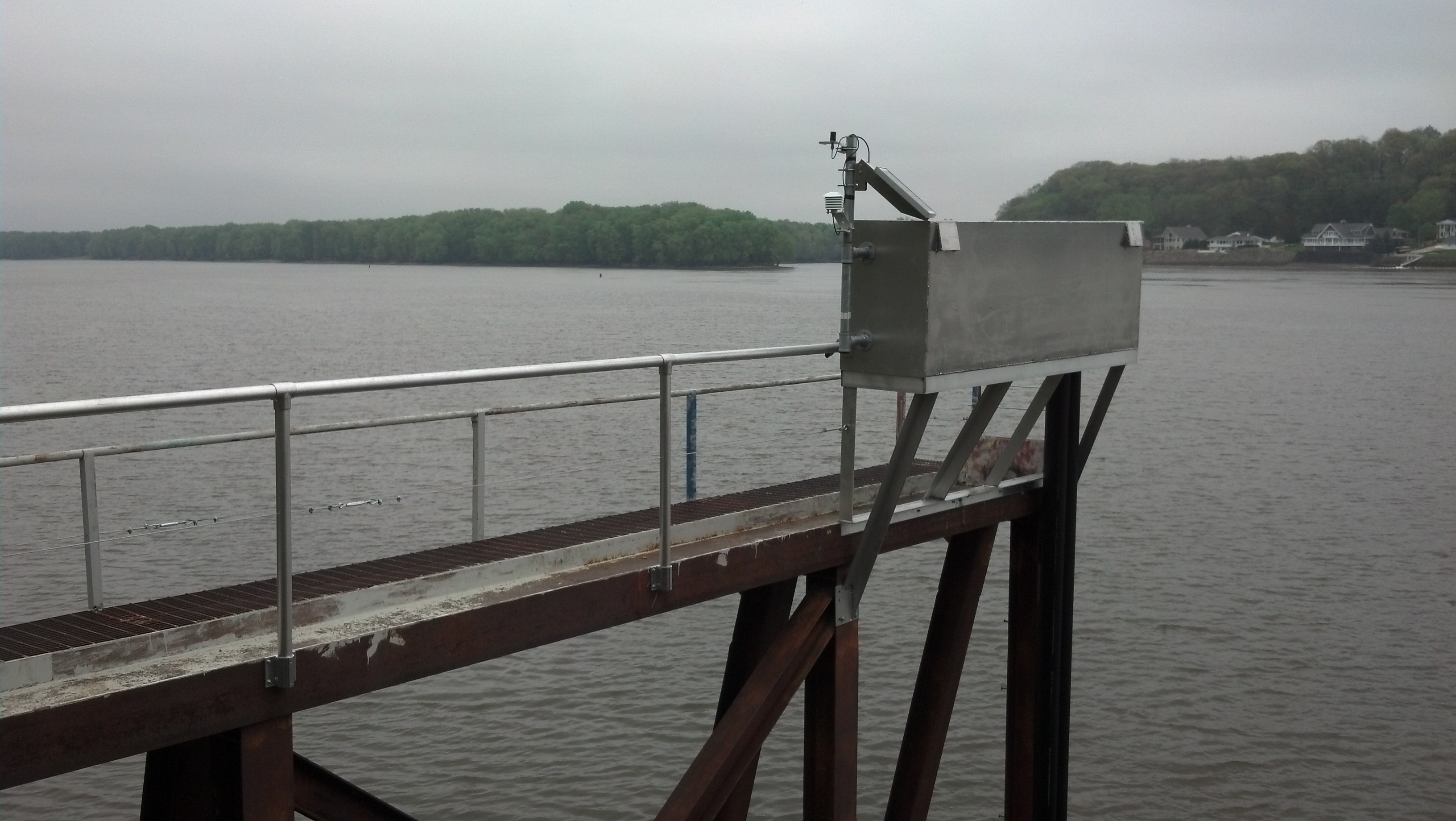 Photos of continuous water-quality sensors at USGS sites. The sensors monitor different water-quality parameters such as nitrate, pH, temperature, specific conductance, turbidity, and dissolved oxygen. Photo: USGS. Photos are in the public domain.
Example Data
The graphs below show example data from three USGS NWIS sites with continuous, real-time monitoring, showing the timing of precipitation, stream discharge, and water-quality changes during recent flood events. As the flooding progresses and water moves down river, we would expect to see additional impacts at sites like Mississippi River at Baton Rouge.
White River at Hazleton, Indiana
Data from the White River at Hazleton, Indiana, (NWIS Site 03374100) show the rapid increase in discharge and turbidity that resulted from nearly 4 inches of rain from December 23 to 29, 2015.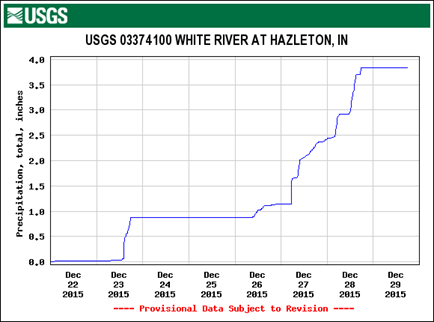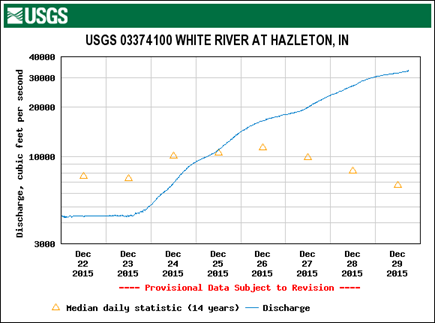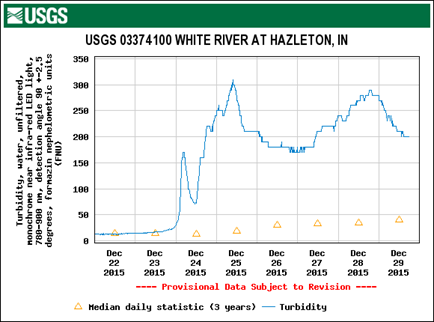 Graphs showing precipitation, discharge, and turbidity measurements made by USGS continuous, real-time sensors at White River at Hazleton, Indiana (USGS NWIS Site 03374100).
Missouri River at Hermann, Missouri
Data from the Missouri River at Hermann, Missouri, (NWIS Site 06934500) show a dilution of nitrate concentrations that occurs with increasing discharge following heavy rain from December 26 to 28, 2015.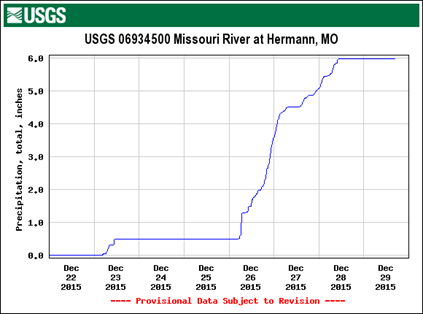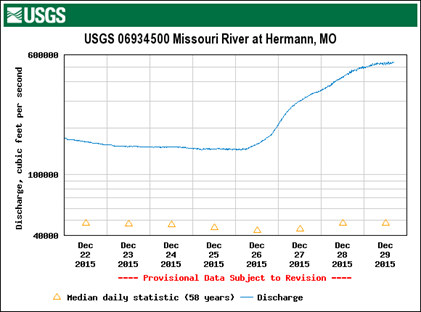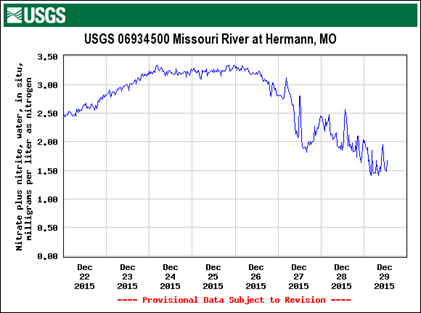 Graphs showing precipitation, discharge, and nitrate plus nitrite measurements made by USGS continuous, real-time sensors at Missouri River at Hermann, Missouri (USGS NWIS Site 06934500).
Mississippi River at Baton Rouge, Louisiana
Data from the Mississippi River at Baton Rouge, Louisiana, (USGS NWIS Site 07374000) show changes in turbidity and nitrate during high flows. National Oceanic and Atmospheric Administration (NOAA) predicts the river will crest on January 19, 2016, at 44 feet (compared to 31 feet on December 29, 2015).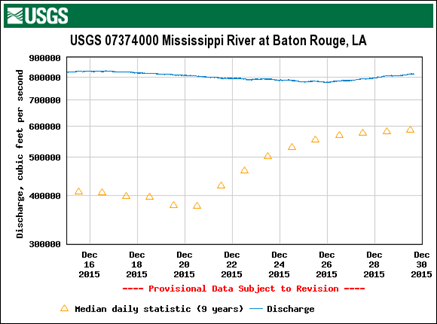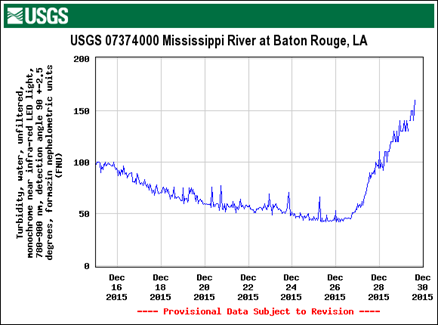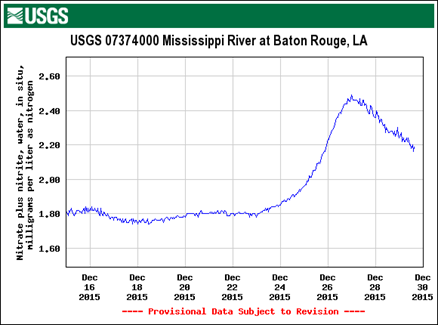 Graphs showing discharge, turbidity, and nitrate plus nitrite measurements made by USGS continuous, real-time sensors at Mississippi River at Baton Rouge, Louisiana (USGS NWIS Site 07374000).
Disclaimer: These data and information are preliminary or provisional and are subject to revision. They are being provided to meet the need for timely best science. The data have not received final approval by the U.S. Geological Survey (USGS) and are provided on the condition that neither the USGS nor the U.S. Government shall be held liable for any damages resulting from the authorized or unauthorized use of the data.
Press Releases & Announcements
Water-Quality Information in Your Area
For local water-quality information or to learn more about USGS flood response activities, visit the local USGS Water Science Center online:
Water-Quality Publications from Previous Flooding
When planning for, monitoring, and responding to flood events, information and data from previous floods in the region can be of use:
Background: USGS Water-Quality Response to Large-Scale Flooding
During flood events, USGS field crews prepare response activities and are among the first responders. The USGS responds to such major events by working with local, State, and Federal agencies and the citizenry to identify, quantify, and understand environmental and public issues and concerns. USGS scientists, engineers, and technicians collect data during and after flood events to monitor the effect of flooding on water quality. The frequency and location of water-sampling varies according to local conditions and depends on the needs and concerns of partnering agencies and local communities. The results from USGS water-quality monitoring will continue to be analyzed through the coming days and weeks to provide scientific assessments of how the chemical and biological quality of streams and other water bodies are affected. USGS collection and analysis of data during and after flooding events help science, relief, and health agencies better understand the effects on water quality in the short and long term, and provide the data needed for future response and resource management.
For more information:
USGS Flood Monitoring and Data Collection
For information on overall USGS flood monitoring and data collection activities, see:
For more information on USGS water-quality sampling, contact the USGS Office of Water Quality.
To learn more about USGS water-quality sampling methods and protocols, see:
Stay Connected with USGS
WaterAlert — get e-mail or text messages when certain parameters measured by a USGS data-collection station exceed thresholds set by the user. Alerts are available for selected USGS groundwater, surface-water, water-quality, and precipitation data-collection stations that are part of the National Water Information System (NWIS).
Social media — for updates on USGS activities follow us on Twitter or Facebook.
Project Alert, USGS Hydrology Press Releases — Project Alerts make USGS information about emergency situations convenient and available for use by local, State, and Federal agencies and the news media.
Flooding and Water-Quality Health and Safety Information
Every effort should be made to limit contact with flood water due to potentially elevated levels of contamination associated with raw sewage and other hazardous substances.