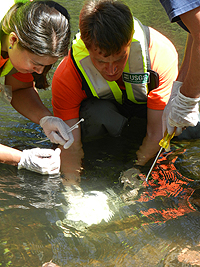 USGS scientists deploy SPMD and POCIS samplers to collect waterborne contaminants in Manoa Stream on Oahu, Hawaii.
Noteworthy
Press Releases
Featured Science:
Water Quality Data
Today's Water Conditions
Get continuous real-time water-quality measurements from Water-Quality Watch maps.

Water Quality Portal (WQP)
Get current and historical USGS and EPA water-quality data at the WQP.
BioData
Get stream ecosystem aquatic bioassessment data from BioData.
For More Data
Contact the USGS Office of Water Quality
Mail:
USGS Office of Water Quality
412 National Center
12201 Sunrise Valley Drive
Reston, VA 20192
Contact Information for Other USGS Resources
For general USGS questions, Ask USGS online or call 1-888-ASK-USGS (1-888-275-8747). For media inquiries, the USGS Office of Communications is available to the media around-the-clock.
For other national USGS water information, contact the following offices:
For local USGS water information, contact the USGS Water Science Center in your state: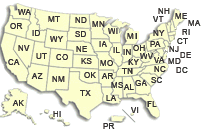 To locate a specific USGS employee, use the Electronic Phone Book.
The USGS does not regulate water quality or enforce water-quality standards.