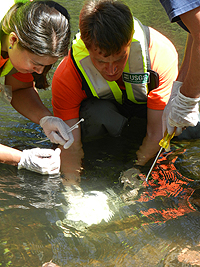 USGS scientists deploy SPMD and POCIS samplers to collect waterborne contaminants in Manoa Stream on Oahu, Hawaii.
Noteworthy
Press Releases
Featured Science:
Water Quality Data
Today's Water Conditions
Get continuous real-time water-quality measurements from Water-Quality Watch maps.

Water Quality Portal (WQP)
Get current and historical USGS and EPA water-quality data at the WQP.
BioData
Get stream ecosystem aquatic bioassessment data from BioData.
For More Data
Contact the USGS Office of Water Quality
Contact us by email, phone, or mail:
Email: owq_webmaster@usgs.gov
Note: If you are contacting us with a question about a specific online resource or web page, please provide that URL when you contact us.
Phone: (703) 648-6862
Mail:
USGS Office of Water Quality
412 National Center
12201 Sunrise Valley Drive
Reston, VA 20192
While we make every effort to reply to your inquiries as soon as possible, please allow up to seven days for a response.
Contact Information for Other USGS Resources
For general USGS questions, Ask USGS online or call 1-888-ASK-USGS (1-888-275-8747). For media inquiries, the USGS Office of Communications is available to the media around-the-clock.
For other national USGS water information, contact the following offices:
For local USGS water information, contact the USGS Water Science Center in your state: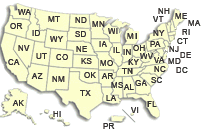 To locate a specific USGS employee, use the Electronic Phone Book.
The USGS does not regulate water quality or enforce water-quality standards.