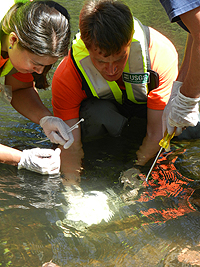 USGS scientists deploy SPMD and POCIS samplers to collect waterborne contaminants in Manoa Stream on Oahu, Hawaii.
Noteworthy
Press Releases
Featured Science:
Water Quality Data
Today's Water Conditions
Get continuous real-time water-quality measurements from Water-Quality Watch maps.

Water Quality Portal (WQP)
Get current and historical USGS and EPA water-quality data at the WQP.
BioData
Get stream ecosystem aquatic bioassessment data from BioData.
For More Data
View a complete list of USGS water-quality data resources.
USGS in Your Area
USGS Water Science Centers are located in each state.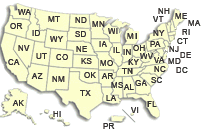 USGS Water-Quality Programs and Networks
Many USGS programs focus on or include water-quality issues as part of their applied research and (or) data collection and analysis. National USGS programs that include water quality as part of their work are listed below.
The USGS provides scientific data and information on the occurrence, fate, and transport of emerging and traditionally studied contaminants in water resources. The USGS also provides assessments of drinking water sources and assesses the vulnerability of water supplies to contamination.
The National Water-Quality Assessment (NAWQA) Program describes the status and trends in the quality of a large representative part of the Nation's groundwater and surface-water resources, and develops an understanding of the natural and human factors affecting the quality of these resources. The Program provides sound, nationally consistent water-quality information upon which water-resources decision making at all governmental levels can be based, and integrates water-quality information at local, regional, and national scales to address a wide range of major water-quality issues.
The major objective of the National Stream Quality Accounting Network (NASQAN) program is to report on the concentrations and loads of selected constituents delivered by major rivers to the coastal waters of the United States and selected inland sub-basins to determine the sources and relative yields of constituents delivered to inland and coastal waters. These priority basins have significant management interest in reducing delivery of constituents that contribute to adverse conditions in receiving waters. Other objectives include monitoring for climate change and describing long-term trends in the loads and concentrations of select constituents at key locations.
The Hydrologic Benchmark Network (HBN) provides long-term measurements of streamflow and water quality in areas that are minimally affected by human activities. These data are used to study long-term trends in surface-water flow and water chemistry, and serve as a comparison to changes in flow and water chemistry in developed watersheds.
The USGS is the lead federal agency for the monitoring of wet atmospheric deposition (chemical constituents deposited from the atmosphere via rain, sleet, and snow) in the United States. The USGS atmospheric deposition program provides:
participation and leadership in the National Atmospheric Deposition Program (NADP) and
scientific research and assessment to evaluate trends and the effects of atmospheric deposition on aquatic and terrestrial ecosystems.
The NPS/USGS Water-Quality Partnership provides USGS technical assistance, water-quality monitoring, and water-resource assessment within National Parks that supports Park resource managers in making scientifically defensible management and policy decisions.
USGS Programs That Support Water-Quality Monitoring, Assessment and Research
The national Cooperative Water Program provides reliable, impartial, and timely information needed to understand the Nation's water resources. Through shared efforts and funding with State, Tribal, and local partners, the program helps decision makers wisely manage the Nation's water resources.
The USGS National Research Program (NRP) conducts research to develop and disseminate science-based information and tools needed for a fundamental understanding of the processes that affect the availability, movement, and quality of the Nation's water resources. Our science supports a wide range of policies and activities.
Visit the web site to learn more about the activities of the USGS International Water Resources Branch.
The Toxic Substances Hydrology Program provides objective scientific information on environmental contamination to improve characterization and management of contaminated sites, to protect human and environmental health, and to reduce potential future contamination problems.