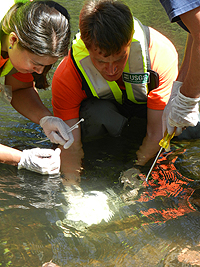 USGS scientists deploy SPMD and POCIS samplers to collect waterborne contaminants in Manoa Stream on Oahu, Hawaii.
Noteworthy
Press Releases
Featured Science:
Water Quality Data
Today's Water Conditions
Get continuous real-time water-quality measurements from Water-Quality Watch maps.

Water Quality Portal (WQP)
Get current and historical USGS and EPA water-quality data at the WQP.
BioData
Get stream ecosystem aquatic bioassessment data from BioData.
For More Data
View a complete list of USGS water-quality data resources.
USGS in Your Area
USGS Water Science Centers are located in each state.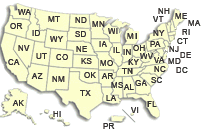 Selected Water-Quality Topics > Wildfire > Briefing Sheet
Briefing Sheet: Wildfire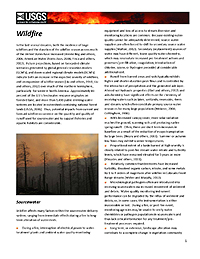 Initial release date: October 25, 2013
Introduction
In the last several decades, both the incidence of large wildfires and the duration of the wildfire season across much of the United States have increased (Westerling and others, 2006, American Water Works Assn, 2008; Finco and others, 2012). Future projections, based on forecasted climate scenarios generated by global general circulation models (GCM's), and down-scaled regional climate models (RCM's) indicate both an increase in the expected severity of wildfires, and an expansion of wildfire season (Liu and others, 2010; Liu and others, 2012) over much of the northern hemisphere, particularly for western North America. Approximately 80 percent of the U.S's freshwater resource originates on forested land, and more than 3,400 public drinking-water systems are located in watersheds containing national forest lands (USDA, 2006). Thus, potential impacts from current and forecast wildfire occurrence on the quantity and quality of runoff used for sourcewater and to support fisheries and aquatic habitats are considerable.
Download
Download the complete briefing document [280KB PDF].
For more information, contact:
George Ritz
Chief
Branch of Quality Systems
U.S. Geological Survey
P.O. Box 25046 MS401
Denver Federal Center, Lakewood CO 80225
303-236-1835
gfritz@usgs.gov