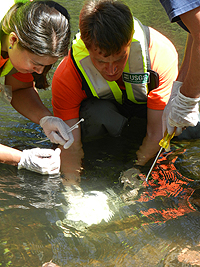 USGS scientists deploy SPMD and POCIS samplers to collect waterborne contaminants in Manoa Stream on Oahu, Hawaii.
Noteworthy
Press Releases
Featured Science:
Water Quality Data
Today's Water Conditions
Get continuous real-time water-quality measurements from Water-Quality Watch maps.

Water Quality Portal (WQP)
Get current and historical USGS and EPA water-quality data at the WQP.
BioData
Get stream ecosystem aquatic bioassessment data from BioData.
For More Data
View a complete list of USGS water-quality data resources.
USGS in Your Area
USGS Water Science Centers are located in each state.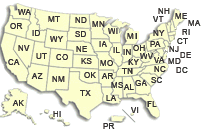 Selected Water-Quality Topics > Hydraulic Fracturing > Publications
Hydraulic Fracturing and Water Quality: USGS Publications, August 2012 to present
Publications are listed in chronological order, with newest reports first.
Disclaimer
Links and pointers to non-USGS sites (described here as "Other Sources of Information") are provided for information only and do not constitute endorsement by the USGS, U.S. Department of the Interior, or U.S. Government, of the referenced organizations, their suitability, content, products, or services, whether they are governmental, educational, or commercial. Please note that the USGS does not control and cannot guarantee the relevance, timeliness, or accuracy of these outside materials.
For more information, see USGS Information Policies.