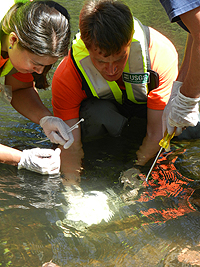 USGS scientists deploy SPMD and POCIS samplers to collect waterborne contaminants in Manoa Stream on Oahu, Hawaii.
Noteworthy
Press Releases
Featured Science:
Water Quality Data
Today's Water Conditions
Get continuous real-time water-quality measurements from Water-Quality Watch maps.

Water Quality Portal (WQP)
Get current and historical USGS and EPA water-quality data at the WQP.
BioData
Get stream ecosystem aquatic bioassessment data from BioData.
For More Data
View a complete list of USGS water-quality data resources.
USGS in Your Area
USGS Water Science Centers are located in each state.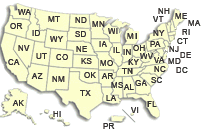 Microbial Source-Tracking and Detection Techniques
(Related terminology - "bacterial source tracking (BST)" and "molecular microbial technologies")
Links are provided below to general information on microbial source-tracking and detection techniques, such as ribotyping (DNA fingerprinting), genetic enterovirus detection using PCR/rtPCR and IC/PCR, and pulse field gel electrophoreses (PFGE).
Biological Consulting Services of North Florida, commercial web page
George Lukasik and Troy Scott
"Microbial Source Tracking" -- http://www.microbioservices.com/microbial-source-tracking.htm
See also Source Molecular Corporation -- http://www.sourcemolecular.com/
Contents:

Supporting information
Services
References

European Union consortium, methods comparison research web page
Anicent Blanch
"Tracking the origin of faecal pollution in surface water" -- http://www.ub.es/microbiologia/TOFPSW.htm
Contents:

Summary
Objectives
Results
Dissemination
Consortium

Institute for Environmental Health, commercial web page
Mansour Samadpour
"Microbial Source Tracking" -- http://www.iehinc.com/mstindex.htm
See also: Aquavic in Victoria, British Columbia -- http://www.aquavic.com/Services/services.html#microbial


Soil and Water Conservation Society of Metro Halifax, information web page
S.M. Mandaville
"Bacterial source tracking, a review" -- http://lakes.chebucto.org/H-2/bst.html
Contents:

Abstract/Summary

A "Toolbox" approach
Low cost but reliable methodology - the Bacteroides-Prevotella group
Ribotyping
Microbial Source Tracking Workshop, February 2002

Introduction

Erroneous assumptions of fecal sources
Microbiological Indicators

Well published investigators conducting research in BST
DNA-select interesting articles

Southern California Coastal Waters Research Program and U.S. EPA, methods comparison research web page
Steve Weisberg and Alfred Dufour
"Microbiological source tracking workshop" -- http://www.sccwrp.org/tools/workshops/source_tracking_workshop.html
Contents:

Workgroup findings and recommendations
Agenda and abstracts from the workshop

University of Michigan, method web page
Frans de Bruijn
"The rep-PCR genomic fingerprinting homepage" -- http://www.msu.edu/~debruijn/loadr.html
Contents:

Basic Articles
Rep-PCR relevant links
Submit your links
The Rep-PCR Patent
How does Rep-PCR work

University of Minnesota, research web page
Mike Sadowsky
"E. coli source tracking by rep-PCR DNA fingerprinting " -- http://www.ecolirep.umn.edu/
Contents:

Background
Overview
Methods
Patent
Glossary
Staff
Links
References
e-mail

USDA, CSREES, Southern Regional Water Quality Program research web page
contact unknown
"Ribotyping and Bacterial Source Tracking (BST)"
Contents:

Overview of the tools and links

USEPA, source-tracking review, fact sheet
Harry Zhang
"Wastewater technology fact sheet: Bacterial source tracking" -- http://www.epa.gov/owm/mtb/bacsortk.pdf
Contents:

Introudction
Description
Applicability
Advantages and Disadvantages
Performance
Costs
References
Wayne State University, research and reference web page
Jeff Ram
"Microbial source tracking for Michigan environmental health managers" -- http://sun.science.wayne.edu/~jram/MGLPF-MSTProject.htm
Contents:

Survey of Michigan Environmental Health Managers and water testing laboratories
Survey of Microbial Source Tracking (MST) Services
Summary, Methods, and Results of the Project
Information about Microbial Source Tracking
Other sources of information: