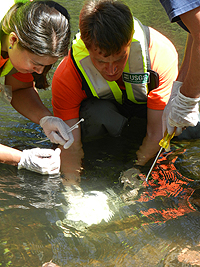 USGS scientists deploy SPMD and POCIS samplers to collect waterborne contaminants in Manoa Stream on Oahu, Hawaii.
Noteworthy
Press Releases
Featured Science:
Water Quality Data
Today's Water Conditions
Get continuous real-time water-quality measurements from Water-Quality Watch maps.

Water Quality Portal (WQP)
Get current and historical USGS and EPA water-quality data at the WQP.
BioData
Get stream ecosystem aquatic bioassessment data from BioData.
For More Data
View a complete list of USGS water-quality data resources.
USGS in Your Area
USGS Water Science Centers are located in each state.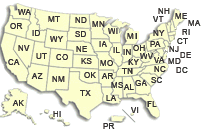 Deepwater Horizon Oil Spill USGS Water-Quality Response Resources and Information
The U.S. Geological Survey (USGS) as part of the U.S. Department of the Interior (DOI) responded to the 2010 Deepwater Horizon Oil Spill in the Gulf of Mexico by establishing baseline conditions in water chemistry and bottom sediments prior to landfall of the oil spill. After the spill reached shore (referred to as "landfall"), the USGS conducted additional sampling. Teams of scientists collected samples in Texas, Louisiana, Mississippi, Alabama, and Florida. These sampling locations include barrier islands and coastal wetlands that are critical to fish and wildlife in the Gulf of Mexico.
For complete information on USGS Deepwater Horizon oil spill response activities, see the main USGS Deepwater Horizon Oil Spill web page.
Maps, Data & Multimedia
For all USGS multimedia pertaining to the Deepwater Hortizon Spill, see the main USGS Deepwater Horizon Oil Spill Response web page.
Map & Data
USGS sampling locations with links to data [15KB KMZ]
Video
Compared to What — A video about USGS sampling procedures along the northern coast of the Gulf of Mexico.
Download the video or view a transcript.
Photos
For additional multimedia:
Publications
Selected USGS publications USGS water-quality activities and the Deepwater Horizon Oil Spill.
For additional publications:
Deepwater Horizon Oil Spill Federal Government Links & Social Media
RestoreTheGulf.gov Social Media
[an error occurred while processing this directive]

Please note that not all social media networks are accessible from the USGS intranet.



---
Note: Some or all of this information is presented in Portable Document Format (PDF); the latest version of Adobe Reader or similar software is required to view it. Download the latest version of the free Adobe Reader from the Adobe web site.
Visit https://www.adobe.com/accessibility/
for free tools that allow visually impaired users to read PDF files.