Featured Product: Groundwater-Level Response to Earthquakes
Did you know that earthquakes can cause changes in groundwater levels? Very large earthquakes can even cause water-level fluctuations in some wells thousands of miles away, depending on the local geological conditions around the well. Groundwater-level responses to earthquakes have been investigated for decades, and have been documented close to and far from earthquake epicenters. Over time, USGS has observed a network of groundwater wells monitored by USGS and cooperating agencies where water-level changes have been observed after large earthquakes around the world. Not all wells show water-level changes after every quake, and the response can vary from well to well. Learn more about how earthquakes can affect groundwater levels and see some examples.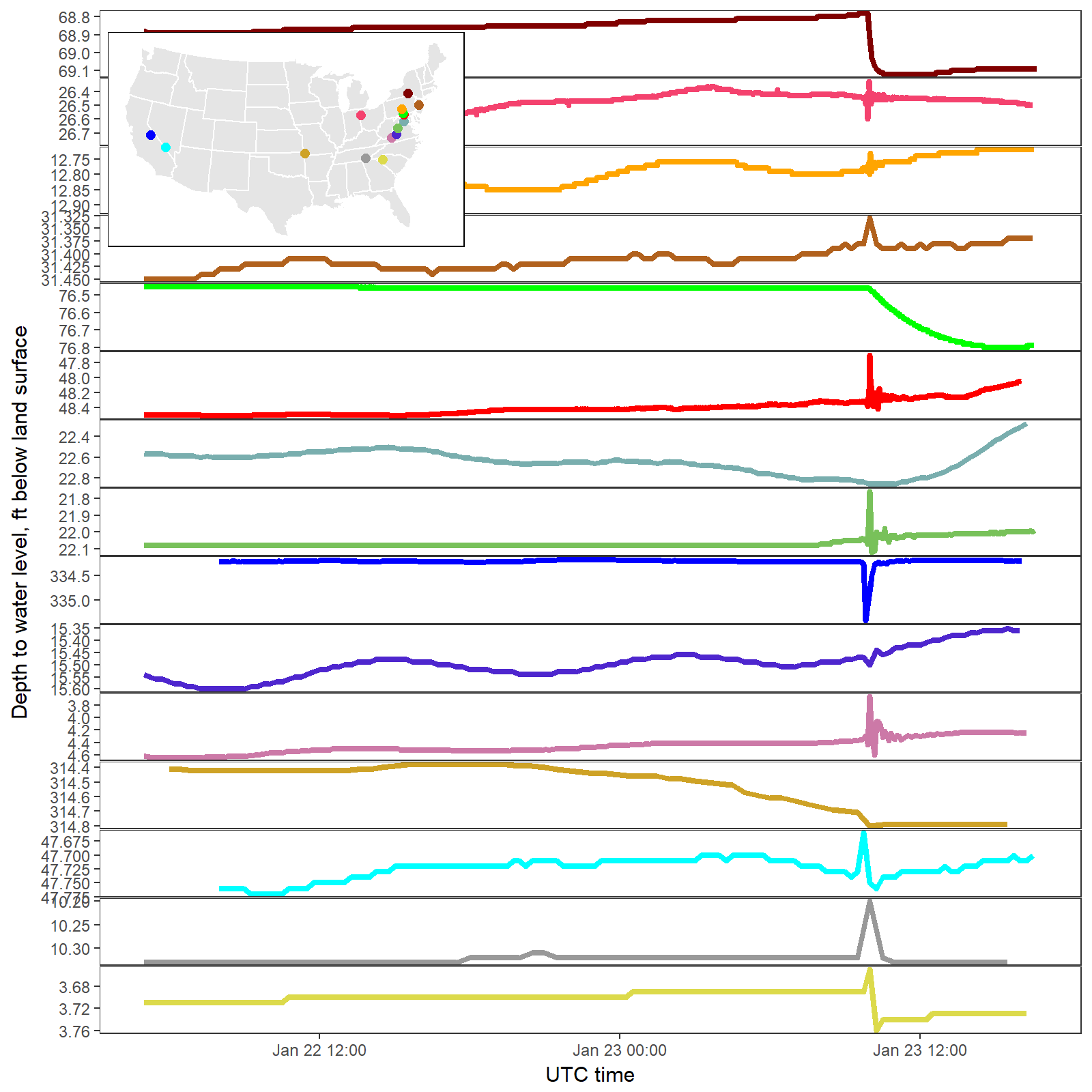 Figure: Hydrographs indicating possible groundwater level changes due to January 23, 2018, Gulf of Alaska M7.9 earthquake. (These data are preliminary or provisional and are subject to revision. They are being provided to meet the need for timely best science. The data have not received final approval by the USGS and are provided on the condition that neither the USGS nor the U.S. Government shall be held liable for any damages resulting from the authorized or unauthorized use of the data.)
USGS Groundwater-Related Publications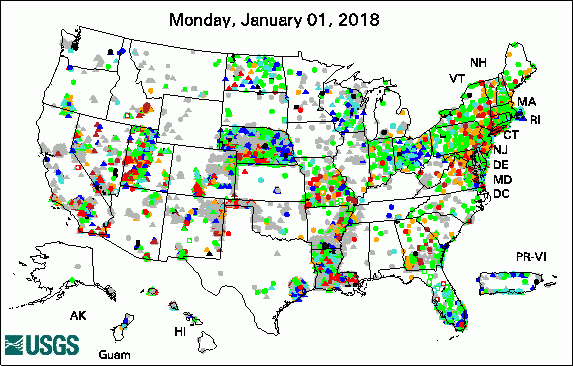 The USGS Active Groundwater Level Network includes about 20,000 wells that have been measured by the USGS or USGS cooperators at least once within the past 13 months. The animation shows a daily snapshot of water-level statistics in the network for January 2018. Credit: USGS. The image is in the public domain.
Quaternary sediment thickness and bedrock topography of the glaciated United States east of the Rocky Mountains (01/29/18)
Simulated hydrologic response to climate change during the 21st century in New Hampshire (01/24/18)
Hydrogeologic framework and groundwater conditions of the Ararat Basin in Armenia (01/22/18)
A conceptual framework for effectively anticipating water-quality changes resulting from changes in agricultural activities (01/10/18)
Groundwater quality in the shallow aquifers of the Madera-Chowchilla and Kings subbasins, San Joaquin Valley, California (01/09/18)
Geologic map of the Washington West 30' x 60' quadrangle, Maryland, Virginia, and Washington D.C. (01/03/18)
Groundwater-flow budget for the lower Apalachicola-Chattahoochee-Flint River Basin in southwestern Georgia and parts of Florida and Alabama, 2008-12 (01/02/18)
Simulations of hydrologic response in the Apalachicola-Chattahoochee-Flint River Basin, Southeastern United States (01/02/18)
Baseline assessment of groundwater quality in Pike County, Pennsylvania, 2015 (01/02/18)
USGS Groundwater-Related Software Updates and New Releases
Field Photo
Did you know groundwater can affect the water quality of lakes and beaches? In northwest Indiana, the USGS Ohio-Kentucky-Indiana Water Science Center is studying a beach that has had to be closed frequently to protect public health and safety due to high E. coli levels. USGS installed groundwater wells at different distances from the lake to investigate if the groundwater and (or) shallow sands are contributing to the problem. The first photo shows one of the groundwater wells after installation. The second photo shows a well on a day with high winds and large waves that caused the waves to reach past the wells. More information and associated data are available online.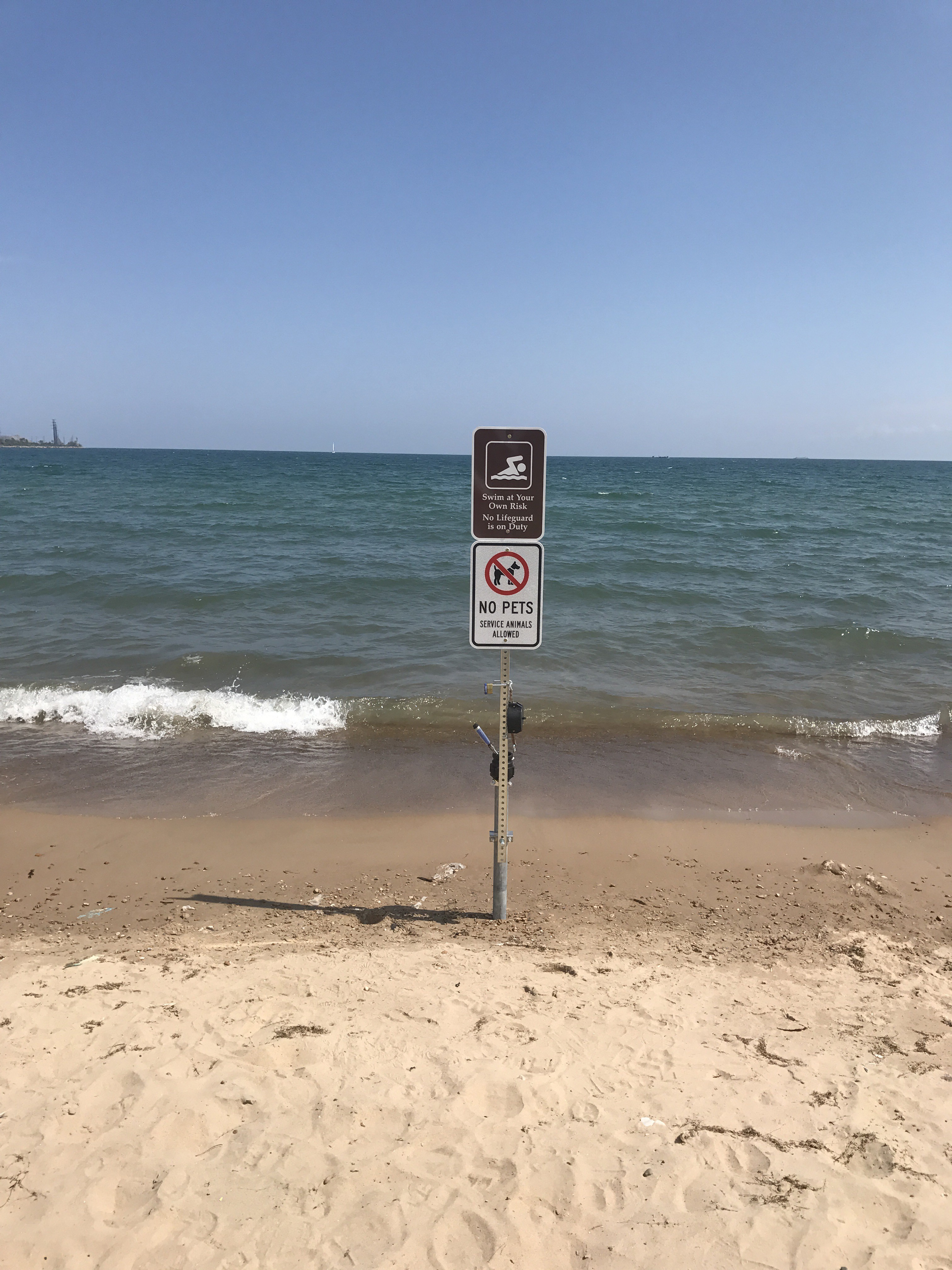 Credit: USGS/Travis Cole. Photo is in the public domain. Click on photo for larger version.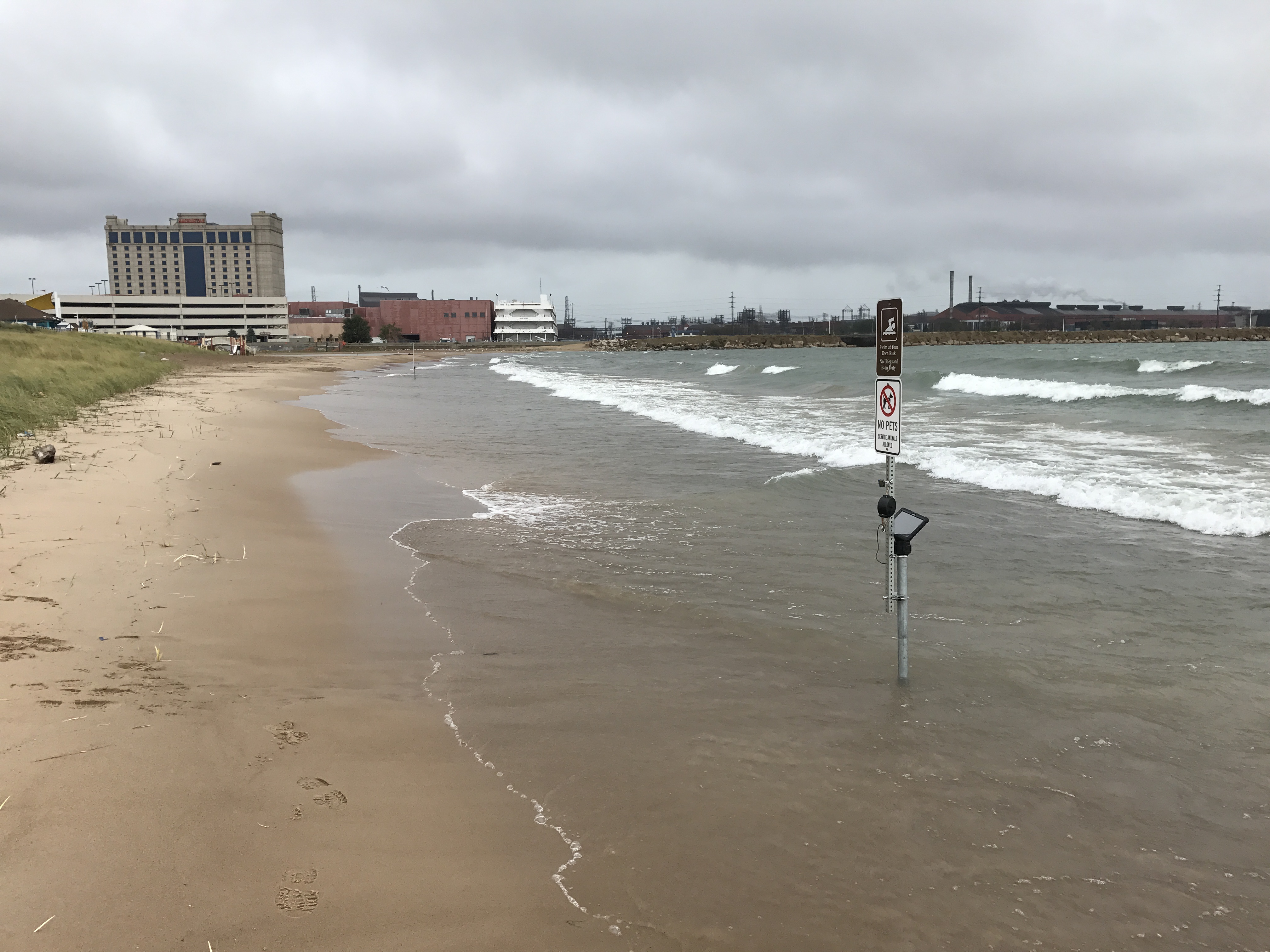 Credit: USGS/Travis Cole. Photo is in the public domain. Click on photo for larger version.
Archive of Past Highlights: