Water Software > Groundwater Software > MODFLOW and Related Programs > MODPATH
MODPATH: A Particle-Tracking Model for MODFLOW
MODPATH Version 7 Overview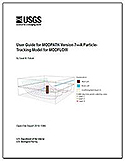 MODPATH is a particle-tracking post-processing program designed to work with MODFLOW, the USGS finite-difference groundwater flow model.
MODPATH version 7 is the fourth major release since its original publication. Previous versions were documented in USGS Open-File Reports 89-381 and 94-464 and in USGS Techniques and Methods 6-A41. The current release of MODPATH version 7 (7.2.001) works with MODFLOW-2005, MODFLOW-USG, and MODFLOW-6. Support for unstructured grids in MODFLOW-USG and MODFLOW-6 is limited to smoothed, rectangular-based quadtree and quadpatch grids. In addition to unstructured grid support, input and output formats for MODPATH also have been modified to minimize the difference between MODPATH simulations based on the different versions of MODFLOW.
MODPATH Information and Downloads
MODPATH version 7.2.001 was released December 15, 2017.
Documentation of MODPATH
Pollock, D.W., 2016, User guide for MODPATH Version 7 -- A particle-tracking model for MODFLOW: U.S. Geological Survey Open-File Report 2016-1086, 35 p., http://dx.doi.org/10.3133/ofr20161086.
Additional Resources
MODPATH-LGR: MODPATH-LGR and MODPATH Version 7 are separate programs with their own distinct input and output structure. MODPATH-LGR is a variation of MODPATH Version 5 that has been modified to work with nested grid output produced by MODFLOW-LGR.
Previous versions of MODPATH:
How to Cite
This USGS software has two citations associated with it.
The report citation is for the original report or article documenting the underlying theory, methods, instructions, and (or) applications at the time the initial version of the software was released. This digital object identifier (DOI) is for the report.
The software release citation is for the software/code itself (now referred to by USGS as a "Software Release") and references a specific version of the code and associated release date. This DOI links to the code.
In instances where an author is citing use of this software, it would be appropriate to cite both the report documenting the code and the specific software release version that was used.
Report Citation for MODPATH
Pollock, D.W., 2016, User guide for MODPATH Version 7 -- A particle-tracking model for MODFLOW: U.S. Geological Survey Open-File Report 2016-1086, 35 p., http://dx.doi.org/10.3133/ofr20161086.
Software/Code Citation for MODPATH v7.1.000
Pollock, D.W., 2017, MODPATH v7.2.01: A particle-tracking model for MODFLOW: U.S. Geological Survey Software Release, 15 December 2017, http://dx.doi.org/10.5066/F70P0X5X.
Point of Contact
Support is provided for correcting bugs and clarification of how MODPATH is intended to work. Only limited assistance can be provided for applying MODPATH to specific problems by by emailing modflow@usgs.gov or mailing:
Earth Systems Modeling Branch
Integrated Modeling and Prediction Division
Water Mission Area, U.S. Geological Survey
411 National Center
12201 Sunrise Valley Drive
Reston, VA 20192
Related USGS Software Resources
Other USGS Groundwater Software
The USGS develops groundwater, water-quality, surface-water, and other water-resources software for use by the USGS in fulfilling its mission. Most of this software is available online for download at no charge.
Disclaimers and Notices
This software has been approved for release by the U.S. Geological Survey (USGS). Although the software has been subjected to rigorous review, the USGS reserves the right to update the software as needed pursuant to further analysis and review. No warranty, expressed or implied, is made by the USGS or the U.S. Government as to the functionality of the software and related material nor shall the fact of release constitute any such warranty. Furthermore, the software is released on condition that neither the USGS nor the U.S. Government shall be held liable for any damages resulting from its authorized or unauthorized use. Also refer to the USGS Water Resources Software User Rights Notice for complete use, copyright, and distribution information.
Any use of trade, firm, or product names is for descriptive purposes only and does not imply endorsement by the U.S. Government.
See also, USGS policy on linking to non-Federal web sites.
Software License and Purchase Information
This software is a product of the U.S. Geological Survey, which is part of the U.S. Government.
Cost:
This software is freely distributed. There is no fee to download and (or) use this software.
License:
Users do not need a license or permission from the USGS to use this software. Users can download and install as many copies of the software as they need.
Public Domain:
As a work of the United States Government, this USGS product is in the public domain within the United States. You can copy, modify, distribute, and perform the work, even for commercial purposes, all without asking permission. Additionally, USGS waives copyright and related rights in the work worldwide through CC0 1.0 Universal Public Domain Dedication (https://creativecommons.org/publicdomain/zero/1.0/
).
---
Note: Some or all of this information is presented in Portable Document Format (PDF); the latest version of Adobe Reader or similar software is required to view it. Download the latest version of the free Adobe Reader from the Adobe web site.
Visit https://www.adobe.com/accessibility/
for free tools that allow visually impaired users to read PDF files.