USGS Groundwater Information > February 1, 2019
USGS Monthly Groundwater News and Highlights: February 1, 2019
Note: Due to the lapse in appropriations, no newsletter was released on January 2, 2019. This current newsletter reflects USGS groundwater activities in December 2018 and January 2019.
To continue to get the latest highlights, we recommend you subscribe to get the latest USGS groundwater news and science sent to your inbox every month!
Feature: Aquifers in Quaternary Sediments in the Glaciated Conterminous United States

Figure: Hydrogeologic terranes and the maximum glacial advance in the glaciated conterminous United States. Source: Figure 1A, Yager and others, 2018..
USGS is conducting regional analyses of groundwater availability and quality of the principal aquifers of the United States to provide decision-makers with a better understanding of the status and trends in groundwater availability and quality across the Nation. The glacial aquifer system is a principal aquifer that supplies groundwater for about 42 million people and accounts for about 5 percent of the Nation's drinking water. This aquifer system (the area of maximum glacial advance) underlies parts of 25 states. USGS recently released two new reports, including maps and the associated data, that resource managers can use to inform management of this important aquifer system. A hydrogeologic framework is presented that divides the glaciated United States into 17 distinct hydrogeologic terranes using a geologic approach based on previous mapping. The salient characteristics of the 17 hydrogeologic terranes are presented through maps and a set of descriptive plots to facilitate visual comparisons between selected sediment and aquifer characteristics. These products will support ongoing studies of groundwater flow and quality, including assessments of the occurrence and characteristics of confined and unconfined glacial aquifers, their distribution and extent, and their potential intrinsic susceptibility and vulnerability:
Field Photo
"Neither snow nor rain nor heat nor gloom of night" may be the Postal Service's motto, but it could also describe the life of USGS field scientists! Our scientists visit field sites, including USGS groundwater wells, throughout the year to collect samples, make water-level measurements, and keep equipment running properly. In this November 2018 photo, snow falls on USGS Hydrologist Joe Nawikas as he collects groundwater samples in Mammoth, California. For the latest USGS groundwater science from California, visit the USGS California Water Science Center.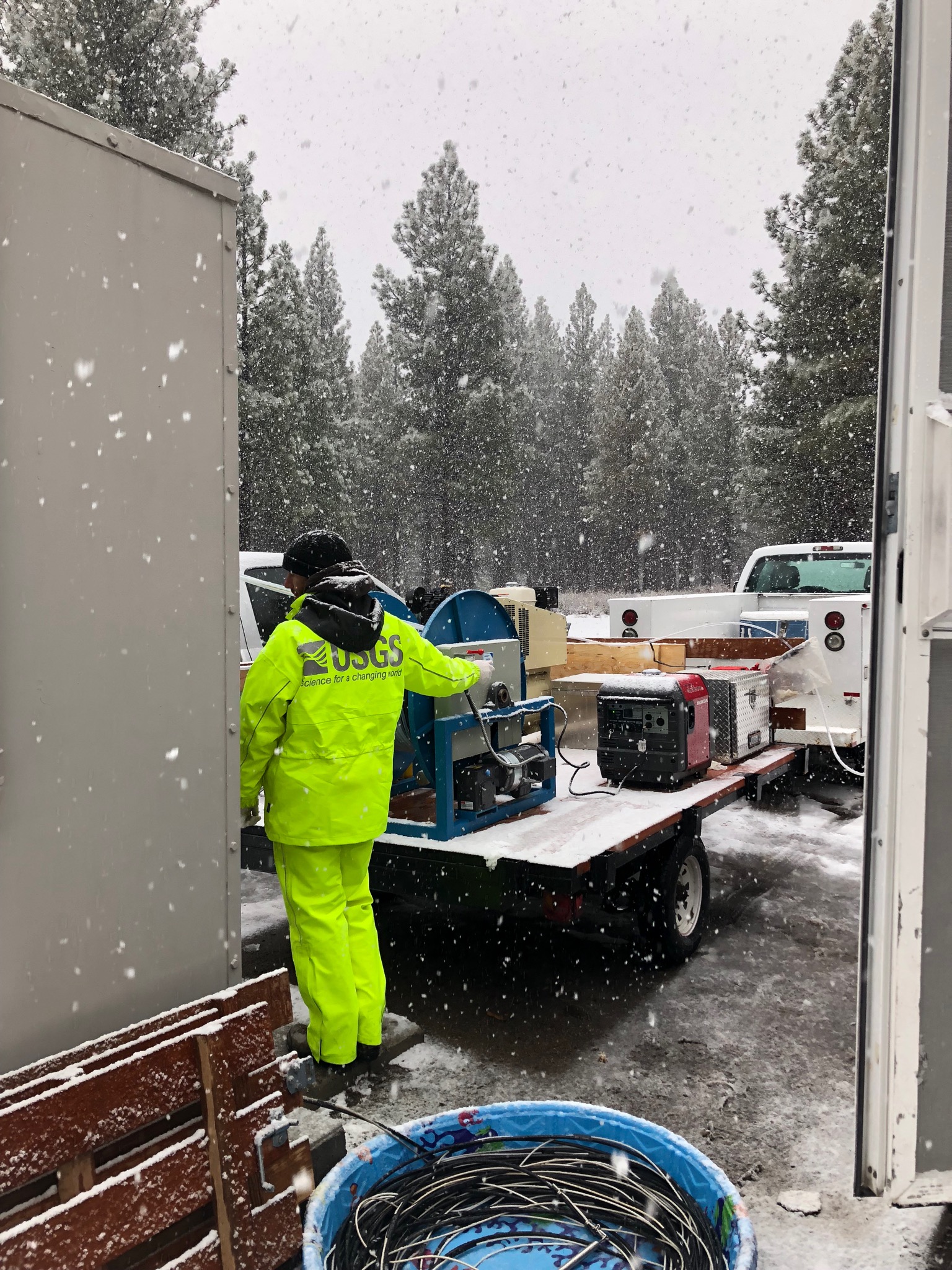 Credit: USGS/Greg Smith. Photo is in the public domain. Click on photo for larger version.
Archive of Past Highlights: