Contents | Introduction | Importance of Ground Water to the Nation | Evolving Ground-Water Issues and USGS Programs | Relationship of GWRP to Other USGS Programs | Current Activities of the GWRP | Future Priorities for the GWRP | Concluding Remarks |
---
A Report to Congress
November 30, 1998
---
THE IMPORTANCE OF GROUND WATER TO THE NATION
Ground water is one of the Nation's most important natural resources. Underground aquifers supply drinking water to about 130 million United States residents (about 50 percent of the population), and ground water is used in all 50 States (Figure 1). About 40 percent of the Nation's public water supply, and much of the water used for irrigation, is provided by ground water. About 42 million people, including most of the rural population, supply their own drinking water from individual wells.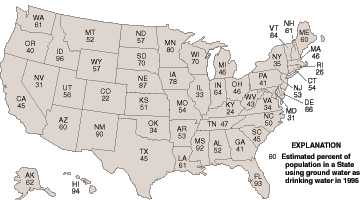 Figure 1. Ground water is an important source of drinking water in every State. (Data from U.S. Geological Survey Circular 1200.)
Ground water also plays a crucial role in sustaining streamflow (Figure 2). During low-flow periods, most streamflow is derived from ground water. Ground-water pumping decreases the amount of ground water that flows to streams, or alternately, causes streams to seep to ground water. As a result, ground-water and surface-water users commonly compete for the same resource. Ground water also is vital to the health of lakes and wetlands. Moreover, plants and aquatic animals greatly depend upon the ground water that discharges to the streams, lakes, and wetlands in which they live.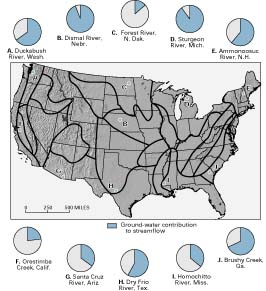 Figure 2. In the conterminous United States, 24 regions were delineated where the interactions of ground water and surface water are considered to have similar characteristics. Pie diagrams for streams in 10 of the regions show the estimated ground-water contribution to streamflow. The pie diagrams illustrate the importance of ground water as a source of streamflow and the variability of the relation between ground water and surface water across the country. (Modified from U.S. Geological Survey Circular 1139.)
The USGS has had a central role in the development of ground-water hydrology to address these varied issues. The contributions have been of two kinds: (1) Development of the methods and principles underlying the science, and (2) characterization of major aquifers of the Nation to aid in the wise use and protection of these systems. Among federal agencies, only the USGS has the established mission and expertise to conduct a national effort to assess the status and trends of the whole resource. Other federal agencies contribute to basic research on ground water (e.g., National Science Foundation); have a role in technology for protection, artificial recharge, and cleanup of aquifers (Department of Energy, Bureau of Reclamation, Army Corps of Engineers, Environmental Protection Agency (EPA), and Department of Agriculture); and carry out investigations and research in support of regulatory responsibilities (EPA and Nuclear Regulatory Commission).
Many federal, State, and local agencies use the results of USGS studies. Users of ground-water information provided by the USGS rely on its unbiased scientific accuracy for purposes ranging from development of water-management plans to economic forecasts. The next section describes how ground-water issues have changed with time, and how the scientific programs and future plans of the USGS respond to those changing information needs.