New & Noteworthy
USGS Groundwater Watch
USGS maintains a network of active wells to provide basic statistics about groundwater levels.
USGS in Your State
USGS Water Science Centers are located in each state.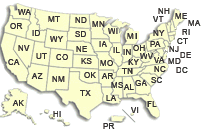 Other USGS Water Science Areas
USGS HydroTube > Groundwater Videos
USGS Groundwater Videos
Groundwater is sometimes described as a "hidden resource" or a "stealth treasure". Why is it considered so mysterious? Join USGS Senior Science Advisor for Groundwater Bill Cunningham to unlock the mystery of a critical national resource by describing how groundwater works, and why it's important for water supply, irrigation, ecosystems, and cleaning up our nation's streams.
The USGS Water Mission Area creates groundwater-related videos to share our science, to document our methods, and to train our scientists. To find USGS groundwater videos: