Photo of Times Square, New York. Groundwater data visualizations are shown in pinks and blues on signboards to the left and right sides of the picture. Image courtesy of NASA, used with permission of Richard Vijgen/Peggy Weil/Heads Up! 2012.
USGS Groundwater Data Go to Times Square
Visitors to Times Square in New York City are being treated to a different kind of display: a dynamic visualization of changing global groundwater levels. Groundwater data and information from the U.S. Geological Survey (USGS) and NASA were used by designer Richard Vijgen as part of the winning entry in an international design visualization competition.
The 30-second animation, titled "Visualizing Seasonal and Long-term Changes in Groundwater Levels," debuted on March 22, 2012, International World Water Day. The animation will continue to be displayed across eleven synchronized digital displays several times each hour through April 22, 2012. If you can't visit Times Square in person to see the displays, you can still interact with and view the visualization:
USGS Groundwater Data
Groundwater depletion is becoming recognized as an increasingly serious global problem that threatens sustainability of water supplies. Groundwater depletion is often defined as long-term water-level declines caused by sustained groundwater pumping.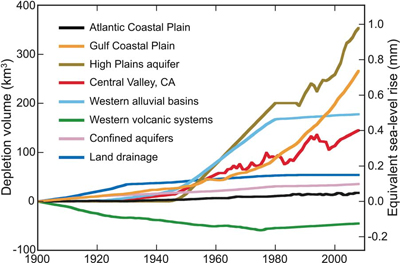 Cumulative net groundwater depletion in major aquifer systems or groups in the United States, 1900-2008 (Konikow, 2011).
The USGS data and information used in the Times Square display are from a study conducted by USGS scientist Leonard Konikow. In 2011 Konikow published a journal article about long-term groundwater depletion and its contribution to sea-level rise (225KB PDF). Konikow assessed groundwater depletion and declining water levels from 1900 to 2008 in 45 areas around the world, including 41 aquifer systems or groups in the United States. According to Konikow, "The data clearly show that globally, during the past decade, groundwater use has increased and groundwater depletion has accelerated compared to most of the 20th century."
The inclusion of USGS groundwater information in this public display helps bring public attention to the important issue of groundwater depletion. "Increased public awareness of the magnitude and effects of groundwater depletion may lead to better water management policies and practices," explained Konikow. You can read more in an interview Visualizing.org conducted with Konikow

.
In the Times Square visualization, these USGS data were combined with groundwater data from the NASA/German Aerospace Center (DLR) Gravity Recovery and Climate Experiment (GRACE) mission. The USGS and NASA data are complementary groundwater datasets, incorporating data over different time periods and scales, and calculated using different scientific methods.
Additional information on the USGS study and the methods used will be available through a USGS report in the near future. Visualizing.org has provided a summary table of the USGS groundwater depletion data

used in the visualization.
Learn More
USGS
The USGS provides unbiased, timely, and relevant information and studies about groundwater resources of the Nation. USGS groundwater data and information provide resource managers and policy makers with essential information needed for management of a limited resource.
NASA GRACE Mission
GRACE is a joint NASA mission with the German Aerospace Center (DLR) and the German Research Center for Geosciences (GFZ), in partnership with the University of Texas at Austin

. For a summary of how GRACE data were used in the visualization, see NASA's press release.
Times Square Visualization Challenge
World Water Day
World Water Day

is an annual event created by the United Nations in 1992 to focus attention on the importance of freshwater and to advocate for the sustainable management of freshwater resources.
Disclaimer
Links and pointers to non-USGS sites are provided for information only. Please note that the USGS does not control and cannot guarantee the relevance, timeliness, or accuracy of outside materials. Links on this page to web sites outside the United States federal government are indicated by

.
---
Note: Some or all of this information is presented in Portable Document Format (PDF); the latest version of Adobe Reader or similar software is required to view it. Download the latest version of the free Adobe Reader from the Adobe web site.
Visit https://www.adobe.com/accessibility/
for free tools that allow visually impaired users to read PDF files.