New & Noteworthy
USGS Groundwater Watch
USGS maintains a network of active wells to provide basic statistics about groundwater levels.
USGS in Your State
USGS Water Science Centers are located in each state.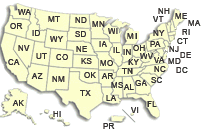 Other Sources of Groundwater Information
Government Agencies & Resources
Science.gov - gateway to authoritative selected science information provided by U.S. government agencies
State Agencies
Scientific Organizations
If you are aware of additional groundwater resources that should be included in this list, please contact us.