New & Noteworthy
USGS Groundwater Watch
USGS maintains a network of active wells to provide basic statistics about groundwater levels.
USGS in Your State
USGS Water Science Centers are located in each state.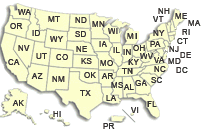 Other USGS Water Science Areas
USGS Groundwater Information > Protect Your Groundwater Day 2015
USGS Recognizes "Protect Your Groundwater Day," September 8, 2015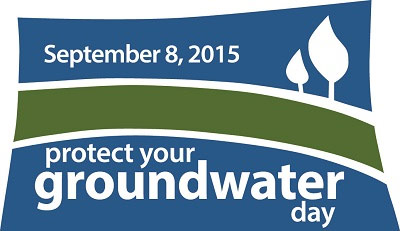 The U.S. Geological Survey (USGS) joins our partners in the groundwater community in recognizing September 8, 2015, as Protect Your Groundwater Day because groundwater is important to all of us!
Groundwater is one of the Nation's most valuable natural resources. It occurs almost everywhere beneath the Earth's surface and is a major source of water supply worldwide. It is the Nation's principal reserve of freshwater and represents much of the potential future water supply. Groundwater is a major contributor to flow in many streams and has a strong influence on river and wetland habitats for plants and animals.
At the USGS we observe and monitor groundwater conditions at locations across the United States. USGS scientists work constantly to improve our understanding of how groundwater moves through the subsurface and what human and natural factors affect the quantity and quality of that groundwater. The tools, information, and data from USGS scientists are used every day by water-resource managers, regulators, policy makers, well operators, and others to make decisions about how best to protect our groundwater to meet current and future needs.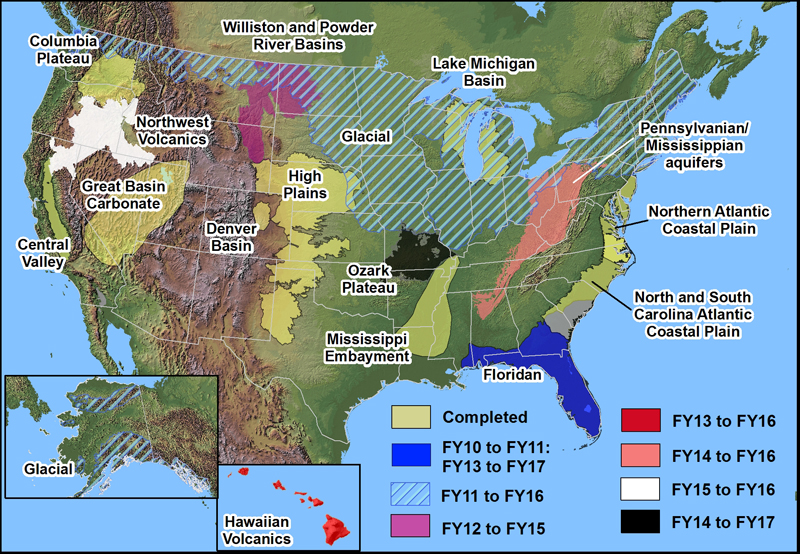 Studying Regional Groundwater Availability
In order to protect our groundwater, we must understand how it enters, moves through, and exits the subsurface.
USGS scientists conduct studies to help us determine current groundwater conditions, better understand how groundwater resources have changed over time, and forecast how groundwater systems respond to human (pumping) and environmental stress (drought). Understanding developed from these studies will make it possible to address basic questions about the Nation's ability to meet current and future demands for groundwater. Put quite simply, the USGS studies seek to understand
where and how much water recharges (enters) the subsurface,
how quickly does the groundwater move,
what path does it follow,
how does it interact with soil material and bedrock that surround it, and
where (streams, springs, etc.) and how much discharges (exits) from the subsurface.
The depletion of groundwater at local and regional scales and the compounding effects of recent droughts around the Nation have emphasized the need for an improved understanding of groundwater resources at the aquifer-wide and regional scales.
The USGS is studying regional groundwater conditions through the USGS Groundwater Resources Program to improve our understanding of groundwater availability in major aquifers across the Nation. Through these multi-year studies, USGS scientists are
documenting the effects of human activities on water levels, groundwater storage, and discharge to streams and other surface-water bodies;
exploring impacts of climate variability on the regional water budget; and
evaluating the adequacy of data networks at a regional scale.
Water-resource managers, municipalities, and policy makers use the outcomes of these regional USGS studies to inform decisions about how best to protect our local and regional groundwater resources in order to meet current and future needs.
Learn more: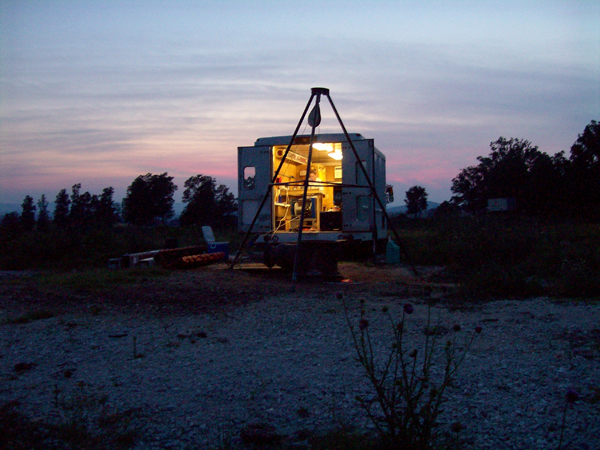 A USGS scientist collects data from a groundwater well at sunset. The hydrologist is running the tools from a computer in the back of a specially equipped truck. The tripod over the well helps center the tool in the well. Image: USGS
Mississippi Embayment Regional Aquifer Study
To provide information for policy makers and water-resource managers, the USGS conducted a regional groundwater-availability study of the Mississippi Embayment. During this study, USGS scientists investigated the groundwater system current conditions and how the region's groundwater resources have changed over time. Hydrologists also developed a numerical modeling tool to help us understand how the regional aquifer system will respond to future water use and climate changes.
The Mississippi embayment study area encompasses about 78,000 square miles in eight States, including large parts of Arkansas, Louisiana, Mississippi, and Tennessee, and smaller areas of Alabama, Illinois, Kentucky, and Missouri. The Mississippi embayment is essentially a basin that slopes toward the Gulf of Mexico and is filled with sediments of alternating sand, silt, and clay layers. There are two principal aquifers in the embayment — the Mississippi River Valley alluvial aquifer (alluvial aquifer) and the middle Claiborne aquifer.
Groundwater is an important resource for agricultural and municipal uses in the Mississippi embayment.
Arkansas ranks first in the Nation for rice and third for cotton production, with both crops dependent on groundwater as a major source of irrigation requirements.
Multiple municipalities rely on the groundwater resources to provide water for industrial and public use.
An estimated 12 million acre-feet per year (11 billion gallons per day) of groundwater was pumped in 2005 from aquifers in the Mississippi embayment.
Irrigation constitutes the largest groundwater use, accounting for approximately 10 million acre-feet per year (9 billion gallons per day) in 2000 from the Mississippi River Valley alluvial aquifer in Arkansas, Louisiana, Mississippi, and Missouri, and to a lesser extent in Illinois, Kentucky, and Tennessee.
The demand for the groundwater resource has resulted in groundwater availability issues in the Mississippi embayment including:
declining groundwater levels of 50 feet or more in the Mississippi River Valley alluvial aquifer in parts of eastern Arkansas from agricultural pumping,
declining groundwater levels of over 360 feet over the last 90 years in the confined middle Claiborne aquifer in southern Arkansas and northern Louisiana from municipal pumping, and
litigation between the States of Mississippi and Tennessee over the use of groundwater from the middle Claiborne aquifer by a Memphis water utility.
Learn more about the results of study:
Northern Atlantic Coastal Plain is underlain by a seaward-dipping wedge of sediments comprised of clay, silt, sand and gravel. This sedimentary wedge forms a complex groundwater system in which the sands and gravels function as confined aquifers, and the silts and clays function as confining units (Martin, 1998)
Northern Atlantic Coastal Plain Aquifer System Study
The USGS Northern Atlantic Coastal Plain groundwater-availability study investigated the natural and human processes that control how water enters, moves through, and leaves this regional groundwater system. Scientists developed tools such as numerical models to improve our understanding of the aquifer system. These tools are used to enable forecasts about the how the system will respond to natural and human stresses, and to support analysis of water quality conditions and ecosystem health throughout the region.
The Northern Atlantic Coastal Plain occupies a land area of approximately 34,000 square miles along the eastern seaboard of the United States from Long Island, New York, southward to the northern portion of North Carolina. This area is underlain by a seaward-dipping sedimentary wedge that forms a complex groundwater system. The confined aquifers of the Northern Atlantic Coastal Plain are a major source of water for public and domestic supply, as well as a vital source of freshwater for industrial and agricultural uses throughout the region.
In response to extensive development and increased groundwater use throughout the region, water levels in many of the confined Northern Atlantic Coastal Plain aquifers have been declining by up to 2 feet per year, resulting in total declines of tens to hundreds of feet from their predevelopment levels. In some areas, such as southeastern Virginia, these declines are greater than 100 feet, resulting in water-level altitudes of more than 100 feet below the mean sea-level elevation of 1929 (NGVD 29).
Water-resources management in the region creates hydrologic challenges beyond those imposed by the competing local domestic, industrial, agricultural, and environmental demands for water. This aquifer system extends across six State boundaries, which are typically used by water-resource managers in planning and protection efforts. As water-level declines extend under major coastal waters, such as the tidal portion of the Potomac River and Delaware Bay and across State lines, the potential for interstate aquifer-management issues and the need for a comprehensive regional assessment of the groundwater availability for this aquifer system will likely increase.
Learn about the results of the study: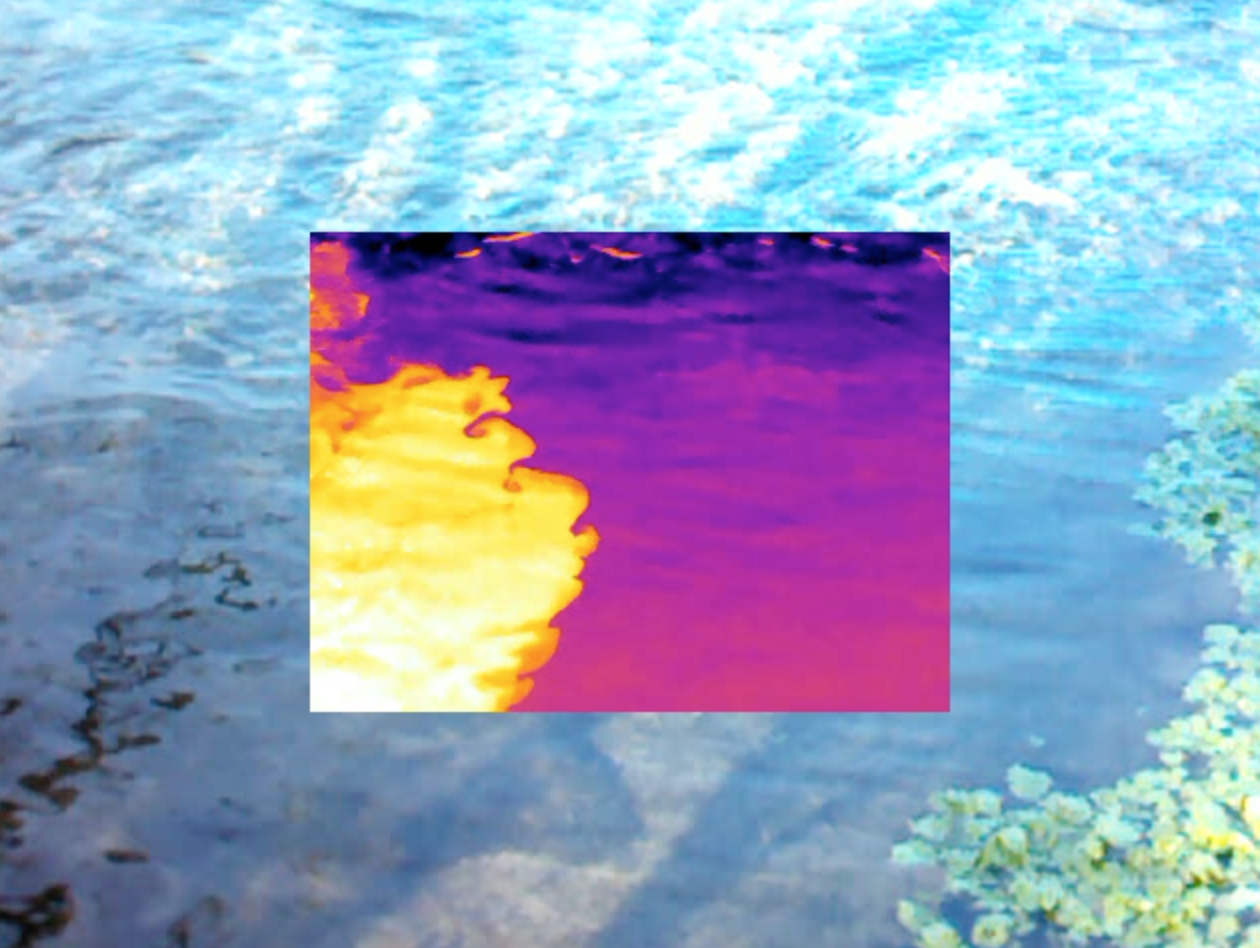 Thermal infrared (TIR) image displayed as an inset of a true-color photograph taken in the field. TIR indicates water temperature, where warmer temperatures are represented as red and cooler temperatures as blue. The image presents an area where warmer groundwater (yellow) may be discharging into a cooler (purple) stream. Variations in temperature can be used to track (or trace) the heat carried by flowing water, such as during groundwater discharge into a stream. USGS/Image by Brian Clark.
Stay Connected!
You can stay connected with the latest USGS information and products in many ways:
»Check out our monthly summary of USGS groundwater news and highlights.
»Get alerts to your email or mobile phone messages when certain groundwater data parameters are met.
»Get USGS news releases for your region or topics of interest to you.
»Connect with us via social media.