Water-Table Fluctuation (WTF) Method
The water-table fluctuation (WTF) method provides an estimate of groundwater recharge by analysis of water-level fluctuations in observation wells. The method is based on the assumption that a rise in water-table elevation measured in shallow wells is caused by the addition of recharge across the water table.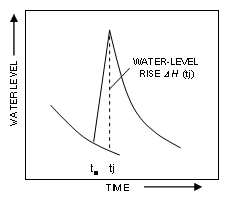 Determination of water-level rise.
Recharge by the WTF method is estimated as:
R(tj) = Sy* DH(tj) (1)
where R(tj) (cm) is recharge occurring between times t0 and tj, Sy is specific yield (dimensionless), and DH(tj) is the peak water level rise attributed to the recharge period (cm).
Although simple in theory, some key assumptions and critical issues inherent in the WTF method have great bearing on its successful application: (1) the observed well hydrograph depicts only natural water-table fluctuations caused by groundwater recharge and discharge; (2) Sy is known and constant over the time period of the water-table fluctuations, and (3) the pre-recharge water-level recession can be extrapolated to determine DH(tj).
Application of the method WTM involves two steps:
Because of the simplicity of the method and wide availability of water-level hydrographs from observation wells, the WTF method has been used for many years (Meinzer, 1923; Rasmussen and Andreasen, 1959; Crosbie and others, 2005). An excellent review of the WTF method is provided in Healy and Cook (2002).
Case Studies Using the WTF Method