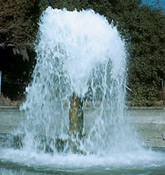 New & Noteworthy
Press Release: Study Explores Groundwater and Geothermal Energy in Drought-Stricken Eastern Oregon and Neighboring States
Technical Announcement: USGS Issues Revised Framework for Hydrogeology of Floridan Aquifer
Press Release: High Plains Aquifer Groundwater Levels Continue to Decline
Regional Groundwater Availability Study Geospatial Data
Press Release: USGS Assesses Current Groundwater-Quality Conditions in the Williston Basin Oil Production Area
USGS Groundwater Watch
USGS maintains a network of active wells to provide basic statistics about groundwater levels.
Other Water Topics
Water Resources
Groundwater
Surface Water
Water Quality
Water Use
USGS in Your State
USGS Water Science Centers are located in each state.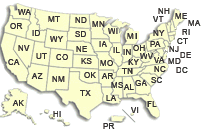 Recession-Curve Displacement Method for Estimating Groundwater Recharge In Humid Regions
Execution of RORA Program
After the recession index (K) has been determined by the user, the program RORA automates the remaining steps in the recession-curve displacement method:
Calculate critical time (Tc)
Locate Tc on hydrograph and compute Q2 (streamflow at critical time Tc after recharge event)
Extrapolate pre-storm recession to time Tc on the hydrograph and compute Q1 (flow that would have occurred in absence of recharge event)
Compute recharge from equation 1.
For details regarding the theory and application of the recession-curve displacement method by the use of RORA, the reader is referred to Rutledge (1998, 2000). Parameters that can be varied by the user in the RORA program are the recession index (K) and the requirement of antecedent recession. Changing the value of K causes minor changes in the magnitude of the estimated recharge. Increasing the requirement of antecedent recession can substantially decrease the estimated recharge.
New S-PLUS® Version of RORA
The RORA program is being incorporated into S-PLUS® statistical/graphical package by the USGS Minnesota Water Science Center to allow easier analysis because of enhanced ability to graphically analyze hydrograph data. S-PLUS® provides a consistent user interface and the possibility of developing a graphical user interface. Functions are also being developed to plot the analyses, print a concise listing of the analysis, and extract summary information. These functions produce output that replaces the output files from the original programs and eliminate the need to use a separate program to plot the data.