*Pricing may change due to manufacturer reordering, please call the HIF at (800) 382-0634 for final pricing and ordering.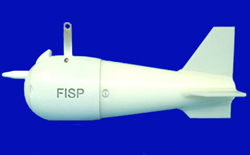 The US DH-2 is a hand-line suspended-sediment/water-quality collapsible-bag sampler capable of collecting a 1-L sample isokinectically to 35 ft. The sampler can be lowered and raised, hand over hand, with a flexible suspension line. The US DH-2 meets the protocols for water quality sampling for a "clean" suspended-sediment sampler as outlined in the USGS's National Field Manual for the Collection of Water-Quality Data.

The US DH-2 is fabricated from cast bronze and high-density polyethylene and is plastic coated. It is 19" long and weighs 29 lbs. The sampler uses plastic or TFE nozzles and plastic or PFA bags.

The sampler can be used in stream depths up to 35 ft using a 3/16" internal diameter nozzle, 20 ft using a 1/4" internal diameter nozzle, and 13 ft using a 5/16" internal diameter nozzle. The sampler can be used in stream velocities ranging from 2.0 to 6.0 ft/sec.

Includes case, manual, 4 O-rings, 2 bag straps, 1 plastic 1-L bag, 3 Teflon nozzles (3/16", 1/4", 5/16") and a hanger bar. HIF Repairable.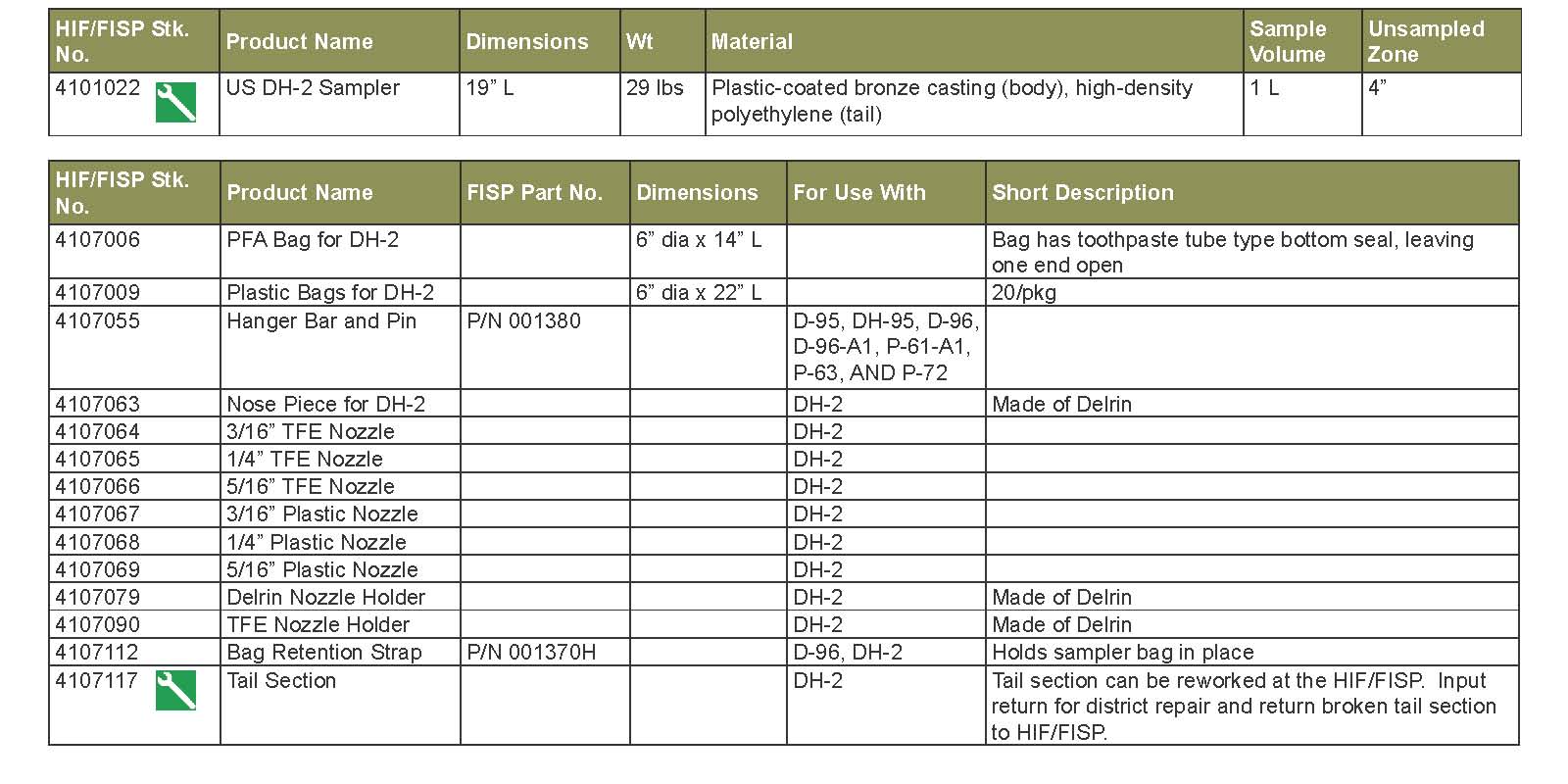 Where and how the sampler is deployed in the field is as important as the fundamental design of the sampler. Additional information about how to properly use this sampler can be found in the following references:
Edwards, T.K., and Glysson, G.D., 1999, Field Methods for Measurement of Fluvial Sediment: U.S. Geological Survey Techniques of Water Resources Investigations, book 3 chapter C2, 89 p.
---
Associated Components
4107006 BAG, PFA, FOR DH-2
4107009 BAGS, PLASTIC, FOR DH-2. 20 PER PKG
4107055 HANGER BAR AND PIN (001380)
4107063 NOSE PIECE FOR DH-2
4107064 NOZZLE, 3/16, TFE
4107065 NOZZLE, 1/4, TFE
4107066 NOZZLE, 5/16, TFE, FOR DH-2
4107067 NOZZLE, 3/16, PLASTIC
4107068 NOZZLE, 1/4, PLASTIC
4107069 NOZZLE, 5/16, PLASTIC
4107079 NOZZLE HOLDER FOR DH-2, DELRIN
4107090 NOZZLE HOLDER, TFE, FOR DH-2
4107108 O-RINGS FOR DH-2 SAMPLER, REPLACEMENTS
4107112 STRAP, BAG-RETENTION (1370H)
4107117 TAIL SECTION FOR DH-2 SAMPLER
---