Water Resources Research Act Program
The Water Resources Research Act Program, authorized by section 104 of the Water Resources Research Act of 1984, is a Federal-State partnership which:
Plans, facilitates, and conducts research to aid in the resolution of State and regional water problems
Promotes technology transfer and the dissemination and application of research results
Provides for the training of scientists and engineers through their participation in research
Provides for competitive grants to be awarded under the Water Resources Research Act
The state water resources research institutes (WRRI) authorized by the Act are organized as the National Institutes for Water Resources (NIWR). NIWR cooperates with the USGS to support, coordinate and facilitate research through the Annual Base Grants, National Competitive Grants, Coordination Grants, and in operating the NIWR-USGS Student Internship Program.
The Institutes
There are 54 Water Resources Research Institutes or Centers, one in each of the 50 states as well as the District of Columbia, Puerto Rico, the U.S. Virgin Islands, and Guam.
The Water Resources Research Institute for each state or territory is located at its "1862" land-grant university or at another college or university designated by the governor or state legislature. The Institute in Guam is a regional institute serving Guam, The Federated States of Micronesia, and the Commonwealth of the Northern Mariana Islands. The Institute in Hawaii also serves American Samoa.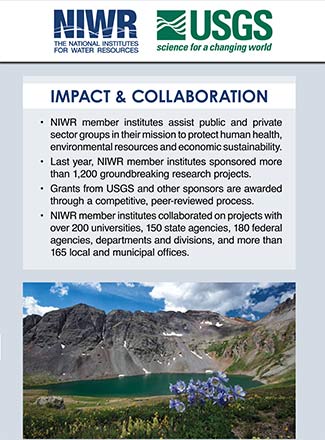 The National Institutes for Water Resources (NIWR) partners with the U.S. Geological Survey (USGS) through the provisions of the Water Resources Research Act (WRRA) to address water-related concerns by providing a national platform for research, training and collaboration. Download the USGS/NIWR fact sheet (1 MB pdf)