Water Availability and Use Science Program (WAUSP)
Regional Groundwater Availability Studies
The depletion of groundwater at a variety of scales and the compounding effects of recent droughts have emphasized the need for an updated status on the availability of the Nation's groundwater resources. In addition, assessment of how those resources have changed over time and development of tools to forecast regional response to human and environmental stressors will assist us in answering basic questions about the Nation's ability to meet current and future demands for groundwater.
The USGS Water Availability and Use Program (WAUSP) is taking advantage of the quantitative work previously conducted by the Regional Aquifer-System Analysis (RASA) Program to provide updated quantitative assessments of groundwater availability in areas of critical importance. These studies formerly were conducted under the banner of the Groundwater Resources Program. These groundwater availability studies will
document the effects of human activities on water levels, groundwater storage, and discharge to streams and other surface-water bodies;
explore climate variability impacts on the regional water budget; and
evaluate the adequacy of data networks to assess impacts at a regional scale.
There is growing recognition by water managers and municipalities that groundwater resources could be managed on an aquifer-wide scale. They are now looking for ways to better manage known groundwater resources while also identifying supplemental sources of water. Upon completion, these multidisciplinary studies of regional groundwater availability across the United States will provide resource managers and policy makers with essential information needed for management of a limited resource in areas experiencing chronic water-supply issues and concerns.
Learn more about the regional groundwater studies supported by WAUSP:
Map of Study Locations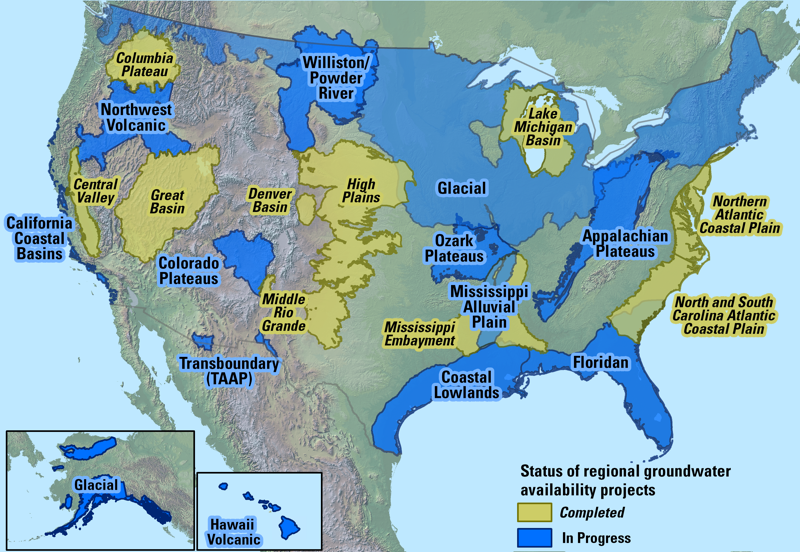 Map of U.S. Geological Survey (USGS) Regional Groundwater Availability study areas. (Updated March 2017)