USGS Groundwater Information: Hydrogeophysics Branch
ATTENTION:
As part of improvements to the USGS Water Resources Mission Area web presence to better serve you, this site is being sunset.
As some content is migrated to new locations, users will be redirected automatically.
In the interim, these pages are not being updated.
If you have questions, please contact the Hydrogeophysics Branch at hgb_help@usgs.gov

[an error occurred while processing this directive] Internal USGS users should bookmark our new HGB internal home page: https://water.usgs.gov/usgs/espd/hgb/
Student Research Opportunities
---
Get hands-on applied research experience in near-surface geophysics!
The USGS Office of Groundwater, Branch of Geophysics (OGW BG) is seeking undergraduate and graduate students interested in emerging geophysical methods and novel
applications of geophysical methods for groundwater investigations. OGW BG has opportunities for energetic and motivated students to participate in ongoing applied research initiatives.
Learn more about:
Opportunities for Collaboration
Students collaborating with OGW BG have the opportunity to participate in...
Leading-edge scientific research for environmental, groundwater, water-supply, and geotechnical applications;
Fieldwork;
Theoretical modeling, including both forward and inverse modeling;
Research programs developing geophysical methods and equipment;
Site characterization and remediation monitoring projects on sites across the U.S.;
Data acquisition, processing, modeling, and interpretation using state-of-the-art computer technology;
Application of advanced geophysical survey methods including borehole radar reflection and tomography, digital borehole imaging, 2-D resistivity profiling, ground-penetrating radar, continuous seismic-reflection profiling, seismic refraction and tomography, continuous resistivity profiling, and electromagnetic surveys;
Technology transfer activities to other USGS scientists and cooperators from other federal agencies;
Attendance and presentations at regional and national professional meetings;
Collaborations between USGS staff, university faculty, and other students to foster the exchange of ideas and further enhance the science; and
A dynamic, self-motivated work setting.
Students can collaborate on existing short- and long-term research projects or propose new ones. Research opportunities are varied and could include field-based projects, data processing and analysis, modeling, code development, and (or) more. Opportunities for limited funding may be available. Time commitment and scheduling varies by project.
Examples of Recent Collaborations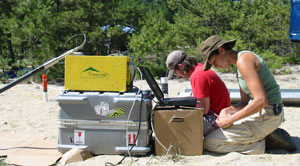 OGW BG has collaborated with numerous students on undergraduate-, masters-, and PhD-level applied research. Examples of recent graduate-level research conducted with OGW BG include:
To learn more about current OGW BG research and activities, please explore our web site, including the Branch mission, research, and publications sections.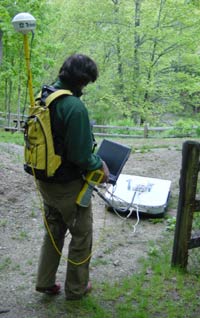 Cooperative Education Program with the University of Connecticut

OGW BG is located on the Depot Campus of the University of Connecticut (UConn). UConn undergraduate and graduate students can gain hands-on experience in cutting-edge, near-surface geophysics research and fieldwork at OGW BG while participating in related coursework and studies at UConn. For more information, contact OGW BG or Professor Lanbo Liu of the UConn Department of Environmental and Civil Engineering.

Volunteer Opportunities

OGW BG welcomes inquiries from individuals interested in being a USGS Volunteer for Science. Specific volunteer opportunities with OGW BG vary from office to field work, depending on the capabilities of the volunteer and the needs of the Branch at any given time. Ongoing volunteer possibilities include assistance with the Branch web site and translation of technical materials into Spanish.




For more information about any of these opportunities, please contact:

Dr. John Lane, Chief
Office of Groundwater, Branch of Geophysics
U.S. Geological Survey
11 Sherman Place, Unit 5015
Storrs, CT 06269
(860) 487-7402
jwlane@usgs.gov


[an error occurred while processing this directive]