USGS Groundwater Information: Hydrogeophysics Branch
ATTENTION:
As part of improvements to the USGS Water Resources Mission Area web presence to better serve you, this site is being sunset.
As some content is migrated to new locations, users will be redirected automatically.
In the interim, these pages are not being updated.
If you have questions, please contact the Hydrogeophysics Branch at hgb_help@usgs.gov

[an error occurred while processing this directive] Internal USGS users should bookmark our new HGB internal home page: https://water.usgs.gov/usgs/espd/hgb/
Geophysical Methods
---
Applied geophysics research at OGW BG focuses on the development and modification of geophysical characterization and monitoring methods and on the testing of newly developed and emerging geophysical technologies. OGW BG uses a variety of geophysical methods and techniques in its ongoing research and training courses.
Below is a listing of the surface, borehole, and water-borne geophysical methods supported by OGW BG, including emerging techniques under development. The Branch also supports selected methods for hydraulic testing in boreholes that are commonly used in conjunction with borehole geophysical methods.
For additional information and online support materials for many of these methods, see the OGW BG online technology training and transfer information.[an error occurred while processing this directive] USGS Water Science Centers interested in learning more about the specific equipment systems the Branch supports should see the OGW BG Geophysical Equipment Program online information.
---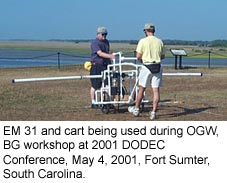 Frequency-domain electromagnetic measurements
Ground-penetrating radar (GPR)

Continuous profiling at 80 to 500 megahertz (MHz)
Step profiling at 25 to 400 MHz
Applications requiring shielded antennas

Induced polarization (IP)
Magnetometer
Self potential (SP)
Seismic surveys

Shallow refraction
Shallow 2-D and 3-D reflection

Shallow direct-current (DC) electrical resistivity sounding

2-D Resistivity with roll-along capability provides for longer co-linear arrays
Square-array azimuthal measurements for up to 150-meter square arrays

Time-domain (transient) electromagnetic surveys
Very low frequency (VLF) electromagnetic measurements
Integrated global-positioning system (GPS) data in all surveying
---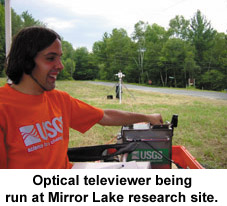 Standard borehole logging methods

Compact digital logging systems.
Self potential
Magnetic susceptibility

Borehole electromagnetic (EM) induction logging

Single induction
Dual induction

Borehole imaging
Borehole radar

Single-hole reflection logging
Single-hole directional logging
Cross-hole tomography
Surface-to-borehole surveys

Electrical resistance tomography (ERT)

Single-hole arrays
Cross-hole arrays

Full waveform sonic
Neutron porosity

Single detector
Dual detector
(See a summary of selected borehole logging methods and their relative cost, difficulty, and speed.)
In addition to processing and analysis of the above methods, OGW BG also supports:
Integrated interpretation of borehole logs
Geostatistical analysis of tomographic data and for planning tomographic investigations
---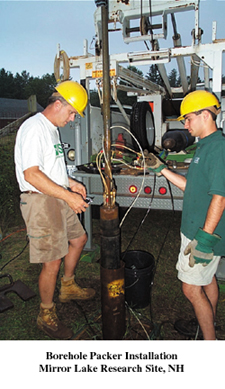 Borehole liners to prevent cross-contamination[an error occurred while processing this directive] (Internal USGS: Learn more!)
Borehole wire-line packers and downhole transducer (for differential head measurements)
Cross-well flow testing and monitoring
Flowmeter logging in ambient or stressed, single- and cross-hole surveys
Semi-permanent packers to prevent cross-contamination and provide hydraulic-head and water-quality monitoring
---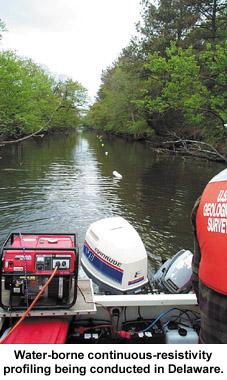 Continuous seismic profiling (CSP) [an error occurred while processing this directive] (Internal USGS: Learn more!)

High frequency
Low frequency
Swept frequency chirp

Marine radar profiling
Single-channel bathymeter
Integrated global-positioning system (GPS) data in all surveying
Hypertext links and other references to non-USGS products, trade names, and (or) services are provided for information purposes only and do not constitute endorsement or warranty, express or implied, by the USGS, USDOI, or U.S. Government, as to their suitability, content, usefulness, functioning, completeness, or accuracy.