USGS Groundwater Information: Hydrogeophysics Branch
ATTENTION:
As part of improvements to the USGS Water Resources Mission Area web presence to better serve you, this site is being sunset.
As some content is migrated to new locations, users will be redirected automatically.
In the interim, these pages are not being updated.
If you have questions, please contact the Hydrogeophysics Branch at hgb_help@usgs.gov

[an error occurred while processing this directive] Internal USGS users should bookmark our new HGB internal home page: https://water.usgs.gov/usgs/espd/hgb/
FO-DTS > UK
Fiber-Optic Distributed Temperature Sensing in the UK
---
Overview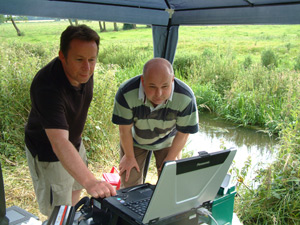 Dr. Andrew Binley (Lancaster University) and Dr. Nigel Cassidy (Keele University) observe real-time data collection during FO-DTS technology demonstration and evaluation.
In 2009 the USGS Office of Groundwater, Branch of Geophysics (OGW BG) expanded its technology demonstration and evaluation activities to England in an ongoing effort to evaluate the use of fiber-optic distributed temperature sensing (FO-DTS).
USGS Hydrologist Fred Day-Lewis spent a week in July 2009 collaborating with scientists from Lancaster University in the United Kingdom (UK). Based on recent USGS applied research in the United States, Day-Lewis provided guidance on the use of FO-DTS to characterize groundwater/surface-water interaction. In addition to presenting a lecture on FO-DTS technology and its applications to hydrology, Day-Lewis visited two field demonstration/evaluation sites where he worked with scientists from Lancaster and Keele Universities. This applied research project was supported by a grant from the UK Natural Environment Research Council to study nitrate transport across the groundwater-surface water interface, with additional support from the USGS Groundwater Resources Program.
Field Research
At a site on the River Leith, a fiber-optic cable and DTS were used to investigate streambed temperature and to infer potential locations of focused groundwater discharges. This work complements ongoing applied research by multiple UK universities as well as by the USGS to understand stream-aquifer interaction and nutrient cycling. The preliminary data from this study will inform the selection of geochemical sampling locations and the collection of one-dimensional temperature profiles at the site.
Future Activities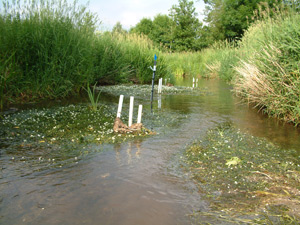 Field site for FO-DTS technology demonstration and evaluation in UK.
Ongoing and future work will include another trip to the UK for a second deployment of fiber-optic cable and longer-term data collection with concurrent geochemical sampling. Results from direct hydraulic and geochemical sampling will serve as groundtruth for the DTS results.
For More Information
For more information about the UK FO-DTS project, contact Fred Day-Lewis (860-487-7402 x21) at the OGW, Branch of Geophysics.
This project was conducted with support from the USGS Groundwater Resources Program.
Collaborators & Cooperators