*Pricing may change due to manufacturer reordering, please call the HIF at (800) 382-0634 for final pricing and ordering.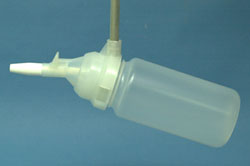 The US DH-81 is depth-integrating suspended-sediment and water-quality sampler fabricated using parts from other FISP approved suspended-sediment samplers. It meets the protocols for water-quality sampling as outlined in the USGS's National Field Manual for the Collection of Water-Quality Data7. The US DH-81A is a plastic adapter with a threaded insert that accepts a 1/2-in diameter wading rod and is used with a variety of caps, nozzles, and containers to assemble a hand-held sediment sampler designated as the US DH-81. The US DH-81A will accept a plastic US D-77 cap or a US D-95 tetrafluoroethylene (TFE) cap. The US D-77 cap is threaded to accept a container with Mason jar threads. The US D-95 cap is threaded to accept a 1-liter fluorinated ethylene propylene (FEP) bottle. US D-77 plastic and TFE nozzles with internal diameters of 3/16, 1/4, and 5/16 in can be used with the US D-77 and US D-95 caps. The metal wading rod used with the US DH-81A is covered with plastic heat-shrink tubing to help prevent contamination of samples for trace metal analysis in water-quality sampling.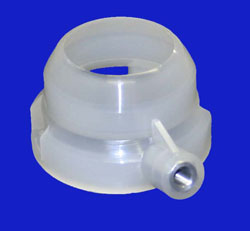 The US DH-81 sampler will collect samples at an acceptable inflow efficiency in stream velocities ranging from 2.0 to 6.2 ft/sec with a 3/16-in nozzle, 1.5 to 7.6 ft/sec with a 1/4-in nozzle, and 2.0 to 7.0 ft/sec with a 5/16-in nozzle. Based on the recommended maximum volume of 800 ml the US DH-81 sampler will collect samples to a maximum recommended depth of 12 ft. The sampler can be used to a depth of 15 ft by collecting up to 1 liter of sample. To sample depths greater than can be waded, wading rod extensions in 1- and 3-ft lengths can be added to the sampler. With the extensions, the sampler can be deployed from a low bridge or boat. The unsampled zone using the US DH-81 is 4 in.
Applications: To assemble a DH-81A Sampler for measuring sediment, the following stock numbers must be ordered: HIF Stk. Nos. 4107020 (Bottle), 4107034 (Plastic Cap), 4107084 (3/16" Nozzle), or 4107085 (1/4" Nozzle), or 4107086 (5/16" Nozzle), and 4107131 (Wading Rod).
For Water-Quality sampling, the following stock numbers must be ordered: HIF Stk. Nos. 4107021 (Bottle), 4107036 (Nozzle Holder), 4107087 (3/16" Nozzle) or 4107088 (1/4" TFE Nozzle) or 4107089 (5/16" TFE Nozzle), and 4107131 (Wading Rod).

Where and how the sampler is deployed in the field is as important as the fundamental design of the sampler. Additional information about how to properly use this sampler can be found in the following references:
Edwards, T.K., and Glysson, G.D., 1999, Field Methods for Measurement of Fluvial Sediment: U.S. Geological Survey Techniques of Water Resources Investigations, book 3 chapter C2, 89 p.
Operation instructions are given in Instructions for DH-81.
Associated Components
4107012 BASKET, WIRE (002720), PINT. FOR FIELD USE
4107022 BOTTLES, MILK, PINT, 24 PER CASE
4107062 HANGER BAR & PIN, TYPE 2
4107104 NOZZLE, 1/4, RED, PLASTIC (2635) FOR DH-59 AND DH-76
---