*Pricing may change due to manufacturer reordering, please call the HIF at (800) 382-0634 for final pricing and ordering.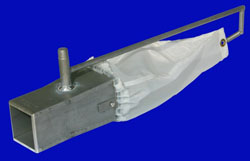 The US BLH-84 is a wading-type hand-held bedload sampler. The sampler consists of an expanding nozzle, a sample bag, and a wading rod assembly. The sampler design enables collection of particle siznozzle and an area expansion ratio (ratio of nozzle exit area to entrance area) of 1.4. A polyester mesh bag with mesh openings of 0.25 mm is attached to the rear of the nozzle assembly with a rubber "O" ring.
The sampler is constructed of aluminum, weighs 10 lbs and is 28 in long. HIF Repairable.

Where and how the sampler is deployed in the field is as important as the fundamental design of the sampler. Additional information about how to properly use this sampler can be found in the following references:
Edwards, T.K., and Glysson, G.D., 1999, Field Methods for Measurement of Fluvial Sediment: U.S. Geological Survey Techniques of Water Resources Investigations, book 3 chapter C2, 89 p.
A copy of operating instructions at located at (http://water.usgs.gov/fisp/docs/Instructions_US_FL-84_990507.pdf) and is provided with each sampler.
---
Associated Components
4109002 BAG FOR BL-84 SAMPLER
---