*Pricing may change due to manufacturer reordering, please call the HIF at (800) 382-0634 for final pricing and ordering.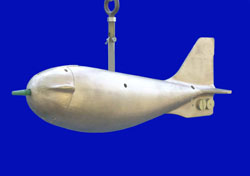 The US D-74 is a cable-suspended suspended-sediment sampler. The sampler is lowered and raised by means of a suspension system such as a reel and crane or bridge board. It could also be used with a cableway. The sampler can be used in stream depths up to 15 ft and in stream velocities ranging from 1.5 to 6.6 ft/sec.
The sampler has a cast bronze, streamlined body that is 24 in long and weighs 62 lbs. A pint or quart glass bottle sample container is used with the sampler. The head of the sampler is hinged to permit access to the sample container. Tail vanes are provided to orient the instrument into the stream flow. The US D-74 uses 3/16- and 1/4- in internal diameter intake nozzles that project into the stream current for collecting a sample. A port, which points downstream, is located on the side of the sampler head from which air escapes as it is displaced by the sample filling the container. The unsampled zone using the US D-74 is 4.1 in. HIF Repairable.

Where and how the sampler is deployed in the field is as important as the fundamental design of the sampler. Additional information about how to properly use this sampler can be found in the following references:
Edwards, T.K., and Glysson, G.D., 1999, Field Methods for Measurement of Fluvial Sediment: U.S. Geological Survey Techniques of Water Resources Investigations, book 3 chapter C2, 89 p.
Operation instructions are given in D-74 Instruction Manual.
---
SAMPLER, US D-74 FURNISHED WITH HANGER BAR, ALUMINUM ADAPTER, 2 EACH OF 3/16" AND 1/4" NOZZLES, AND 2 GASKETS.
THE SAMPLER HAS A CAST BRONZE, STREAMLINED BODY IN WHICH A ROUND OR SQUARE PINT OR QUART BOTTLE SAMPLE CONTAINER (NOT FURNISHED) IS ENCLOSED. THE HEAD OF THE SAMPLER IS HINGED TO PERMIT ACCESS TO THE SAMPLE CONTAINER. TAIL VANES ARE PROVIDED TO ORIENT THE INSTRUMENT INTO THE STREAM FLOW. THE HEAD OF THE SAMPLER IS DRILLED AND TAPPED TO RECEIVE THE 1/4 INCH, 3/16 INCH OR 1/8 INCH INTAKE NOZZLE WHICH PROJECTS INTO THE CURRENT FOR COLLECTING THE SAMPLE. A PORT, WHICH POINTS DOWNSTREAM, IS PROVIDED ON THE SIDE OF THE SAMPLER HEAD FROM WHICH AIR ESCAPES AS IT IS DISPLACED BY THE SAMPLE BEING COLLECTED IN THE CONTAINER.
THE INSTRUMENT IS SUSPENDED ON A HANGER BAR ATTACHED TO A 1/8 INCH STEEL CABLE AND IS LOWERED AND RAISED BY MEANS OF A REEL MOUNTED ON A CRANE. (NONE OF THE EQUIPMENT FOR SUSPENSION OF THE SAMPLER IS FURNISHED.)
---
Associated Components
4107003 ADAPTER SLEEVE, PINT
4107012 BASKET, WIRE, PINT. FOR FIELD USE
4107022 BOTTLES, MILK, PINT, 24 PER CASE
4107039 CAPS, PRESS-ON, PL, PINT BOTTLE
4107055 HANGER BAR AND PIN
4107080 NOZZLE, 3/16, BRASS (2170) FOR D-74
4107081 NOZZLE, 1/4, BRASS (2180) FOR D-74
4107083 NOZZLE, 1/4, GREEN PLASTIC (2210) FOR D-74
---