Total Water Use
The USGS has estimated water use for the United States every 5 years since 1950. Estimates are provided for groundwater and surface-water sources, for fresh and saline water quality, and by sector or category of use. Estimates have been made at the State level since 1950, and at the county level since 1985. Water-use estimates by watershed were made from 1950 through 1995, first at the water-resources region level (HUC2), and later at the hydrologic cataloging unit level (HUC8).
2010 Water Use
(source: Maupin, M.A., Kenny, J.F., Hutson, S.S., Lovelace, J.K., Barber, N.L., and Linsey, K.S., 2014, Estimated use of water in the United States in 2010: U.S. Geological Survey Circular 1405, 56 p., https://pubs.usgs.gov/circ/1405/.)
Total freshwater and saline-water withdrawals for 2010 were estimated to be 355,000 million gallons per day (Mgal/d; equivalent to 355 billion gallons per day), or 397,000 thousand acre-feet per year (acre-ft/yr). Freshwater withdrawals made up 86 percent of the total, and saline-water withdrawals made up the remaining 14 percent. Most saline-water withdrawals were seawater and brackish coastal water used for thermoelectric power.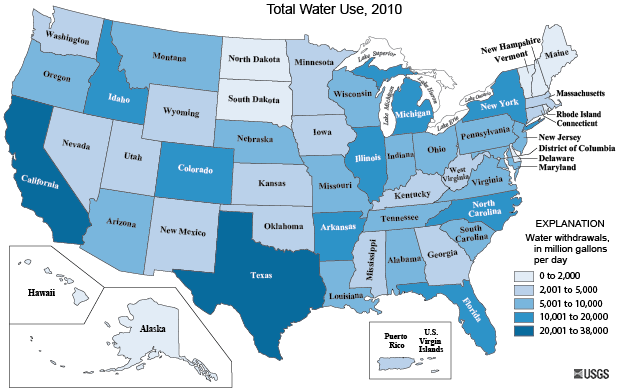 As in 2005, water withdrawals in four States—California, Texas, Idaho, and Florida—accounted for more than one-quarter of all fresh and saline water withdrawn in the United States in 2010. California accounted for 11 percent of the total withdrawals for all categories and 10 percent of total freshwater withdrawals for all categories nationwide.
Total water withdrawals, top states, 2010
[percentages calculated from unrounded values]
State
Percentage of
total withdrawals
Cumulative percentage
of total withdrawals
California
11%
11%
Texas
7%
18%
Idaho
5%
23%
Florida
4%
27%
Illinois
4%
30%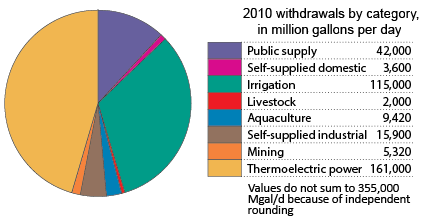 The three largest categories were thermoelectric power, irrigation, and public supply, cumulatively accounting for 90 percent of the national total.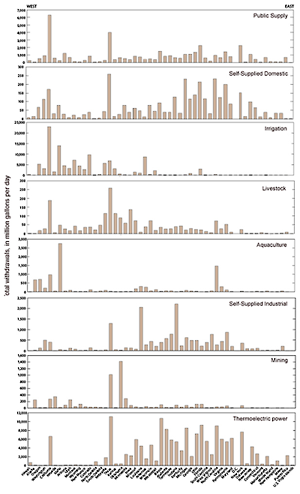 In these bar graphs the States are ordered geographically from west to east. (Click the image for a larger view.) The magnitude of the withdrawals cannot be compared here as the scales of the graphs are not the same, but the different geographic distributions of categories of water use can be examined.
Irrigation withdrawals are predominantly in Western States to the left of the graphs. Thermoelectric power is larger in the Midwest and Eastern States.
Higher withdrawals for California (fifth bar from the left) are apparent on the public supply, domestic, irrigation, livestock, aquaculture and thermoelectric power graphs. Texas, another State with large withdrawals in a number of categories, is to the left of center and is prominent on the public supply, self-supplied domestic, livestock, self-supplied industrial, mining, and thermoelectric power graphs.