Thermoelectric Power Water Use
Water for thermoelectric power is used in generating electricity with steam-driven turbine generators. Since 2000, thermoelectric-power withdrawals have been compiled by cooling-system type. Once-through cooling refers to cooling systems in which water is circulated through heat exchangers, and then returned to the source. Recirculation cooling refers to cooling systems in which water is circulated through heat exchangers, cooled using ponds or towers, and then recirculated. Subsequent water withdrawals for a recirculation system are used to replace water lost to evaporation, blowdown, drift, and leakage. Prior to 2000, thermoelectric-power withdrawals were compiled by fuel type (fossil-fuel, nuclear, and geothermal).
Thermoelectric power cooling water sources include fresh and saline water from both surface-water and groundwater sources. Reclaimed wastewater is a supplemental source of water for thermoelectric power, especially in areas where additional water sources are needed for plant operations.
2010 Water Use
(source: Maupin, M.A., Kenny, J.F., Hutson, S.S., Lovelace, J.K., Barber, N.L., and Linsey, K.S., 2014, Estimated use of water in the United States in 2010: U.S. Geological Survey Circular 1405, 56 p., https://pubs.usgs.gov/circ/1405/.)
Total withdrawals for thermoelectric power for 2010 were 161,000 Mgal/d, 99 percent of which was withdrawn from surface water sources, predominantly freshwater. Total withdrawals for thermoelectric power accounted for 45 percent of total water withdrawals, 38 percent of total freshwater withdrawals, and 51 percent of fresh surface-water withdrawals for all uses.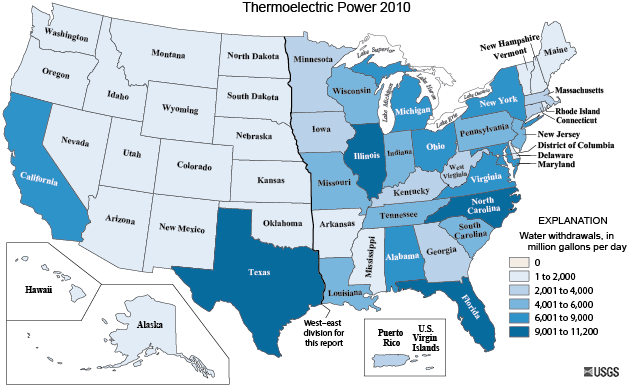 Eastern States accounted for 86 percent of total thermoelectric-power withdrawals in the United States and 75 percent of the related net power generation. Hydroelectric-power generation meets the demand for a significant amount of the U.S. total energy needs, predominantly in Western States.
Thermoelectric power withdrawals, top states, 2010
[percentages calculated from unrounded values]
State
Percentage of
total withdrawals
Cumulative percentage
of total withdrawals
Texas
7%
7%
Illinois
7%
14%
Florida
6%
19%
North Carolina
6%
25%
Michigan
5%
30%
Estimated 2010 thermoelectric withdrawals were 20 percent less than estimates for 2005. On average, 19 gal (gallons) were used to produce 1 kWh (kilowatt-hour) of electricity in 2010, compared to almost 23 gal/kWh (gallons per kilowatt-hour) in 2005.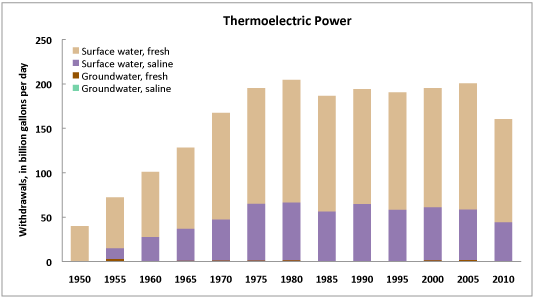 Since the 1970s, an increasing number of powerplants were built with or converted to recirculating cooling systems or dry cooling systems, which use less water than powerplants with once-through cooling systems. Withdrawals at powerplants have declined in some States due to the implementation of new rules designed to minimize adverse effects to aquatic life at powerplant intakes. The decrease in use of coal and increase in use of natural gas and new powerplants coming online that use more water-efficient cooling technology also have helped to reduce withdrawals for thermoelectric power. Closing of plants with once-through cooling systems also contributed significantly to the reduction in total withdrawals. Modeled datasets (Diehl and others, 2013) substantially improved existing NWUIP capabilities with more accurate and complete information on thermoelectric powerplant locations, categorization of cooling-system types, and water sources as well as a source of estimated withdrawals for each powerplant.
Data sources
Sources for thermoelectric-power withdrawals, cooling-system information, and net power generation included data collected directly from facilities, State permitting or regulatory agencies, the US Energy Information Administration, and a linked heat and water budget for powerplants in the United States, as mentioned previously. Using information gleaned from the NWC thermoelectric project, some powerplant's cooling-system classifications were changed, thereby making them different from previous compilations. Similarly, net power-generation data from EIA were scrutinized for each plant to determine whether the power that was reported and used in this compilation was associated with a water use.
For the 2010 estimates, linked heat and water budget models were developed for 1,290 thermoelectric powerplants in the United States (Diehl and others, 2013). This project entailed a in-depth inventory of powerplants and associated information. Data from this project considerably improved USGS understanding of the cooling systems used at individual powerplants as well as provided a more complete inventory of powerplant locations and net power generation. On the basis of the water budget models, Diehl and Harris (2014) reported powerplant-specific estimates of withdrawals and consumptive use. These data were used either in whole or in part for this compilation. Compilers in some States obtained data reported directly from thermoelectric powerplant operators.
1950: Included in Industrial
1955: Fuel-electric power subcategory in Industrial (data presented by watershed but not by State)
1960-1980: Fuel-electric power subcategory in Industrial
1985-1995: Thermoelectric power, subcategories by fuel type (fossil fuel, geothermal, nuclear)
2000 and later: Thermoelectric power, subcategories by cooling-system type (once-through, closed-loop/recirculation)