---

Water Budgets
Page Content
Water availability is a function of many factors – including, of course, the natural processes that drive the water cycle. However, a host of other societal and technical factors related to environmental management and water supply can influence the availability of water in the environment – including surface water such as lakes, rivers, and wetland as well as groundwater, such as aquifers. Water use is also a factor driving availability, and is itself affected by more than simply the demand for consumption – with laws, regulations, economics, and other environmental factors influencing its use. With all of the factors complicating water availability, it may seem bit hard to imagine how the USGS approaches the question of water availability through a purely scientific approach.

To illustrate the science behind the USGS Water Census, it is helpful to understand the concept of a water budget. Water budgets account for the inputs, outputs, and changes in the amount of water by breaking the water cycle down into components. They provide scientific measurements and estimates of the amount of water in each component and calculate the movement of water among the different components – the flux or flow of water. The result is a budget that is a hydrologic record comparable to deposits, withdrawals, and changes in the balance of a checking account. Basic components of water budgets are precipitation, evapotranspiration (the upward flux of water from the land surface to the atmosphere, a combination of evaporation from the soil and transpiration by plants), surface-water (such as streams and lakes) and groundwater flow (aquifers) into and out of the watershed, change in surface-water and groundwater storage, change in snow and ice storage, and human withdrawals and interbasin transfers. As with a monetary budget or checking account, knowing where, when, and how much is flowing into or out of an account can provide a means for calculating how much is left for other uses (water availability) and where stresses to the budget (the unpaid bills or water shortages) exist or are developing.

National Water Availability and Use Pilot, released in 2010, describes the analytical framework as follows: "The underlying framework controlling water availability is the interplay between storage of water in the system, flux of water through the system, and human and ecological uses of water. Understanding this underlying framework is paramount to developing estimates of water availability given the constraints that are recognized today or that may be imposed in the future." Conceptually, this is somewhat intuitive, but technical constraints make it challenging to apply and integrate the same methods and data originally collected for smaller scale research questions to larger-scale questions.

The first pilot study was helpful in this regard, by testing a regional-scale approach for the first time by assessing water availability in the U.S. portion of the Great Lakes. One of the findings of this study was the importance of variation in water supply and demand in time and space. For example, the groundwater budgets west of Lake Michigan are quite different from budgets east of Lake Michigan due to pumping of a deep bedrock aquifer west of Lake Michigan, which can affect nearby streams to the point of potentially drying them up during part of the year. The national pilot also revealed the inconsistencies and technical constraints in existing water-use data collection and reporting across the nation. Finally, the methods needed to capture dynamics at the scale of interest often differed in pilot studies at the regional scale versus localized studies, particularly with respect to minimizing technical uncertainties associated with the findings. The pilot studies helped USGS scientists identify priorities topics for future research. Many of these issues are now being addressed by the Water Census through the Focus Area Studies and through topic areas.
The Challenges of Data Integration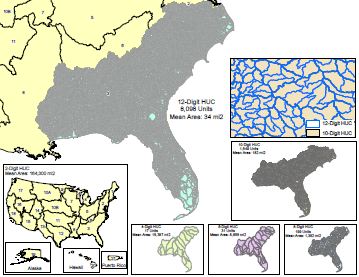 12-Digit HUC 8,098 Units Mean Area: 34 mi2.

The spatial extent of a watershed for which a water budget is calculated has a significant bearing on the types of water resource questions that can be addressed. Using too large of a watershed area can mask water availability problems that become apparent at the smaller scale. Conversely, a water budget for a small watershed may not provide the regional or national context that decision–makers require.

To support data integration and analysis at a variety of different scales, the Water Census will build on a common system of reference already in use for hydrologic data collection and communication. The United States is divided and sub-divided into units that represent successively smaller watersheds (a watershed is an area of land where all of the water drains into the same place). These hydrologic units are classified into six levels, and each hydrologic unit is identified by a unique hydrologic unit code (HUC) consisting of two to twelve digits based on the six levels of classification – the smaller the watershed, the more digits in the code to capture within a larger watershed. One of the major long-term objectives of the Water Census is to provide measured or estimated information for all water-budget components at the hydrologic unit code (HUC) 12-digit scale, a relatively small sized watershed that averages 34 square miles.

The value of providing detailed information at the HUC-12 levels is that it allows subsequent users of the data to have the flexibility to aggregate data to larger scales or watersheds. While the HUC-12 scale is established as a long-term goal for the Water Census, many types of data can only be determined at coarser scales at present. There are varied scientific and technical constraints that limit the capacity to maintain data at this scale, foremost of which is the logistical challenge of obtaining measurements at fine scales and frequent time intervals. Through a range of approaches – including collating and standardizing data gathered by partners, developing statistical and computer models, physical science, and field studies, USGS is developing techniques for building analytical capacity at ever-finer scales.

The time period for which the water budget is calculated is also critical for understanding scientific measurements and drawing appropriate conclusions about water availability. Think, for example, of the difference between knowing the amount of water that flows through a gage each year versus knowing how much water flows past daily. The question of which time interval is most useful is tied to the question of what it is being used for. Nonetheless, it is always much easier to aggregate data taken more frequently into longer time intervals. For example, if one knows the daily streamflow each day for 365 days, it is possible to calculate annual rates. Conversely, knowing the annual rate does not enable one to pinpoint how much water was flowing by on a specific day. It can only be used to calculate an average. Averages are insufficient for understanding many important management issues, which require managers to understand and address extremes in water availability, such the fastest or slowest rates of streamflow that year.

Therefore, the aggregation and disaggregation of data is important for standardizing data on water availability. The USGS is working with States and other agencies to improve the frequency of data collection. They are also working on methods to revisit historic data which was originally collected on an annual basis and develop the capability of estimating how that annual number would be broken down by the month. This type of disaggregation is technically complex, but the benefit is that it allows historical annual data to be converted to monthly estimates. In addition to monthly data for water-budget analysis, data at other time steps will be included in other aspects of the Water Census, such as continuous or daily streamflow records. This is important for ecological flow analysis, because variations in streamflow at fine scales can have significant effects on certain aquatic or riparian organisms.
The Emerging Science of Ecological Water
Water budgets provide a helpful metaphor for the hydrologic aspects of water supply, but examining water availability as it pertains to ecosystems and natural resource management issues adds an additional layer of complexity. One key challenge is the need to assess availability at the same temporal and spatial scales to which aquatic and riparian species respond. This means hydrologic data must be measured or estimated at ecologically relevant scales and intervals. Similarly, hydrologic and ecological models must be compatible to enable researchers to test ecological responses to dynamics of water movement at relevant scales and timesteps. Identifying which aspects of timing, quality, and quantities of water are most relevant to predicting ecological responses requires characterizing and quantifying how species survive and reproduce in response to patterns of water availability. An exhaustive survey of how each and every species in each region of the U.S. responds to every potential hydrologic variable would require a staggering amount of research. Fortunately, this emerging area of research has benefitted in recent years from innovative techniques and analytical frameworks that make this task more tractable.
At the USGS Water Census, the science of how water budgets affect ecosystems, biological communities, and species is designated with the shorthand phrase ecological water. In riverine ecosystems, this concept has been referred to as environmental flows, based on the recognition that hydrologic patterns of in-stream flows (one form of surface water) are often a key determinant of ecological conditions in these systems. Colloquially, terms such as environmental "uses" or "needs" for water have sometimes been used in a similar sense. Ecological water represents a broader view of the ecological effects of a water budget. It recognizes that water in other forms – for example, groundwater – can also affect ecological conditions. USGS research under the National Water Census focuses on advancing scientific techniques for quantifying ecological responses to patterns in water availability to provide objective information for resource managers on how key species of interest or overall ecological assemblages are affected by variation and alteration of hydrologic regimes (water budgets). For more details about current research, see the Ecological Water page.
Addressing Validity & Uncertainty
Uncertainty is an inherent factor in hydrologic data collection, estimation techniques, and simulation modeling. Errors associated with measurement techniques arise from the inability to accurately measure specific aspects of the hydrologic system, such as streamflow, the water level in a well, or soil properties that control evapotranspiration and runoff. Uncertainty arises from the inadequacy of our data collection networks to fully characterize natural spatial and temporal variability associated with hydrology, geology, climate, and land use. Uncertainty also is present in simulation models because it is impossible to thoroughly reproduce a natural hydrologic system in a model. In research on ecological water, uncertainties can also include incomplete detection in biological surveys (a problem that applies to rare species in particular), use of indicator species to draw inferences, limited monitoring data, and other sources. In many cases, statistical frameworks or methodological constraints are important considerations in the interpretation of data or modeling results. Therefore, USGS strives to estimate or quantify uncertainty associated with Water Census information products and provide quantitative (or qualitative, when quantitative estimates are unavailable) guidance on information products, data, and model uncertainties to end users.