Groundwater
Overview
Page Content
The Water Census will leverage a long history of groundwater studies and accelerate ongoing regional studies to assess the Nation's groundwater reserves that are being conducted under the USGS Groundwater Resources Program. Groundwater systems are incorporated into the Water Census in two ways, investigating groundwater resources through a series of regional studies, and increasing capacity to integrate groundwater and surface water into watershed-level assessments of water availability.
Regional Aquifer Studies
A major element of the Water Census is regional analyses of groundwater availability. Current plans call for studies of 30–40 principal aquifers that collectively account for more than 90 percent of the Nation's total groundwater withdrawals. The regional scale of these studies enables information to be integrated and consistent, so the resource can be analyzed and understood on an aquifer–wide scale. Therefore, it provides decision–makers with a better understanding of the status and trends in the Nation's groundwater availability. Additionally, the USGS has outlined an approach for developing an understanding of future groundwater availability builds on regional scale studies and current knowledge of groundwater availability at the national scale (Reilly and others, 2008).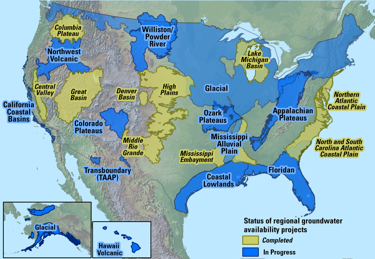 Map of U.S. Geological Survey (USGS) Regional Groundwater Availability study areas. (Updated March 2017)

One of the first regional studies completed was in California's Central Valley. As part of this assessment, the USGS developed a three–dimensional hydrologic modeling tool to simulate water management scenarios, providing managers improved ability to plan water supplies around anticipated conversion of farmland to urban use and potential future effects of climate variability and change. Additional studies have been completed or are underway around the United States.
Budgeting Recharge, Storage, and Discharge Rates
In addition, the Water Census will develop estimates of groundwater recharge, storage, and discharge at the watershed scale, as much as possible. These estimates will be made using a combination of information from large–scale studies being conducted by the USGS Groundwater Resources Program, observed data on groundwater levels collected in well networks, analysis of streamflow records, and other available information.
Glacial Aquifers
The Water Census funding in 2011 provided an opportunity to accelerate regional aquifer assessment with assessment of the glacial aquifer system that extends across all or parts of 25 northern States from Maine to Washington and Alaska. The glacial deposits are the source for the largest withdrawals for public and domestic supply in the United States. An estimated 22.5 million people rely on the glacial aquifer system for their drinking water.
Brackish Water Sources
Brackish groundwater as a resource for direct use or for desalination potentially represents an increasingly important component of the Nation's water supply. Relatively little is known, however, about brackish groundwater as compared to fresh groundwater. A better understanding of the distribution and character of brackish groundwater can provide information for future development of this resource. To satisfy requirements of the SECURE Water Act, the Water Census is providing funding to conduct the National Brackish Groundwater Assessment.
---
References
Reilly, T.E., Dennehy, K.F., Alley, W.M., and Cunningham, W.L., 2008, Ground-water availability in the United States: U.S. Geological Survey Circular 1323, 70 p.