Evaporative Loss
Overview
Page Content
No water budget would be complete without accounting for evaporation and related processes, such as transpiration and sublimation. Evapotranspiration, or "ET," refers to the combined flux of plant transpiration and evaporation from the adjacent soil. It is especially important for understanding water used by irrigated crops, and is related to crop productivity. Sublimation is the process by which water changes from ice or snow (a solid) to water vapor (a gas), bypassing the liquid phase. This often happens in the Rocky Mountains as dry air (such as that caused by Chinook winds) hits the snow, bypassing the liquid phase and changing it directly into water vapor. Sublimation is a common way for snow to disappear quickly in arid climates.

These fundamental mechanisms are a major part of the water cycle and have an important influence on water availability. Being able to quantify water lost or used through these processes can even have implications for administration of water rights and river basin compacts. Therefore, several studies are underway to improve techniques for quantifying these processes as part of the Water Census. This will enable water managers to more accurately account for water through its entire cycle, improving the accuracy of water budgets.
Remote Sensing Research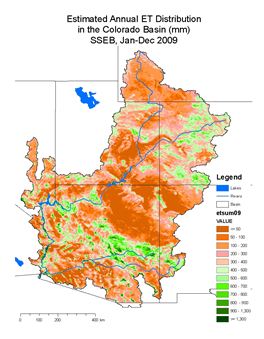 Estimated annual ET totals in the Colorado River Basin for 2009 using MODIS land-surface temperature imagery and the Simplified Surface Energy Balance method (Senay and others, 2011). - click to enlarge

Historically, scientists have used specialized instruments to take field measurements in order to develop reliable estimates of ET. The downside of this approach is that it results in site-specific data that only represents conditions in the immediate vicinity. This has made it difficult to quantify ET over broad areas such as irrigation districts, river basins, or States – which is commonly the scale at which modern water management decisions are coordinated or negotiated. Hence, there is a need to ensure accurate estimates of ET at the landscape scale.

In response to this challenge, the Water Census includes development of remote sensing as a method of estimating ET. USGS EROS has piloted the production of energy balance evapotranspiration estimates using satellite land surface temperature imagery using the Simplified Surface Energy Balance (SSEB) described in Senay et al. (2010), Senay et al., (2008), and Senay et al. (2007). The USGS studies build on and improve fifteen years of progress in the use of satellite imagery. There is already an established ET remote sensing community in the West with a history of estimating crop water use with Landsat imagery. Universities, consultants, State agencies, and the Bureau of Reclamation have all contributed to the development and application of techniques of this kind. The USGS acknowledges their experience and expertise, and at the same time recognizes the potential for duplication of effort and confusion due to differing methods and results. In anticipation of both possibilities, and eventual contributions to the Water Census by non-USGS organizations, the USGS has entered into a partnership with Utah State University to develop specifications and guidelines for estimating crop ET in the West with remote sensing. A variety of methods have come into common use, all of which rely on the same underlying physical principles, so the USGS is applying its satellite remote sensing resources and expertise to identify reliable standards for quantifying ET, including methods of quantifying uncertainty of those estimates. The vision is for a recognized framework for inputs, techniques, and proven model performance, within which a State, Tribe, consultant, university, or Federal agency could employ the model of their choosing, and publish crop water-use figures that would be recognized and accepted by the broad community of Western water stakeholders. In this way, important economies can be realized, while at the same time meeting standards for accuracy and precision for the Water Census.

These will be useful for two types of applications to Water Census goals – the first is to support regional water availability assessments (which involves estimates of ET over the entire landscape) and the second is to support water use reporting (which involves ET estimation at the scale of individual fields). In addition, USGS is also researching remote sensing approaches to better quantify crop productivity, through a pilot study in the Central Valley of California.
Estimating ET for Water Availability Studies
A study is being conducted as part of the Colorado River Basin WaterSMART Focus Area on the use of remote sensing for providing estimates of ET suitable for use in water availability assessments at a regional, or landscape, scale. This will eventually be applied to assessments of water availability across the West and nationwide. Using data archived at the USGS Earth Resources Observation Science (EROS) Data Center for the years 2000-2011, researchers are developing techniques for estimating monthly, seasonal, and annual summaries of ET (at the 8–digit HUC resolution) using daily 1–km resolution NASA MODIS land–surface temperature imagery. Calculations are made based on 8-day composites to address issues with data that can be caused by cloud cover. The estimate generated from the imagery will be compared with data from stations in the Colorado River Basin to provide uncertainty estimates for the MODIS satellite approach. The figure shoan on this page presents initial results for annual ET in the Colorado River Basin in 2009.
Estimating ET for Water Use
In contrast to estimates needed for large-scale (i.e. regional) assessments of water availability, ET estimates for the purpose of water use reporting present a different challenge for anyone hoping to create an accurate water budget. For water-use reports, ET estimates are reported at the scale of agricultural fields, so there is a need for estimating ET at smaller scales. Interestingly, because of differences in climate, land cover, and agricultural styles, the challenges of estimating ET are slightly different in the western and eastern parts of the U.S. The Water Census will address both of these challenges.
In the West, a Water Census study using USGS Landsat thermal infrared imagery (60-120 meter resolution) is being used for this purpose in the Colorado River Basin. The Cropland Data Layer from the USDA National Agricultural Statistics Service is used as a reference to identify the relevant subset of the landscape for which estimates are required. This is initially being done for a single calendar year (FY 2012) over all the croplands of the basin, with as much cloud-free imagery as possible. One of the technical issues being addressed by researchers is the fact that Landsat image acquisitions occur only every 16 days, so joint use of Landsat and MODIS images is being tested as a method to fill in temporal gaps. Researchers will compile monthly, seasonal, and annual totals for 8-digit HUCs, and site data will be used to verify results.
The launch of Landsat 8 in February 2013 will benefit the Water Census, by ensuring an uninterrupted flow of essential field-scale thermal infrared imagery. In fact, the Western States Water Council strongly advocated including a thermal infrared imager on Landsat 8. Landsat 8 is the latest in a series of Earth-observing satellite missions built and launched by NASA and managed in orbit by USGS. It was successfully launched on February 11, 2013. The data transmitted by Landsat 8 will be valuable for ensuring regular data on land cover that can be used to track information such as changes in crop productivity over time.
In parts of the eastern U.S., such as New England, the Mid-Atlantic, and some Southern States, deriving estimates of irrigation is difficult due to a lack of observed irrigation water use, small crop sizes, and humid conditions that mask typical irrigation water–use practices. Therefore, estimation methods used in the West do not always transfer effectively. Therefore, quantification of water use for supplemental irrigation in the East is also being addressed under the Water Census. The Geographic Focus Area Studies for the Delaware and Apalachicola-Chattahoochee-Flint (ACF) River Basins provide context for testing an approach using satellite imagery. While initial applications in the three Geographic Focus Area Studies are targeting monthly summaries of ET at the HUC–8 level, these efforts are designed so that they can ultimately be scaled up to daily summaries at the finer HUC–12 scale.
Quantifying Sublimation
In the mountains of the Western United States, seasonal snowpacks act as a large natural water–storage reservoir, and yet sublimation can cause water stored in snowpack to be lost the atmosphere. The quantity of water stored in seasonal snowpack is expressed as the snow water equivalent (SWE). Springtime SWE is one of the most important data inputs to hydrologic models used to forecast runoff in the Western United States because it is the main source of water to streams during late spring and early summer (Clark and Hay, 2004; Slater and Clark, 2006). Therefore, sublimation represents one of the major uncertainties in runoff forecast models, and is thought to be particularly important during drought years, when water is scarce. As part of the WaterSMART Focus Area Study in the Colorado River Basin, the USGS is developing regional SWE and sublimation estimates. This is being conducted by combining moderate– and high–resolution gridded models with ground–based validation measurements. The resulting information will advance the science of quantifying sublimation. This will be useful for hydrologic modeling, water-availability studies, and water–use assessments in the Colorado River, but also has the potential to be applied to other basins.
---
References
Clark, M.P., and Hay, L.E., 2004, Use of medium–range weather forecasts to produce predictions of streamflow: Journal of Hydrometeorolgy, v. 5, p. 15–32.
Senay, G.B, M.E. Budde and J.P. Verdin, 2010. Enhancing the Simplified Surface Energy Balance (SSEB) Approach for Estimating Landscape ET: Validation with the METRIC model. Agricultural Water Management, 98:606-618.
Senay, G.B, J.P. Verdin, R. Lietzow, A.M. Melesse, 2008. Global Reference Evapotranspiration Modeling and Evaluation. Journal of American Water Resources Association. 44(4):969-979.
Senay, G.B., M.E. Budde, J.P. Verdin and A.M. Melesse, 2007: A coupled remote sensing and simplified surface energy balance approach (SSEB) to estimate actual evapotranspiration from irrigated fields. Sensors, 7:979-1000.
Slater, A.G., and Clark, M.P., 2006, Snow data assimilation via an ensemble Kalman filter: Journal of Hydrometeorology, v. 7, no. 3, p. 478–493.