Water Availability Tool for Environmental Resources
Water Availability Tool for Environmental Resources (WATER) is a physically based streamflow simulation decision-support tool developed by Williamson and others, 2009. The model uses water budgets and the variable-source-area concept to generate streamflow. The hydrology of WATER is based on TOPMODEL (Beven and Kirkby, 1979) and has three fundamental assumptions:
Recharge to groundwater is steady state,
The surface of the water table approximates the slope of the land surface, and
The subsurface hydraulic conductivity decreases exponentially with depth.
WATER integrates data on soils, topography, land use, climate, and water use within a catchment to simulate flow in a stream network.
WATER Methods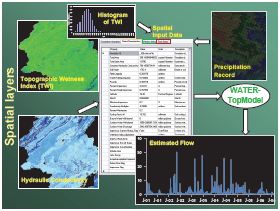 Figure 1. An illustration of how physical parameters and climate data are integrated in WATER to generate a steam hydrograph at a given location. - click to enlarge

Data layers required for WATER include topography (NED), soils (SURGO), steams (NHD), land use (2006 MRLC), climate (DayMet), water use (NWIS), and streamflow (NWIS) at gaged sites. The topographic information is used to define the catchment area for each stream reach, and to calculate the Topographic Wetness Index (TWI), which is a fundamental parameter in the model that quantifies the potential for a model cell to become saturated. Soil data, such as thickness, porosity, hydraulic conductivity, and field capacity, are used to calculate infiltration rates, rates of sub-surface flow, and when soils become saturated and overland flow occurs. Stream networks are used to route surface-water flow through the model. Land-use data identify minimally impacted basins that are used for initial model calibration as well as areas of impervious surface where a separate model (TR-55) calculates overland flow during precipitation events. Climate information consists of daily data on precipitation and temperature.

WATER integrates the above information with historic climate and water use information, and the model is calibrated to measured streamflow at gaged sites. WATER simulates streamflow on a daily time-step. Once calibrated, streamflow predictions can be made for ungaged basins, and flow under altered climate or water use conditions can be evaluated.
WATER in the Delaware Basin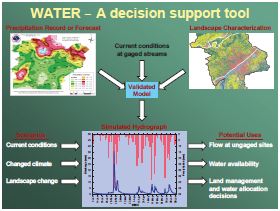 Figure 2. The WATER model uses landscape characteristics and historic climate data as input parameters, and is validated using streamflow data. The validated model can then be used to calculate flow in ungaged basins, or assess how stream flow might be altered under conditions of changing climate or land use. This information could then be used to determine water availability for humans or biota, or make land use or water allocation decisions. - click to enlarge

The Delaware River Basin WATER model will include all non-tidal rivers in the basin. The model will be optimized and validated for the time period 2001 to 2011. Initially the model will be evaluated at minimally impacted basins where historic streamflow records are available. Once water use and return-flow information become available the model will be optimized and validated using all stream sites with measured flow data. Because flows on the main-stem of the Delaware River are controlled, to a large extent, by reservoir releases the final modeling step will be to link WATER with New York City's Operations Support Tool OASIS by providing flow estimates at inflow points throughout the basin.

Once validated, WATER will be used to simulate streamflow for future conditions in 2030 and 2060. The model will incorporate climate predictions from downscaled general circulation climate models. In addition, projected changes in land use, being developed as part of the water census, will be used in WATER. Water use projections for 2030 are currently available for the basin and will be incorporated into the model. It is hoped that water-use projections will be obtained for 2060 as well.
Model Uses and Availability
Output from the WATER model will be used to evaluate relations between flow and ecological response as part of the Delaware Water Census study. Model output will also be available to the public for use in evaluating water availability and similar questions. Simulations from the WATER model can be used to evaluate if enough water is available in the future for human supply and/or ecological needs. In addition, climate, land use, or water use conditions can be altered to see what impacts they may have on water availability.
A graphical-user interface (GUI) will be provided as a desk-top program that can be distributed to stakeholders and water managers. This GUI will allow the user to simulate a flow record for points along the stream network in the Delaware River basin that are not controlled by reservoir operation. This GUI is easy to use and provides both tabular and graphic output for the user. This will enable simulation of flows along the Delaware River Basin tributaries which are appropriately modeled by the TopModel portion of WATER. Output includes:
daily hydrographs
monthly and annual flow values
monthly and annual water budgets
flow duration curves