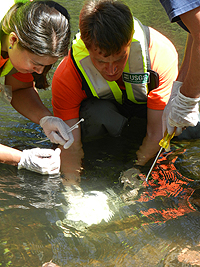 USGS scientists deploy SPMD and POCIS samplers to collect waterborne contaminants in Manoa Stream on Oahu, Hawaii.
Noteworthy
Press Releases
Featured Science:
Water Quality Data
Today's Water Conditions
Get continuous real-time water-quality measurements from Water-Quality Watch maps.

Water Quality Portal (WQP)
Get current and historical USGS and EPA water-quality data at the WQP.
BioData
Get stream ecosystem aquatic bioassessment data from BioData.
For More Data
View a complete list of USGS water-quality data resources.
USGS in Your Area
USGS Water Science Centers are located in each state.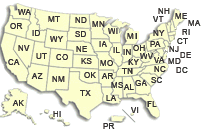 ---
Foreword
The mission of the Water Resources Discipline of the U.S. Geological Survey (USGS) is to provide the information and understanding needed for wise management of the Nation's water resources. Inherent in this mission is the responsibility to collect data that accurately describe the physical, chemical, and biological attributes of water systems. These data are used for environmental and resource assessments by the USGS, other government agenices and scientific organizations, and the general public. Reliable and quality-assured data are essential to the credibility and impartiality of the water-resources appraisals carried out by the USGS.
The development and use of a National Field Manual is necessary to achieve consistency in the scientific methods and procedures used, to document those methods and procedures, and to maintain technical expertise. USGS field personnel use this manual to ensure that the data collected are of the quality required to fulfill our mission.
Return to Field Manual Table of Contents