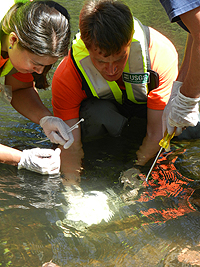 USGS scientists deploy SPMD and POCIS samplers to collect waterborne contaminants in Manoa Stream on Oahu, Hawaii.
Noteworthy
Press Releases
Featured Science:
Water Quality Data
Today's Water Conditions
Get continuous real-time water-quality measurements from Water-Quality Watch maps.

Water Quality Portal (WQP)
Get current and historical USGS and EPA water-quality data at the WQP.
BioData
Get stream ecosystem aquatic bioassessment data from BioData.
For More Data
View a complete list of USGS water-quality data resources.
USGS in Your Area
USGS Water Science Centers are located in each state.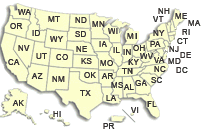 National Field Manual for the Collection of Water-Quality Data
Techniques of Water-Resources Investigations
Book 9
Handbooks for Water-Resources Investigations
---
NFM_Feb-2008.zip (43MB ZIP) contains pdf files of the most up-to-date version of each chapter of the USGS National Field Manual for the Collection of Water-Quality Data as of the date shown, and an "NFM_Contents" file that includes a Table of Contents for this field manual with a brief description of each of its chapters.
To download this NFM version to your computer:
(1) Save this zip file to your computer's desktop or other hard drive of choice,
(2) Unzip the file to the directory and folder of your choice.
To create a CD-ROM of this Field Manual version, copy each of the unzipped files or folders to a CD disk, using your available CD-writer software.
PLEASE NOTE: This zip file is updated periodically; therefore, check the zip-file date to be sure that you have the most current version. The individual chapters or chapter sections contained within also are labeled with a date so that you can determine which of the files to replace.