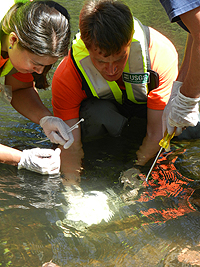 USGS scientists deploy SPMD and POCIS samplers to collect waterborne contaminants in Manoa Stream on Oahu, Hawaii.
Noteworthy
Press Releases
Featured Science:
Water Quality Data
Today's Water Conditions
Get continuous real-time water-quality measurements from Water-Quality Watch maps.

Water Quality Portal (WQP)
Get current and historical USGS and EPA water-quality data at the WQP.
BioData
Get stream ecosystem aquatic bioassessment data from BioData.
For More Data
View a complete list of USGS water-quality data resources.
USGS in Your Area
USGS Water Science Centers are located in each state.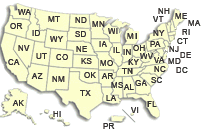 Chapter 5, Version 2.2: Comments, updates, and replacement pages have been added to the pdf file. (To print this file, select Print from the File Menu, and select Document and Markups under the Comments and Forms Heading.) Information in the Comment boxes will be displayed when the file is printed.

These sections of Version 2.2 must be accessed separately:

Section 5.2.1.A -- Capsule-and Disk-Filter Procedure (dated 3/21/2016) [311 KB PDF]
Section 5.3.2 -- Instructions for Field Use of Spike Solutions for Organic-Analyte Samples (dated 6/2009) [103 KB PDF]
Section 5.6.1.F -- Wastewater, Pharmaceutical, and Antibiotic Compounds (dated 4/2003) [985 KB PDF]
Section 5.6.4.A -- Arsenic Speciation, Version 2.0 (dated 8/2012) [2.52MB PDF]
Section 5.6.4.B -- Low-level Mercury (dated 10/04) [545KB PDF]

The following guidance will replace section 5.2.2.B of chapter 5, version 2.2, when the revision of chapter 5 has been completed; see the August 15, 2014, post in http://water.usgs.gov/owq/FieldManual/mastererrata.html#Chapter 5 for clarification.

Section 5.2.2.B -- Syringe-Filter Procedure for Processing Samples for Analysis of Organic Compounds by DAI LC-MS/MS

(dated 8/2014) [489 KB PDF].

---
This report is in pdf format. Download a copy of Adobe Acrobat Reader for free.
---
Abstract
The National Field Manual for the Collection of Water-Quality Data (National Field Manual) describes protocols and provides guidelines for U.S. Geological Survey (USGS) personnel who collect data used to assess the quality of the Nation's surface-water and groundwater resources. This chapter addresses methods to be used in processing water samples to be analyzed for inorganic and organic chemical substances, including the bottling of composite, pumped, and bailed samples and subsamples; sample filtration; solid-phase extraction for pesticide analyses; sample preservation; and sample handling and shipping.
Sections of Chapter A5: Processing of Water Samples
Cover/Title Page
Back of Title Page
Foreword
Abstract
Introduction
Purpose and scope
Requirements and recommendations
Field manual review and revision
Acknowledgments
5.0 General information
5.1 Raw samples
5.2 Filtered samples
5.2.2.B, "Capsule-filter procedure for processing samples for analysis of organonitrogen herbidcides," has been deleted, archived, and replaced with "Syringe-filter procedure for processing samples for analysis of organic compounds by DAI LC-MS/MS."
5.3 Solid-phase extraction of pesticides
5.4 Sample preservation
5.5 Handling and shipping of samples
5.6 Summary of sample-collection and sample-processing procedures for specific analytes
*Section 5.6.1.C, Phenols, has been revised in this section to create version 2.1 of chap. A5.
*A section has been added. Section 5.6.1.F, "Wastewater, Pharmaceutical,and Antibiotic Compounds"
*A section has been added. Section 5.6.4.A, "Arsenic Speciation"
*A section has been added. Section 5.6.4.B, "Low-level Mercury"
Conversion factors, selected terms, abbreviations, and chemical symbols and formulas
Selected references
Appendixes
Appendix A5-A. Sample-designation codes and a summary of field-processing requirements for analyses of organic compounds in water
Appendix A5-B. Sample-designation codes and a summary of field-processing requirements for analyses of inorganic constituents in water
Appendix A5-C. Sample-designation codes and a summary of field-processing requirements for analyses of stable isotopes and radiochemicals in water
Appendix A5-D. Procedures for processing samples for analysis of dissolved and suspended organic carbon using a silver filter and gas-pressurized filtration apparatus (Note: Appendix A5-D has been added to Chapter A5, Version 2 (4/02) and contains the text for the Version 1 section 5.2.2.C.)
Return to Field Manual Table of Contents
Chapter A5 Archives
Section 5.2.1.A -- Capsule-Filter Procedure (dated 04/2002) [2.17 MB PDF] has been archived.
Section 5.2.2.B -- Capsule-Filter Procedure for Processing Samples for Analysis of Organonitrogen Herbicides (optional) (dated 4/2002) [79.1 KB PDF] has been archived.
Version 1.1 of Section 5.6.4.A -- Arsenic Speciation (dated 1/2005) [3.52 MB PDF] has been archived.
Version 1 of Chapter A5 has been archived at the following Web address http://water.usgs.gov/owq/FieldManual/chapter5-Archive/html/Ch5_contents.html
Version 2 has been updated to Version 2.1 with changes to section 5.6.1.C, "Phenols." The archive of 5.6.1.C, version 2, is at http://water.usgs.gov/owq/FieldManual/chapter5-Archive/pdf/5.6.1.C-v2.pdf [75KB PDF]
Version 2.1 has been updated to Version 2.2 with changes to Section 5.1.1, "Composites and Subsamples," and 5.4.2, "Chemical Treatment." The archive of 5.1.1, version 2.1, is at http://water.usgs.gov/owq/FieldManual/chapter5-Archive/pdf/5.1.1-ver2.1.pdf [1.4MB PDF] and 5.4.2 is at http://water.usgs.gov/owq/FieldManual/chapter5/Archive/5.4.2.pdf [265KB PDF]
A new section, 5.6.4.B, "Low-level Mercury" (version 1.0 dated 10/2004) was added to this web page on Oct. 26, 2004.
Version 1.1 of section 5.6.4.A (1/2005) replaced 5.6.4.A (8/2003) [1.1MB PDF]
PDF files for Chapter 5. Version 2.1 [1.44MB PDF] (dated 4/02) with replacement pages 23, 26, 93 (dated 9/04), and 17, 63-65, 76, 91, App-B-1, and Ref-4 (dated 11/04) and the Section updates below. (To print this file with comments, select the "Print What--Document and comments" print function.)