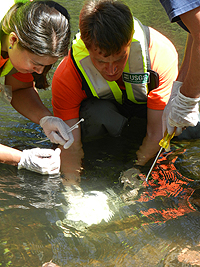 USGS scientists deploy SPMD and POCIS samplers to collect waterborne contaminants in Manoa Stream on Oahu, Hawaii.
Noteworthy
Press Releases
Featured Science:
Water Quality Data
Today's Water Conditions
Get continuous real-time water-quality measurements from Water-Quality Watch maps.

Water Quality Portal (WQP)
Get current and historical USGS and EPA water-quality data at the WQP.
BioData
Get stream ecosystem aquatic bioassessment data from BioData.
For More Data
View a complete list of USGS water-quality data resources.
USGS in Your Area
USGS Water Science Centers are located in each state.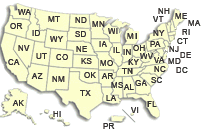 ---
Comments/Errata page (See Comments and Errata for updates or the Notes on pages 15 and 53 of the PDF.)
This report is in pdf format. Download a copy of Adobe Acrobat Reader for free.
---
Abstract:
Chapter A3 describes procedures for cleaning the equipment used to collect and process samples of surface water and ground water and procedures for assessing the efficacy of the equipment-cleaning process.
Sections of Chapter A3:
Abstract
Introduction
A3. Cleaning of Equipment for Water Sampling
3.1 Supplies for equipment cleaning
3.2 General cleaning procedures
3.3 Specific procedures for cleaning selected types of equipment
3.4 Quality control for equipment-cleaning procedures
Conversion factors and abbreviations
Selected references and documents
Return to Field Manual Table of Contents
Chapter A3 Archive
(replacement text has been incorporated into the original pdf file dated 9/98--see "Comments and Errata")