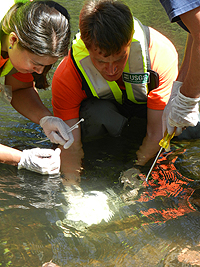 USGS scientists deploy SPMD and POCIS samplers to collect waterborne contaminants in Manoa Stream on Oahu, Hawaii.
Noteworthy
Press Releases
Featured Science:
Water Quality Data
Today's Water Conditions
Get continuous real-time water-quality measurements from Water-Quality Watch maps.

Water Quality Portal (WQP)
Get current and historical USGS and EPA water-quality data at the WQP.
BioData
Get stream ecosystem aquatic bioassessment data from BioData.
For More Data
View a complete list of USGS water-quality data resources.
USGS in Your Area
USGS Water Science Centers are located in each state.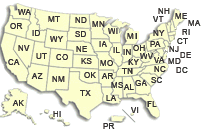 Revised 2005 By Franceska D. Wilde
Chapter 1 is available only as a pdf file:
Chapter 1, Version 2.0 (dated January 2005) [1.1MB PDF]
Download a copy of Adobe Acrobat Reader for free.
---
---
Abstract
The National Field Manual for the Collection of Water-Quality Data (National Field Manual) provides guidelines and standard procedures for U.S. Geological Survey (USGS) personnel who collect data used to assess the quality of the Nation's surface-water and ground-water resources. This chapter addresses field-trip preparations, including selection of sample-collection sites for studies of surface-water quality, site reconnaissance and well selection for studies of ground-water quality, and the establishment of electronic files and field files and folders for a sampling site.
Each chapter of the National Field Manual is published separately and revised periodically. Newly published and revised chapters are posted on the World Wide Web on the USGS page "National Field Manual for the Collection of Water-Quality Data." The URL for this page is http://pubs.water.usgs.gov/twri9A/ (accessed Jan. 31, 2005).
Sections of Chapter A1:
Abstract
Introduction
Purpose and scope
Requirements and recommendations
Field manual review and revision
Acknowledgments
1.0 Field-personnel responsibilities
1.1 Field-trip preparations
1.1.1 Checklists of equipment, supplies, and activities
1.1.2 Data-quality plans and preparations
1.2 Surface water
1.2.1 Selection of sampling sites
1.2.1.A Flowing-water sites
1.2.1.B Still-water sites
1.2.2 National Water Information System (NWIS) files and field folders
1.2.2.A NWIS files
1.2.2.B Field folders
1.3 Ground water
1.3.1 Site reconnaissance and well selection
1.3.2 National Water Information system (NWIS) files; well files; and field folders
1.3.2.A NWIS files
1.3.2.B Well files
1.3.2.C Field folders
Selected references and documents
Return to Field Manual Table of Contents
For more information
Submit a question or comment related to this National Field Manual. For general water-quality questions, contact the USGS Office of Water Quality.