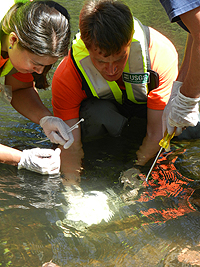 USGS scientists deploy SPMD and POCIS samplers to collect waterborne contaminants in Manoa Stream on Oahu, Hawaii.
Noteworthy
Press Releases
Featured Science:
Water Quality Data
Today's Water Conditions
Get continuous real-time water-quality measurements from Water-Quality Watch maps.

Water Quality Portal (WQP)
Get current and historical USGS and EPA water-quality data at the WQP.
BioData
Get stream ecosystem aquatic bioassessment data from BioData.
For More Data
View a complete list of USGS water-quality data resources.
USGS in Your Area
USGS Water Science Centers are located in each state.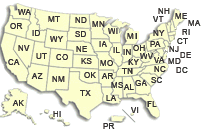 ---
This report is in pdf format. Download a copy of Adobe Reader for free.
---
Abstract
The National Field Manual for the Collection of Water-Quality Data (National Field Manual) is comprised of nine chapters that provide guidelines and standard procedures for U.S. Geological Survey (USGS) personnel who collect data used to assess the quality of the Nation's surface-water and groundwater resources. This chapter of the National Field Manual includes guidelines for the determination of biochemical oxygen demand (using a 5-day bioassay test), fecal indicator bacteria, fecal indicator viruses (coliphages), protozoan pathogens, algal biomass, and cyanobacterial toxin and taste-and-odor compounds in lakes and reservoirs.
Cover, contents, and introduction (90KB PDF)
7.0 Five-day biochemical oxygen demand
7.1 Fecal indicator bacteria, ver. 2.1, 5/2014
7.5 Cyanobacteria in lakes and reservoirs: toxin and taste-and-odor sampling guidelines, ver. 1.0, 9/2008
Conversion factors, References, and Appendix (1.2MB PDF) [Note: References for sections 7.4 and 7.5 are included in those sections, not in this final section.]
Return to Field Manual Table of Contents
Citation Information
U.S. Geological Survey, variously dated, Biological indicators: U.S. Geological Survey Techniques of Water-Resources Investigations, book 9, chap. A7, accessed __list date__, from http://pubs.water.usgs.gov/twri9A/.
Disclaimer
Any use of trade, product, or firm names is for descriptive purposes only and does not imply endorsement by the U.S. Government. For more information, see USGS Information Policies.
For more information
Submit a question or comment related to this National Field Manual. For general water-quality questions, contact the USGS Office of Water Quality.
Chapter A7 Archives