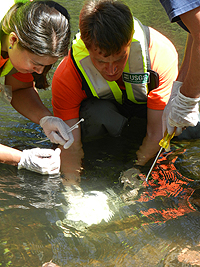 USGS scientists deploy SPMD and POCIS samplers to collect waterborne contaminants in Manoa Stream on Oahu, Hawaii.
Noteworthy
Press Releases
Featured Science:
Water Quality Data
Today's Water Conditions
Get continuous real-time water-quality measurements from Water-Quality Watch maps.

Water Quality Portal (WQP)
Get current and historical USGS and EPA water-quality data at the WQP.
BioData
Get stream ecosystem aquatic bioassessment data from BioData.
For More Data
View a complete list of USGS water-quality data resources.
USGS in Your Area
USGS Water Science Centers are located in each state.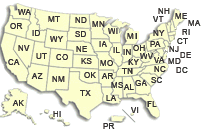 By Julie A. Hambrook Berkman and Michael G. Canova
Download a copy of Adobe Acrobat Reader for free.
Abstract
Indicators of algal biomass are used to assess water quality in both moving (lotic) and stillwater (lentic) ecosystems. Algal biomass in a water body can be estimated in three ways: (1) by quantifying chlorophyll a (CHL a), (2) by measuring carbon biomass as ash-free dry mass (AFDM), or (3) by measuring the particulate organic carbon (POC) in a sample. The CHL a procedure measures photosynthetic pigment common to all types of algae, while AFDM and POC procedures measure the carbon in a filtered water sample.
Contents
7.4 Algal biomass indicators
7.4.1 - Pre-sampling considerations and plans
7.4.2 - In vivo measurement of chlorophyll and phycocyanin
7.4.3 - Phytoplankton sampling procedures for chlorophyll a and particulate organic carbon
7.4.4 - Periphyton sampling procedures for chlorophyll and ash-free dry mass in streams, lakes, reservoirs, and large rivers
7.4.5 - Sample processing and preservation
7.4.6 - Field-data documentation, labeling, and sample packaging and shipping
7.4.7 - Selected references for algal biomass indicators
7.4.8 - Acknowledgments
Appendix A7-A - Examples of field forms
Return to Chapter A7 Biological Indicators Table of Contents
Return to Field Manual Table of Contents
Citation for Section 7.4
Hambrook Berkman, J.A., and Canova, M.G., 2007, Algal biomass indicators (ver. 1.0): U.S. Geological Survey Techniques of Water-Resources Investigations, book 9, chap. A7, section 7.4, August, accessed__date__ from http://pubs.water.usgs.gov/twri9A/.