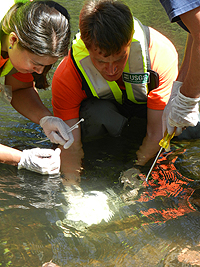 USGS scientists deploy SPMD and POCIS samplers to collect waterborne contaminants in Manoa Stream on Oahu, Hawaii.
Noteworthy
Press Releases
Featured Science:
Water Quality Data
Today's Water Conditions
Get continuous real-time water-quality measurements from Water-Quality Watch maps.

Water Quality Portal (WQP)
Get current and historical USGS and EPA water-quality data at the WQP.
BioData
Get stream ecosystem aquatic bioassessment data from BioData.
For More Data
View a complete list of USGS water-quality data resources.
USGS in Your Area
USGS Water Science Centers are located in each state.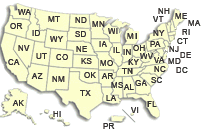 By G.C. Delzer and S.W. McKenzie
This report is in pdf format. Download a copy of Adobe Acrobat Reader for free.
Abstract
The presence of a sufficient concentration of dissolved oxygen is critical to maintaining the aquatic life and aesthetic quality of streams and lakes. Determinng how organic matter affects the concentration of dissolved oxygen (DO) in a stream or lake is integral to water-quality management. The decay of organic matter in water is measured as biochemical or chemical oxygen demand. This report describes the field protocols used by U.S. Geological Survey (USGS) personnel to determine the five-day test for biochemical oxygen demand.
Contents
7.0 - Five-day biochemical oxygen demand
7.0.1 - Equipment and supplies
7.0.2 - Sample collection and storage
7.0.3 - Five-day test for biochemical oxygen demand
7.0.4 - Calculations
7.0.5 - Troubleshooting
7.0.6 - Reporting
Return to Chapter A7 Biological Indicators Table of Contents
Return to Field Manual Table of Contents
Citation for Section 7.0
Delzer, G.C., and McKenzie, S.W., 2003, Five-day biochemical oxygen demand: U.S. Geological Survey Techniques of Water-Resources Investigations, book 9, chap. A7, section 7.0, November, accessed __list date__ from http://pubs.water.usgs.gov/twri9A/.