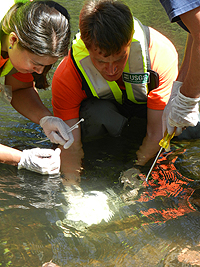 USGS scientists deploy SPMD and POCIS samplers to collect waterborne contaminants in Manoa Stream on Oahu, Hawaii.
Noteworthy
Press Releases
Featured Science:
Water Quality Data
Today's Water Conditions
Get continuous real-time water-quality measurements from Water-Quality Watch maps.

Water Quality Portal (WQP)
Get current and historical USGS and EPA water-quality data at the WQP.
BioData
Get stream ecosystem aquatic bioassessment data from BioData.
For More Data
View a complete list of USGS water-quality data resources.
USGS in Your Area
USGS Water Science Centers are located in each state.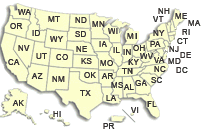 6.6 Alkalinity and Acid Neutralizing Capacity
Revised By S.A. Rounds

This section of Chapter 6 is available as a pdf file:
6.6 Alkalinity and Acid Neutralizing Capacity (Version 4, dated 9/2012) [665 KB PDF]

Download a copy of Adobe Acrobat Reader for free.

[an error occurred while processing this directive]

USGS Internal Note: Water-quality field forms, including PCFF, are available from the Field Forms page on the Office of Water Quality USGS-only Web site.
Abstract
Alkalinity (determined on a filtered sample) and Acid Neutralizing Capacity (ANC) (determined on a whole-water sample) are measures of the ability of a water sample to neutralize strong acid. Alkalinity and ANC provide information on the suitability of water for uses such as irrigation, determining the efficiency of wastewater processes, determining the presence of contamination by anthropogenic wastes, and maintaining ecosystem health. In addition, alkalinity is used to gain insights on the chemical evolution of an aqueous system. This section of the National Field Manual (NFM) describes the USGS field protocols for alkalinity/ANC determination using either the inflection-point or Gran function plot methods, including calculation of carbonate species, and provides guidance on equipment selection.
Contents
Alkalinity and acid neutralizing capacity
6.6.1 Equipment and supplies
6.6.1.A Maintenance, cleaning, and storage
6.6.2 Calibration and standardization
6.6.3 Collection and processing
Surface water
Groundwater
6.6.4 Measurement
6.6.4.A Titration systems and procedures
Digital titrator
Buret titrator
6.6.4.B Inflection point titration method
6.6.4.C Gran-function plot method
6.6.5 Calculations
6.6.5.A Alkalinity or ANC
6.6.5.B Carbonate-speciation equations for samples with pH < 9.2
6.6.5.C Computer-program analysis of titration data
6.6.6 Troubleshooting
6.6.7 Reporting
Selected references
Acknowledgments
Return to Chapter A6 Contents Page
Return to Field Manual Table of Contents
Section 6.6 Archived Versions: