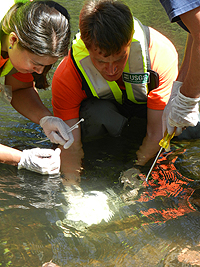 USGS scientists deploy SPMD and POCIS samplers to collect waterborne contaminants in Manoa Stream on Oahu, Hawaii.
Noteworthy
Press Releases
Featured Science:
Water Quality Data
Today's Water Conditions
Get continuous real-time water-quality measurements from Water-Quality Watch maps.

Water Quality Portal (WQP)
Get current and historical USGS and EPA water-quality data at the WQP.
BioData
Get stream ecosystem aquatic bioassessment data from BioData.
For More Data
View a complete list of USGS water-quality data resources.
USGS in Your Area
USGS Water Science Centers are located in each state.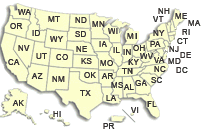 ---
This report is in pdf format. Download a copy of Adobe Reader for free.
---
Abstract
The National Field Manual for the Collection of Water-Quality Data provides protocols, standard procedures, and guidance for U.S. Geological Survey (USGS) personnel who collect data used to assess the quality of the Nation's surface-water and groundwater resources. Chapter A6 presents general information and guidelines for performing field measurements (section 6.0) and specific requirements and guidance for collecting data for water temperature (section 6.1), dissolved oxygen concentrations (section 6.2), specific electrical conductance (section 6.3), pH (section 6.4), reduction-oxidation potential (section 6.5), alkalinity (section 6.6), turbidity (section 6.7), and for the use of multiparameter instruments in making such measurements (section 6.8). Each of these sections is revised periodically and published separately on this Web site.
Cover pages, Table of Contents, Abstract and Introduction (Version 1.1, 10/2008)
6.0 Guidelines for field-measured water-quality properties (Version 2.0, 10/2008)
F.D. Wilde
6.1 Temperature (Version 2.0, 3/2006)
Revised by F.D. Wilde
6.2 Dissolved oxygen (Version 3.0, 9/2013)
Revised by Stewart A. Rounds, Franceska D. Wilde, and George F. Ritz
6.3 Specific electrical conductance (Version 1.2, 8/2005)
D.B. Radtke, J.V. Davis, and F.D. Wilde
6.4 pH (Version 2.0, 10/2008)
Revised By G.F. Ritz and J.A. Collins
6.5 Reduction-oxidation potential (electrode method) (Version 1.2, 9/2005)
D.K. Nordstrom and F.D. Wilde
6.6 Alkalinity and acid neutralizing capacity (Version 4, 9/2012)
Revised by S.A. Rounds
6.7 Turbidity (Version 2.1, 9/2005)
Chauncey W. Anderson
6.8 Use of multiparameter instruments for routine field measurements (Version 1.1, 8/2007)
Jacob Gibs, Franceska D. Wilde, and Heather A. Heckathorn
Conversion factors, selected terms and symbols, chemical symbols and formulas, and other abbreviations
Selected references, selected documents, and publications on Techniques of Water- Resources Investigations
Return to Field Manual Table of Contents
Disclaimer
Any use of trade, product, or firm names is for descriptive purposes only and does not imply endorsement by the U.S. Government. For more information, see USGS Information Policies.
For more information
Submit a question or comment related to this National Field Manual. For general water-quality questions, contact the USGS Office of Water Quality.
Chapter 6 Archives
Archived versions for each section of Chapter 6 are linked to the html home page for the specific section.