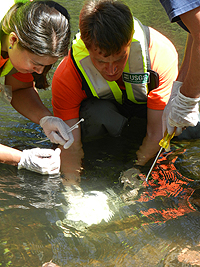 USGS scientists deploy SPMD and POCIS samplers to collect waterborne contaminants in Manoa Stream on Oahu, Hawaii.
Noteworthy
Press Releases
Featured Science:
Water Quality Data
Today's Water Conditions
Get continuous real-time water-quality measurements from Water-Quality Watch maps.

Water Quality Portal (WQP)
Get current and historical USGS and EPA water-quality data at the WQP.
BioData
Get stream ecosystem aquatic bioassessment data from BioData.
For More Data
View a complete list of USGS water-quality data resources.
USGS in Your Area
USGS Water Science Centers are located in each state.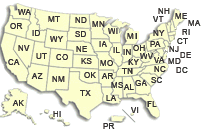 6.7 Turbidity
By Chauncey W. Anderson
This section of Chapter 6 is available as a pdf file:
6.7, Version 2.1 (dated 9/2005) [510KB PDF]
Turbidity parameter and methods codes (May 2012) [31 KB XLSX] (If a pop-up window appears, click "No.")
Download a copy of Adobe Acrobat Reader for free.
Abstract
Turbidity is one of the indicators used to assess the environmental health of water bodies. Turbidity is caused by the presence of suspended and dissolved matter, such as clay, silt, finely divided organic matter, plankton and other microscopic organisms, organic acids, and dyes. This section of the National Field Manual (NFM) describes the USGS protocols for determining turbidity in surface and ground waters, including extensive guidance for equipment selection and data reporting. It includes the revised approach to turbidity measurement and reporting that was implemented by the U.S. Geological Survey (USGS) in October 2004 to account for technological advances and consequent measurement complexities.
Contents
6.7 - Turbidity
6.7.1 Equipment
6.7.2 Calibration
6.7.3 Measurement
6.7.4 Quality-assurance procedures
6.7.5 Data reporting and interpretation
6.7.6 Troubleshooting
Selected References
Turbidity parameter codes and methods codes (May 2012) [31 KB XLSX] (If a pop-up window appears, click "No.")
Return to Chapter A6 Contents Page
Return to Field Manual Table of Contents
For more information
Additional information on turbidity is available from the following links:
Section 6.7 Archived Versions: