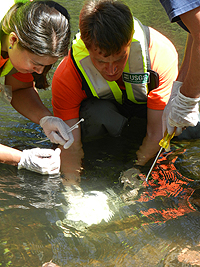 USGS scientists deploy SPMD and POCIS samplers to collect waterborne contaminants in Manoa Stream on Oahu, Hawaii.
Noteworthy
Press Releases
Featured Science:
Water Quality Data
Today's Water Conditions
Get continuous real-time water-quality measurements from Water-Quality Watch maps.

Water Quality Portal (WQP)
Get current and historical USGS and EPA water-quality data at the WQP.
BioData
Get stream ecosystem aquatic bioassessment data from BioData.
For More Data
View a complete list of USGS water-quality data resources.
USGS in Your Area
USGS Water Science Centers are located in each state.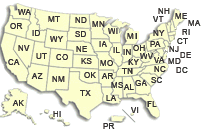 6.5 Reduction Oxidation Potential (Electrode Method)
By D.K. Nordstrom and F.D. Wilde
This section of Chapter 6 is available as a pdf file:
6.5, Version 1.2 (dated 9/2005) [265KB PDF]
Download a copy of Adobe Acrobat Reader for free.
Abstract
Reduction-oxidation (redox) potential -- also referred to as Eh -- is a measure of the equilibrium potential, relative to the standard hydrogen electrode, developed at the interface between a noble metal electrode and an aqueous solution containing electroactive chemical species. Measurements of Eh are used to evaluate geochemical speciation models, and Eh data can provide insights on the evolution and status of water chemistry in an aqueous system. Nevertheless, the measurement is fraught with inherent interferences and limitations that must be understood and considered to determine applicability to the aqueous system being studied. For this reason, Eh determination is not one of the field parameters routinely measured by the U.S. Geological Survey (USGS). This section of the National Field Manual (NFM) describes the equipment and procedures needed to measure Eh in water using a platinum electrode. Guidance as to the limitations and interpretation of Eh measurement also is included.
Contents
6.5 Reduction-oxidation potential
6.5.1 Equipment and supplies
6.5.1.A Electrode selection
6.5.1.B ZoBell's solution
6.5.1.C Equipment maintenance
6.5.2 Equipment test procedure
6.5.3 Measurement
6.5.3.A Interferences and limitations
6.5.3.B Interpretation
6.5.4 Troubleshooting
6.5.5 Reporting
Selected references
Return to Chapter A6 Contents Page
Return to Field Manual Table of Contents
Section 6.5 Archived Versions: