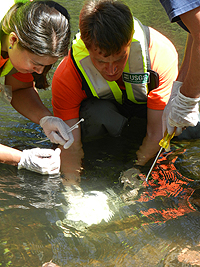 USGS scientists deploy SPMD and POCIS samplers to collect waterborne contaminants in Manoa Stream on Oahu, Hawaii.
Noteworthy
Press Releases
Featured Science:
Water Quality Data
Today's Water Conditions
Get continuous real-time water-quality measurements from Water-Quality Watch maps.

Water Quality Portal (WQP)
Get current and historical USGS and EPA water-quality data at the WQP.
BioData
Get stream ecosystem aquatic bioassessment data from BioData.
For More Data
View a complete list of USGS water-quality data resources.
USGS in Your Area
USGS Water Science Centers are located in each state.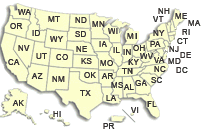 6.4 pH, Version 2.0 dated 10/2008
Revised By G.F. Ritz and J.A. Collins
This section of Chapter 6 is available as a pdf file:
6.4, Version 2.0 (dated 10/2008) [195KB PDF]
Download a copy of Adobe Acrobat Reader for free.
Abstract
Measurement of pH is critical to the understanding of the viability and vulnerability of environmental waters and is considered a master variable in determining the aqueous geochemistry of an aqueous system. pH is a measure that represents the hydrogen-ion concentration (activity) of a solution. This section of the National Field Manual (NFM) describes U.S. Geological Survey (USGS) guidance and protocols for measurement of pH in ground and surface waters.
Contents
6.4 - pH
6.4.1 Equipment and supplies
6.4.2 Maintenance of pH instruments
6.4.3 Calibration of the pH instrument system
6.4.4 Measurement
6.4.5 Troubleshooting
6.4.6 Reporting
6.4.7 Selected References
6.4.8 Acknowledgments
Return to Chapter A6 Contents Page
Return to Field Manual Table of Contents
Section 6.4 Archived versions: