Land Subsidence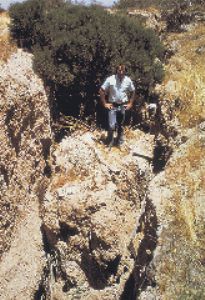 Some of the most spectacular examples of subsidence-related earth fissures occur in south-central Arizona. Photo from USGS Fact Sheet-165-00.
Land subsidence is a gradual settling or sudden sinking of the Earth's surface owing to subsurface movement of earth materials. Subsidence is a global problem and, in the United States, more than 17,000 square miles in 45 States, an area roughly the size of New Hampshire and Vermont combined, have been directly affected by subsidence.
The principal causes are aquifer-system compaction, drainage of organic soils, underground mining, hydrocompaction, natural compaction, sinkholes, and thawing permafrost. More than 80 percent of the identified subsidence in the Nation is a consequence of our exploitation of underground water, and the increasing development of land and water resources threatens to exacerbate existing land-subsidence problems and initiate new ones. In many areas of the arid Southwest, and in more humid areas underlain by soluble rocks such as limestone, gypsum, or salt, land subsidence is an often- overlooked environmental consequence of our land- and water-use practices.
Overviews and Introductory Information:
* This report was initially printed with the report number "FS-087-00". The correct and current number for this report is "FS-165-00".
USGS Subsidence Interest Group Conference Proceedings
For more information:
For more USGS information on land subsidence: