SEAWAT
New & Noteworthy
USGS in Your State
USGS Water Science Centers are located in each state.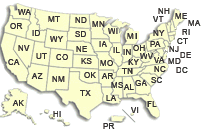 Water Software > Groundwater Software > MODFLOW and Related Programs > SEAWAT
SEAWAT: A Computer Program for Simulation of Three-Dimensional Variable-Density Ground-Water Flow and Transport
SEAWAT Version 4 Overview
SEAWAT is a generic MODFLOW/MT3DMS-based computer program designed to simulate three-dimensional variable-density groundwater flow coupled with multi-species solute and heat transport. The program has been used for a wide variety of groundwater studies including those focused on brine migration in continental aquifers as well as those focused on saltwater intrusion in coastal aquifers. SEAWAT uses the familiar structure of MODFLOW and MT3DMS. Thus, most of the commonly used pre and post-processors can be used to create SEAWAT datasets and visualize results. The MODFLOW concepts of "packages" and "processes" are retained in SEAWAT, which allows the program to work with many of the MODFLOW-related software programs, such as MODPATH, ZONEBUDGET, and parameter estimation programs. SEAWAT is a public domain computer program. The source code and software are distributed free of charge by the U.S. Geological Survey (USGS).
SEAWAT Version 4 is a replacement for SEAWAT-2000. SEAWAT-2000 users are encouraged to use this new version, even if the new features are not required for a particular application. SEAWAT Version 4 is backward compatible with datasets created for SEAWAT-2000 and, therefore, SEAWAT-2000 is no longer supported or maintained.
What's New in Version 4
SEAWAT Version 4 is the most recent SEAWAT release, and like SEAWAT-2000, Version 4 is based on MODFLOW-2000 and MT3DMS. SEAWAT Version 4 retains all of the functionality of SEAWAT-2000 and is backward compatible with SEAWAT-2000 datasets. SEAWAT Version 4 includes the following new features:
Effects of viscosity variations on groundwater flow can be represented with the Viscosity (VSC) Package.
Unique diffusion coefficients can be entered for each MT3DMS component. This allows thermal diffusivity to be used for the temperature component, and molecular diffusion coefficients to be used for solute species.
Fluid density and viscosity can be calculated as a function of one or more MT3DMS species.
Additional options are available for specifying the density value associated with constant-head (CHD) boundaries.
New options and program redesign allow for faster execution times.
Previous SEAWAT versions are also available for download from this site; however, these versions are no longer maintained, updated, or supported. Users are encouraged to use the most recent version of SEAWAT as it may contain fixes and improvements that are not included in older versions.
SEAWAT Information and Downloads
Download SEAWAT Version

4.00.05

program, source code, user guides, and example problems [12.3MB ZIP file] (updated October 19, 2012)
User Guides and Technical Information

Langevin, C.D., SEAWAT: a computer program for simulation of variable-density groundwater flow and multi-species solute and heat transport: U.S. Geological Survey Fact Sheet FS 2009-3047, 2 p.
Langevin, C.D., Thorne, D.T., Jr., Dausman, A.M., Sukop, M.C., and Guo, Weixing, 2007, SEAWAT Version 4: A Computer Program for Simulation of Multi-Species Solute and Heat Transport: U.S. Geological Survey Techniques and Methods Book 6, Chapter A22, 39 p.
Thorne, D., Langevin, C.D., and Sukop, M.C., 2006, Addition of simultaneous heat and solute transport and variable fluid viscosity to SEAWAT: Computer and Geosciences vol. 32, 1758-1768.
Langevin, C.D., and Guo, W., 2006, MODFLOW/MT3DMS-based simulation of variable density ground water flow and transport [2.1MB PDF]: Ground Water vol. 44, no. 3:339-351.
Langevin, C.D., Shoemaker, W.B., and Guo, Weixing, 2003, MODFLOW-2000, the U.S. Geological Survey Modular Ground-Water Model–Documentation of the SEAWAT-2000 Version with the Variable-Density Flow Process (VDF) and the Integrated MT3DMS Transport Process (IMT): U.S. Geological Survey Open-File Report 03-426, 43 p.
Guo, Weixing, and Langevin, C.D., 2002, User's Guide to SEAWAT: A Computer Program for Simulation of Three-Dimensional Variable-Density Ground-Water Flow: Techniques of Water-Resources Investigations Book 6, Chapter A7, 77 p.

Superseded Versions (Note: these versions are no longer supported)
Useful Links
Point of Contact
Support is provided for correcting bugs and clarification of how SEAWAT is intended to work. Only limited assistance can be provided for applying SEAWAT to specific problems by contacting the point of contact listed below:
Christian Langevin
U.S. Geological Survey (USGS) Office of Groundwater
411 National Center
12201 Sunrise Valley Drive
Reston, VA 20192
Continued development and support of the SEAWAT program is funded by the USGS Groundwater Resources Program.
Related USGS Software Resources
Other USGS Groundwater Software
The USGS develops groundwater, water-quality, surface-water, and other water-resources software for use by the USGS in fulfilling its mission. Most of this software is available online for download at no charge.
Disclaimers and Notices
This software has been approved for release by the U.S. Geological Survey (USGS). Although the software has been subjected to rigorous review, the USGS reserves the right to update the software as needed pursuant to further analysis and review. No warranty, expressed or implied, is made by the USGS or the U.S. Government as to the functionality of the software and related material nor shall the fact of release constitute any such warranty. Furthermore, the software is released on condition that neither the USGS nor the U.S. Government shall be held liable for any damages resulting from its authorized or unauthorized use. Also refer to the USGS Water Resources Software User Rights Notice for complete use, copyright, and distribution information.
Any use of trade, firm, or product names is for descriptive purposes only and does not imply endorsement by the U.S. Government.
See also, USGS policy on linking to non-Federal web sites.
Software License and Purchase Information
This software is a product of the U.S. Geological Survey, which is part of the U.S. Government.
Cost:
This software is freely distributed. There is no fee to download and (or) use this software.
License:
Users do not need a license or permission from the USGS to use this software. Users can download and install as many copies of the software as they need.
Public Domain:
As a work of the United States Government, this USGS product is in the public domain within the United States. You can copy, modify, distribute, and perform the work, even for commercial purposes, all without asking permission. Additionally, USGS waives copyright and related rights in the work worldwide through CC0 1.0 Universal Public Domain Dedication (https://creativecommons.org/publicdomain/zero/1.0/
).
---
Note: Some or all of this information is presented in Portable Document Format (PDF); the latest version of Adobe Reader or similar software is required to view it. Download the latest version of the free Adobe Reader from the Adobe web site.
Visit https://www.adobe.com/accessibility/
for free tools that allow visually impaired users to read PDF files.