Water Software > Groundwater Software > MODFLOW and Related Programs > MODFLOW-2005
MODFLOW-2005: USGS three-dimensional finite-difference ground-water model
Overview of MODFLOW-2005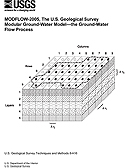 Note: MODFLOW 6 is presently the core MODFLOW version distributed by the USGS, but MODFLOW-2005 (the previous core version) is still actively maintained and supported.
MODFLOW-2005 (Harbaugh, 2005) simulates steady and nonsteady flow in an irregularly shaped flow system in which aquifer layers can be confined, unconfined, or a combination of confined and unconfined. Flow from external stresses, such as flow to wells, areal recharge, evapotranspiration, flow to drains, and flow through river beds, can be simulated. Hydraulic conductivities or transmissivities for any layer may differ spatially and be anisotropic (restricted to having the principal directions aligned with the grid axes), and the storage coefficient may be heterogeneous. Specified head and specified flux boundaries can be simulated as can a head dependent flux across the model's outer boundary that allows water to be supplied to a boundary block in the modeled area at a rate proportional to the current head difference between a "source" of water outside the modeled area and the boundary block.
MODFLOW-2005, v. 1.12.00
The current version of MODFLOW-2005 is v.1.12.00, released February 3, 2017. For a complete explanation of the changes in this release and a history of past releases, refer to:
Downloads and Documentation
Software Downloads
Note: Users are encouraged to read the documents that are provided in the 'doc' directory of this software distribution.
Documentation of MODFLOW-2005
Documentation of MODFLOW Processes and Packages
The table below provides quick access to the key documentation for MODFLOW processes and packages:
Report: The official USGS report describes the theory and input instructions at the time the package or process was first released.
Online Guide: Packages and processes often evolve over time. The Online MODFLOW User's Guide includes the most up-to-date input instructions and related details.
Note: Click on a column header to sort the table by that column.

Functionality
Package or Process Name
Online Guide
Report
BAS
Basic Package
BAS Online Help
Harbaugh, 2005
BCF
Block-Centered Flow Package
BCF Online Help
Harbaugh, 2005
LPF
Layer-Property Flow Package
LPF Online Help
Harbaugh, 2005
HFB
Horizontal Flow Barrier Package
HFB Online Help
Harbaugh, 2005
CHD
Time-Variant Specified-Head Option
CHD Online Help
Harbaugh, 2005
RIV
River Package
RIV Online Help
Harbaugh, 2005
DRN
Drain Package
DRN Online Help
Harbaugh, 2005
WEL
Well Package
WEL Online Help
Harbaugh, 2005
GHB
General Head Boundary Package
GHB Online Help
Harbaugh, 2005
RCH
Recharge Package
RCH Online Help
Harbaugh, 2005
EVT
Evapotranspiration Package
EVT Online Help
Harbaugh, 2005
SIP
Strongly Implicit Procedure Package
SIP Online Help
Harbaugh, 2005
PCG
Preconditioned-Conjugate Gradient Package
PCG Online Help
Harbaugh, 2005
DE4
Direct Solver
DE4 Online Help
Harbaugh, 2005
STR
Stream Package
STR Online Help
Prudic, 1989
FHB
Flow and Head Boundary Package
FHB Online Help
Leake and Lilly, 1997
IBS
Interbed Storage Package
IBS Online Help
Leake and Prudic, 1991
GMG
Geometric MultiGrid Solver Package
GMG Online Help
Wilson and Naff, 2004
HUF
Hydrogeologic-Unit Flow Package
HUF Online Help
Anderman and Hill, 2000; Anderman and others, 2002; and Anderman and Hill, 2003
MNW1
Version 1 of Multi-Node Well Package
MNW1 Online Help
Halford and Hanson, 2002
MNW2
Version 2 of the Multi-Node Well Package
MNW2 Online Help
Konikow and others, 2009
ETS
Evapotranspiration with a Segmented Function Package
ETS Online Help
Banta, 2000
DRT
Drains with Return Flow Package
DRT Online Help
Banta, 2000
RES
Reservoir Package
RES Online Help
Fenske and others, 1996
SUB
Subsidence Package
SUB Online Help
Hoffman and others, 2003
OBS
Observation Process
OBS Online Help
Hill and others, 2000
SFR
Streamflow-Routing Package
SFR Online Help
Prudic and others, 2004; and Niswonger and Prudic, 2005
LAK
Lake Package
LAK Online Help
Merritt and Konikow, 2000
UZF
Unsaturated Zone Package
UZF Online Help
Niswonger and others, 2006
GAG
Gage Package
GAG Online Help
Prudic and others, 2004; Niswonger and Prudic, 2005; and Merritt and Konikow, 2000
SWT
Subsidence and Aquifer-System Compaction Package for Water-Table Aquifers
SWT Online Help
Leake and Galloway, 2007
LMT
Link to the MT3DMS contaminant-transport model
LMT Online Help
Zheng and others, 2001
HYDMOD
Hydrograph capability
HYDMOD Online Help
Hanson and Leake, 1999
PCGN
Preconditioned Conjugate Gradient solver with improved nonlinear control
PCGN Online Help
Naff and Banta, 2008
SWI2
Seawater Intrusion Package
SWI2 Online Help
Bakker and others, 2013; and
SWI2 Example Problems [66MB ZIP]
Previous Core Versions
See a list of previous core versions of MODFLOW, with links to download.
How to Cite
This USGS software has two citations associated with it.
The report citation is for the original report or article documenting the underlying theory, methods, instructions, and (or) applications at the time the initial version of the software was released. This digital object identifier (DOI) is for the report.
The software release citation is for the software/code itself (now referred to by USGS as a "Software Release") and references a specific version of the code and associated release date. This DOI links to the code.
In instances where an author is citing use of this software, it would be appropriate to cite both the report documenting the code and the specific software release version that was used.
Report Citation for MODFLOW-2005
Harbaugh, A.W., 2005, MODFLOW-2005, the U.S. Geological Survey modular ground-water model -- the Ground-Water Flow Process: U.S. Geological Survey Techniques and Methods 6-A16.
Software/Code Citation for MODFLOW-2005 v1.12.00
Harbaugh, A.W., Langevin, C.D., Hughes, J.D., Niswonger, R.N., and Konikow, L. F., 2017, MODFLOW-2005 version 1.12.00, the U.S. Geological Survey modular groundwater model: U.S. Geological Survey Software Release, 03 February 2017, http://dx.doi.org/10.5066/F7RF5S7G
Point of Contact
Support is provided for correcting bugs and clarification of how MODFLOW-2005 is intended to work. Only limited assistance can be provided for applying MODFLOW-2005 to specific problems by contacting the point of contact listed below:
U.S. Geological Survey
Office of Groundwater
411 National Center
12201 Sunrise Valley Drive
Reston, VA 20192
Other USGS Groundwater Software
The USGS develops groundwater, water-quality, surface-water, and other water-resources software for use by the USGS in fulfilling its mission. Most of this software is available online for download at no charge.
Disclaimers and Notices
This software has been approved for release by the U.S. Geological Survey (USGS). Although the software has been subjected to rigorous review, the USGS reserves the right to update the software as needed pursuant to further analysis and review. No warranty, expressed or implied, is made by the USGS or the U.S. Government as to the functionality of the software and related material nor shall the fact of release constitute any such warranty. Furthermore, the software is released on condition that neither the USGS nor the U.S. Government shall be held liable for any damages resulting from its authorized or unauthorized use. Also refer to the USGS Water Resources Software User Rights Notice for complete use, copyright, and distribution information.
Any use of trade, firm, or product names is for descriptive purposes only and does not imply endorsement by the U.S. Government.
See also, USGS policy on linking to non-Federal web sites.
Software License and Purchase Information
This software is a product of the U.S. Geological Survey, which is part of the U.S. Government.
Cost:
This software is freely distributed. There is no fee to download and (or) use this software.
License:
Users do not need a license or permission from the USGS to use this software. Users can download and install as many copies of the software as they need.
Public Domain:
As a work of the United States Government, this USGS product is in the public domain within the United States. You can copy, modify, distribute, and perform the work, even for commercial purposes, all without asking permission. Additionally, USGS waives copyright and related rights in the work worldwide through CC0 1.0 Universal Public Domain Dedication (https://creativecommons.org/publicdomain/zero/1.0/
).
---
Note: Some or all of this information is presented in Portable Document Format (PDF); the latest version of Adobe Reader or similar software is required to view it. Download the latest version of the free Adobe Reader from the Adobe web site.
Visit https://www.adobe.com/accessibility/
for free tools that allow visually impaired users to read PDF files.